Sports cars are known for their high speeds and sleek designs, which make them a popular choice among car enthusiasts. However, owning a sports car comes with its own unique set of challenges, including finding the right insurance coverage. In this article, we'll take a closer look at sports car insurance and what you need to know when shopping for coverage.
What is Sports Car Insurance?
Sports car insurance is a type of auto insurance designed specifically for high-performance vehicles. This type of insurance typically offers more comprehensive coverage than standard auto insurance policies, as sports cars are more expensive to repair or replace.
Coverage Options
Sports car insurance policies typically offer a range of coverage options to protect your vehicle. These options may include liability coverage, collision coverage, comprehensive coverage, and more. Some policies may also offer coverage for specialty parts or modifications made to the car.
Factors Affecting Sports Car Insurance Rates
The cost of sports car insurance can vary widely depending on several factors. Some of the key factors that can affect your insurance rates include:
Driving record: Drivers with a clean driving record are generally considered less risky and may qualify for lower insurance rates.
Age and experience: Younger drivers and those with less experience behind the wheel may face higher insurance rates.
Type of car: Sports cars with higher horsepower and top speeds are generally more expensive to insure than those with lower performance capabilities.
Location: The location where the car is primarily driven and parked can also affect insurance rates, as some areas may be more prone to theft or accidents.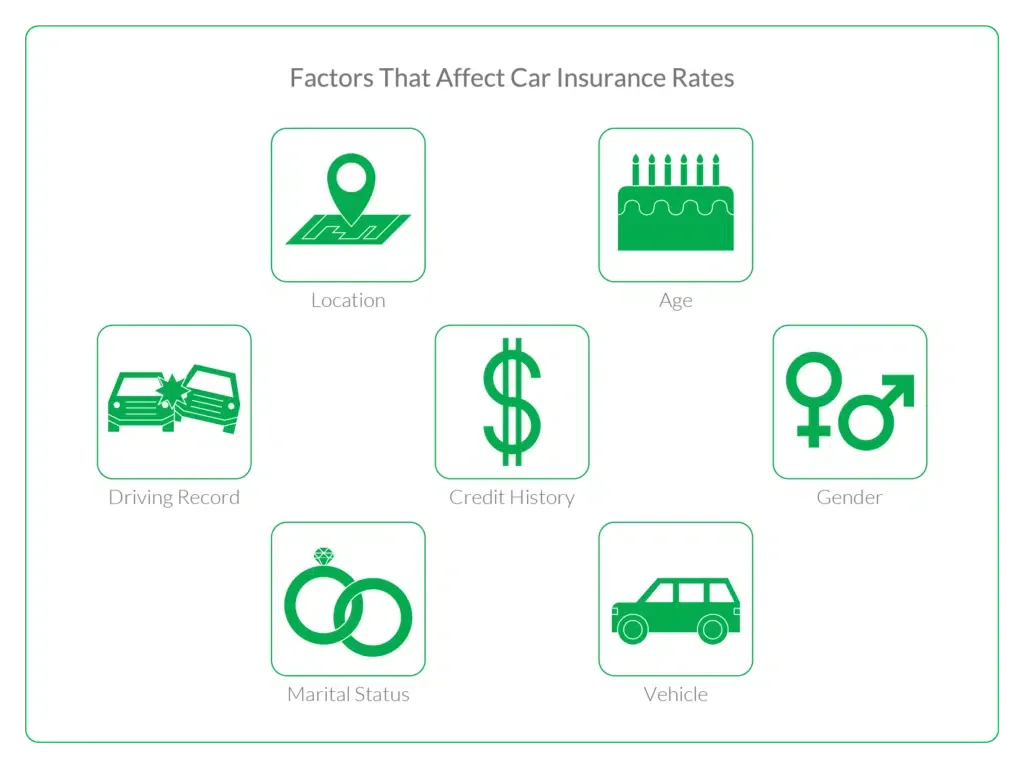 Top Sports Car Insurance Companies in the USA
Here are some of the top sports car insurance companies in the USA:
State Farm: State Farm is one of the largest insurance companies in the USA and offers sports car insurance coverage for a variety of high-performance vehicles.
Progressive: Progressive is known for its competitive rates and offers sports car insurance policies that can be customized to fit your specific needs
Geico: Geico offers sports car insurance coverage for a range of high-performance vehicles, with options for liability, collision, and comprehensive coverage.
Allstate: Allstate offers sports car insurance coverage that can be tailored to meet your needs and budget, with options for specialty parts and modifications.
See also: High-risk auto insurance
Which Vehicles Qualify as Sports Cars?
In general, car insurance companies consider vehicles that have high horsepower, two seats, and a smaller size than a standard sedan to be sports cars. Some companies might classify certain models differently, but cars with these basic attributes tend to fall into the sports car category. If you're not sure if your vehicle is considered a sports car, it's best to ask your insurance company for clarification.
There are several tiers of sports cars. Certain models from Toyota, Honda, Subaru, and other popular manufacturers might be considered low-end sports cars for insurance purposes. Well-known models such as the Chevrolet Camaro, Chevrolet Corvette, Ford Mustang, and Dodge Challenger can be thought of as mid-level sports cars. Despite their classification as sports cars, these vehicles don't typically need any additional coverage beyond standard requirements.
For high-end sports cars, insurance needs are a bit different. High-performance cars from makers such as Ferrari, Lamborghini, Porsche, and others often require a different type of coverage than standard carriers can provide. You may want to buy car insurance through a premium carrier that specializes in high-end vehicles to protect your investment.
What Sports Car Insurance Coverage Do You Need?
Almost every state requires bodily injury and property damage liability insurance to cover other parties' costs in accidents you cause. If you finance your sports car, your lender will likely require you to carry collision and comprehensive coverage as well. Collision insurance pays for vehicle repairs from an accident no matter who is at fault. Comprehensive coverage protects your vehicle from non-accident damage, including environmental damage, vandalism, and theft.
You'll want to consider personal injury protection and gap coverage for your sports car insurance as well. Personal injury coverage helps with medical expenses for you and passengers no matter who is at fault for an accident. Gap insurance pays for the cost of a replacement vehicle in the event of a covered total loss.
Uninsured motorist insurance is another coverage type you should consider as the owner of a used or new sports car. This protects you if you're in an accident with a driver who has no insurance or inadequate coverage.
How Much Does Sports Car Insurance Cost?
If you drive a sports car or coupe, you can expect to pay more than the national average of $1,730 per year or $144 per month for a full-coverage auto insurance policy. What you pay depends on a wide range of factors, including the following:
Vehicle model: The specific type of sports car you drive plays a major role in setting car insurance rates. Most sports cars (especially high-end models) have significantly higher intrinsic value than standard sedans, so you can expect higher premiums.
Location: States with higher population densities and more traffic usually have higher auto insurance rates.
Age: Younger drivers pay higher car insurance rates in general, but this is even more pronounced when it comes to sports cars. Inexperienced drivers present risk driving any car, and this risk is heightened when they're behind the wheel of a powerful vehicle built for speed.
Marital status: Married drivers typically pay less for car insurance.
Driving history: You'll pay more for car insurance if you have a clean driving record without any at-fault accidents, moving violations, or a driving under the influence (DUI) conviction.
Credit history: Most states factor your credit score into your car insurance premiums. A lower score will lead to higher coverage rates.
Gender: The gender listed on your license will affect the cost of your insurance policy, as men typically pay more than women.
The best way to get the cheapest insurance, no matter what type of car you drive, is to compare car insurance quotes from multiple providers. Most companies make it easy to get free quotes online with just a few details about your vehicle, driving habits, and demographics.
Tips for Saving on Sports Car Insurance Costs
There are a few ways you can cut down on sports car insurance costs. Here are a few tips for getting the cheapest car insurance:
Search for discounts: Available discounts vary by provider, but you can often unlock savings for having multiple policies, covering multiple vehicles, being a good student, signing up for autopay, and completing defensive driving courses. Be sure to check with an insurance agent to see which discounts you qualify for.
Drive safely: Those with clean driving records pay the lowest rates for coverage. Avoid accidents and speeding violations or sign up for a usage-based safe driving program that reports your good habits to your insurance provider. Both can improve your chances of getting lower rates.
Install anti-theft devices: A good way to save on insurance no matter what type of car you drive, safety devices are even more valuable for sports cars. It's worth asking your insurance provider about special discounts for specific anti-theft measures.
Our Top-Rated Car Insurance Companies
In our review of the auto insurance industry, State Farm, USAA and Geico stood out for their coverage options, affordability, and customer service.
| Insurance Company | Overall Rating | Coverage Rating | Cost Rating |
| --- | --- | --- | --- |
| 1. State Farm | 9.3 | 8.9 | 9.2 |
| 2. USAA | 9.2 | 9.3 | 9.8 |
| 3. Geico | 9.1 | 8.3 | 9.2 |
*Ratings are determined by our editorial review team. Learn more about our scoring methodology below.
See also: Luxury car insurance
#1 State Farm: Editor's Choice
The most popular auto insurer in the U.S., State Farm also offers some of the most affordable rates in the industry. State Farm's Drive Safe & Save™ app allows drivers to unlock discounts of up to 30% for maintaining safe driving habits. The company also offers discounts for added safety features, good students, and the completion of defensive driving courses.
State Farm boasts an A++ rating for financial strength from AM Best. The company also holds an A+ rating from the Better Business Bureau (BBB).
#2 USAA: Low Rates for Military
USAA offers consistently low insurance rates for all types of drivers and vehicles. However, its plans are only available to active members of the military, veterans, and their immediate families. USAA is known for excellent customer service and offers a wide range of coverage options. SafePilot® is the company's usage-based program, which is available in 37 states and rewards safe driving habits.
USAA receives an A++ from AM Best for financial strength. With its positive industry reputation and quality coverage, it's a smart choice for those who qualify.
#3 Geico: Affordable for Most Drivers
Geico is another popular insurance provider that offers a variety of coverage options, plentiful discounts and affordable rates. The company's DriveEasy® program is available in 28 states and can reduce insurance costs through safe driving habits. Geico offers discounts of up to 26% off for good drivers and similar discounts for customers with multiple covered vehicles.
Geico holds an A++ financial strength rating from AM Best and an A+ rating from BBB.
Conclusion: Owning a sports car requires specialized insurance coverage to protect your investment on the road. By working with a reputable insurance company that understands the unique needs of high-performance vehicles, you can ensure that your sports car is properly protected. Be sure to compare coverage options and rates from different insurance companies to find the policy that best fits your needs and budget.
Are sports cars expensive to insure?
Sports cars are more expensive to insure than standard cars. High-performance vehicles can go faster than the average automobile and they're built more for speed than for safety. These more expensive cars with higher horsepower and a higher number of cylinders are often associated with higher insurance premiums.
What's considered a sports car for insurance?

Typically, any car that has a high-horsepower engine, two seats, and a smaller overall size than a standard sedan is considered a sports car by insurers. The definition of a sports car can vary, so it's best to ask a prospective insurance provider if your vehicle qualifies.
Is a Ford Mustang a sports car on insurance?

Yes, a Ford Mustang is considered a sports car by insurance companies. You can expect a higher insurance price tag for a Mustang but likely not a dramatic difference from the cost to insure a standard sedan.