USAA insurance products are available to active-duty military members and veterans as well as their immediate family members. The San Antonio-based company is one of the cheapest options for car insurance, which makes it a good choice for drivers who qualify.
USAA has grown to become the fifth-largest car insurance company in the U.S. according to the National Association of Insurance Commissioners (NAIC). In 2022, the company wrote over $16.4 billion in car insurance premiums.
Here's what sets USAA apart from other auto insurance companies:
Affordable coverage: During our in-depth industry research, we found that USAA regularly offers the cheapest car insurance coverage for most drivers.
Add-on insurance options: USAA provides unique add-on offerings like accident forgiveness, car replacement assistance, and classic car insurance.
SafePilot®: With USAA, drivers can sign up for the company's usage-based insurance program that tracks their driving and awards discounts based on their habits.
USAA Pros and Cons
Here are the pros and cons of purchasing a car insurance policy through USAA:
USAA Customer Reviews
USAA has low ratings on customer review sites. Positive reviews for the company usually mention USAA's speedy claims process and good customer service. Negative USAA reviews cite poor communication.
Our team reached out to USAA for comment on its reviews but did not receive a response.
USAA Customer Reviews
We conducted a nationwide car insurance satisfaction survey in August 2022 that polled 6,923 people. Of those who participated, at least 5% reported that they had a USAA insurance policy.
Here's a look at how customers rate USAA compared with the overall average of our survey:
USAA Average
Insurance Company
Industry Average
Overall Customer Satisfaction
4.3
4.2
Affordability
3.8
3.7
Discounts and Savings Programs
3.8
3.7
Selection of Coverage and Add-Ons
3.9
3.9
Car Insurance Shopping Process
4.0
3.9
Company Website
4.0
3.9
USAA Insurance Reviews: Reddit
Reddit is a discussion board, not a reviews site, but many users engage with each other to share experiences with their insurance companies. Reddit users who had positive experiences with USAA typically discussed the company's excellent customer service.
Negative USAA insurance reviews from Reddit users frequently mentioned higher premiums than other insurance companies.
Our review team reached out to USAA for a comment on these negative reviews but did not receive a response.
USAA Claims Satisfaction
In our survey, we found that around 60% of USAA policyholders have filed an insurance claim, while 40% have not. Our survey also discovered that those with a USAA auto insurance policy were overall happy with the company's customer service during the claims process, giving USAA a 4.3-star rating out of 5.0. Additionally, respondents also rated the company a 4.1-star rating for satisfaction with the claim outcome or settlement.
In the J.D. Power 2022 U.S. Auto Claims Satisfaction Study℠, USAA even made fourth place in customer satisfaction for claims, with 890 out of 1,000 points.
USAA Insurance Ratings
USAA has a strong standing in the insurance industry, but low customer ratings.
USAA Mobile App
With USAA's mobile app, you can view and pay your bill, view your insurance ID card, request roadside assistance and report a claim. The app has a 4.8-star rating from over 1.6 million USAA insurance reviews on the App Store and a 4.1-star rating out of more than 196,000 reviews on Google Play.
USAA Car Insurance: J.D. Power Ratings
USAA stands out from the pack because it frequently ranks well on customer service and industry studies, like in the J.D. Power Auto Claims Study. It also received the second-highest score of all large insurers on the J.D. Power 2022 U.S. Insurance Shopping Study℠ with 875 out of 1,000 points.
USAA also scored higher than all other insurance companies except in California on the J.D. Power 2022 U.S. Auto Insurance Study℠. The study polled over 36,000 auto insurance customers on their experiences with billing, claims, agent interaction, coverage and price.
USAA BBB Ratings
USAA has a 1.2-star rating from customer reviews on the BBB. However, the BBB has under 1,000 reviews, which means the total number of reviews is only a small fraction of USAA customers.
USAA Auto Insurance Coverage
As the largest insurance provider for military members, USAA offers all the standard car insurance options plus a few extra coverage types and added perks. Standard car insurance includes:
Liability car insurance
Collision insurance
Comprehensive insurance
Medical payments (MedPay)
Personal injury protection (PIP)
Underinsured/uninsured motorist coverage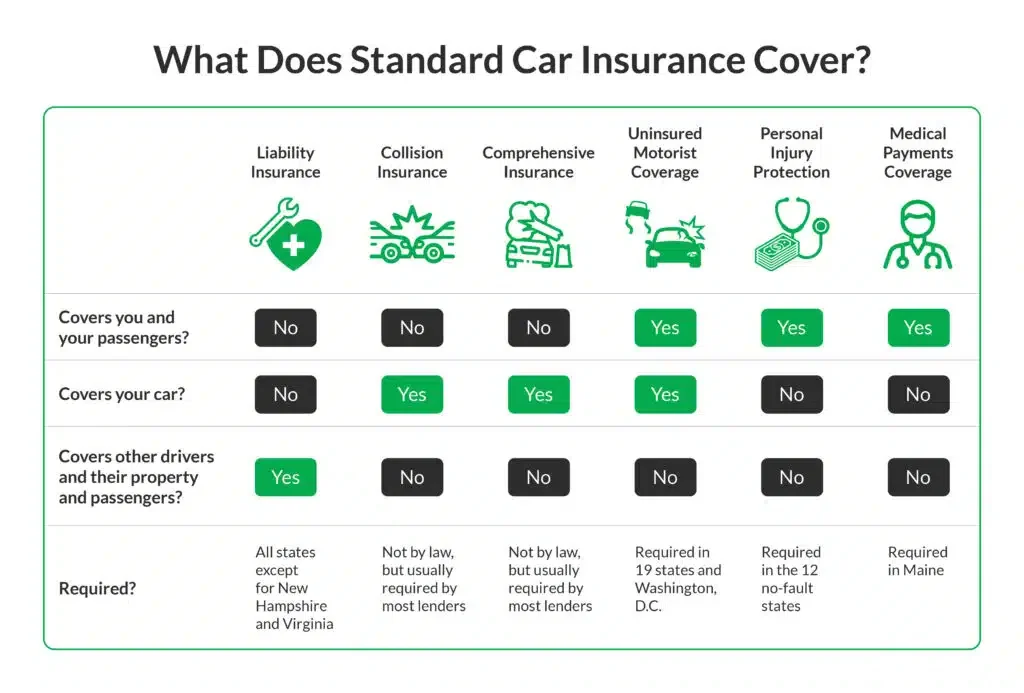 USAA Coverage Options
USAA also offers the following options beyond standard coverage:
| Roadside assistance | This add-on covers towing services, lockouts, jump-starts, fuel deliveries and more. |
| --- | --- |
| Accident forgiveness | With this add-on, your rates won't increase because of an accident. If you remain accident-free with USAA for five years, you can get this benefit without paying an extra fee. |
| Rental reimbursement | When your vehicle goes into the shop for an accident-related repair, this covers a portion of the rental car cost. |
| Car replacement assistance | With this option, USAA will reimburse you an extra 20% over your vehicle's value in the case of a total loss. |
| Rideshare insurance | This option protects you on the road when you drive for a company like Uber or Lyft. |
| Classic car insurance | USAA works with American Collectors Insurance to offer specialty coverage for vintage and antique automobiles. |
USAA members also have access to a variety of discounts on travel, home products, car care, retail, health, and entertainment. Whether members need a rental car or a replacement car altogether, USAA's wide range of coverage options has them covered.
How Do USAA Claims Work?
To file a claim with USAA, you'll need to use the company's website or mobile app. You can upload photos, arrange a damage inspection and reserve a rental car through the claims portal. Once you get a repair estimate, you'll schedule those repairs at an approved facility. After you pay your deductible, USAA will pay the repair shop and rental car agency directly.
How Does USAA SafePilotTM Work?
With USAA, you have the option to sign up for SafePilot, a usage-based insurance app. The app tracks your driving and awards discounts based on your habits. You can get a 10% discount for signing up and a discount of up to 30% upon renewal depending on how you drive.
According to USAA, SafePilot won't raise your rate if you are a bad driver. However, you can lose the discount you received at signup.
How Does SafePilot Work?
First, you'll need to enroll in the program, at which point you'll receive an instant discount of up to 10%. You'll then download the SafePilot app which will begin tracking your driving habits. When it's time to renew your policy, SafePilot will calculate a discount based on your driving.
What Does SafePilot Track?
Your driving score in SafePilot is based on harsh braking and phone use while driving. The app also tracks location, time of day and whether or not you're the driver. Note that there is only one driving score per auto policy. If you have multiple drivers on one policy, the score and discount will be based on an average between all drivers.
USAA SafePilot States
SafePilot is available in the following 47 states:
| Alabama | Alaska | Arizona | Arkansas | Colorado |
| --- | --- | --- | --- | --- |
| Connecticut | Florida | Georgia | Hawaii | Idaho |
| Illinois | Indiana | Iowa | Kansas | Kentucky |
| Louisiana | Maine | Maryland | Massachusetts | Michigan |
| Minnesota | Mississippi | Missouri | Montana | Nebraska |
| Nevada | New Hampshire | New Mexico | New York | North Carolina |
| North Dakota | Ohio | Oklahoma | Oregon | Pennsylvania |
| Rhode Island | South Carolina | South Dakota | Tennessee | Texas |
| Utah | Vermont | Virginia | Washington | West Virginia |
| Wisconsin | Wyoming | | | |
SafePilot is not available in New Jersey, California or Delaware. While the program is available in Massachusetts, there are certain restrictions.
Tools for Military Members
Whether you're starting a career in the military or wrapping one up, USAA offers a variety of helpful tools. These include:
Military pay calculator
Deployment pay calculator, checklist, and FAQ
Personalized timeline
Permanent Change of Station guide
Moving Checklist
Military separation checklist
Job finder
USAA Car Insurance Cost
According to USAA insurance reviews and our own research, USAA tends to be the cheapest car insurance company around. The average 35-year-old driver with a good driving record and credit report can expect to pay around $1,054 per year or $88 per month for full coverage according to our rate estimates.
That's much cheaper than the national average of $1,730 per year for the same driving profile. USAA insurance costs can vary also widely depending on discounts and factors in your driving profile.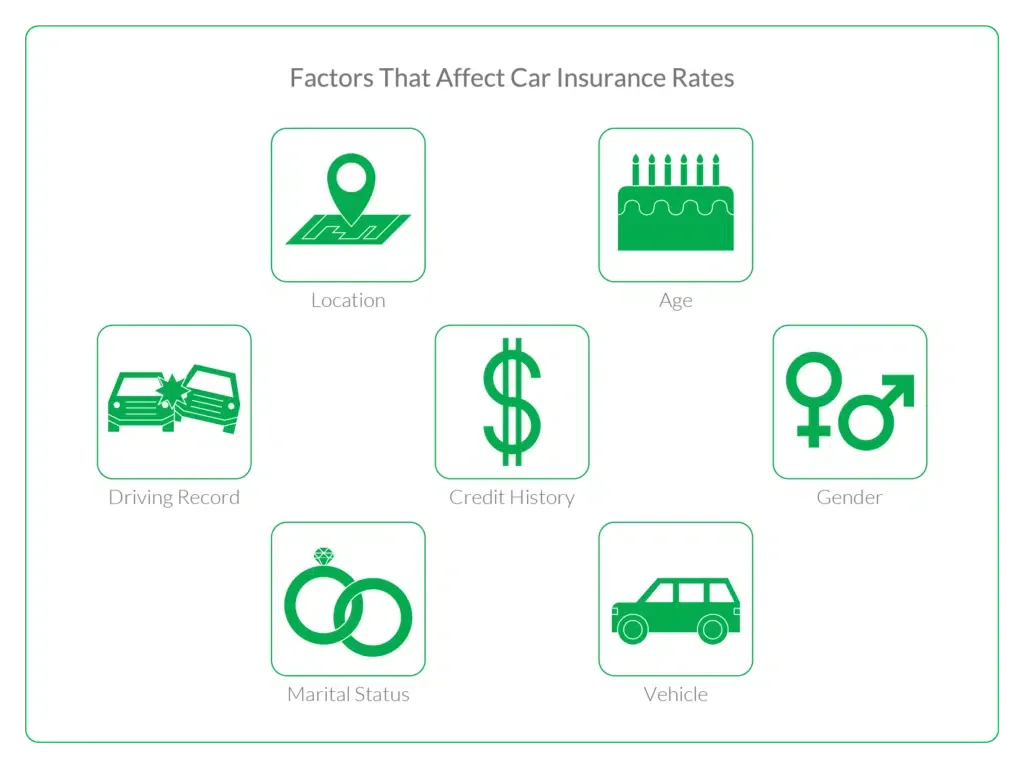 USAA Auto Insurance Quote
As with any other insurer, the rate you receive from USAA may differ from the average quote listed above. That's because several factors affect the price you pay for car insurance, some of which are in your control and others that are not.
USAA Auto Insurance Quote by Age
Age is one factor that significantly impacts the final price you'll pay for car insurance. The younger you are, the more you can expect to pay for coverage. However, USAA still tends to be one of the cheapest car insurance providers across most ages on average, with costs far below the national average.
The table below shows average monthly and annual cost estimates for a USAA policy by age:
| Age | USAA Average Monthly Cost Estimate | USAA Average Annual Cost Estimate | USAA National Average Cost Estimate |
| --- | --- | --- | --- |
| 16 | $399 | $4,784 | $6,912 |
| 17 | $283 | $3,398 | $5,612 |
| 18 | $241 | $2,897 | $4,958 |
| 21 | $134 | $1,609 | $2,786 |
| 25 | $108 | $1,292 | $2,019 |
| 30 | $97 | $1,160 | $1,831 |
| 40 | $90 | $1,079 | $1,755 |
| 50 | $85 | $1,021 | $1,658 |
| 55 | $84 | $1,012 | $1,609 |
| 65 | $88 | $1,057 | $1,648 |
| 75 | $105 | $1,260 | $1,912 |
USAA Auto Insurance Quotes by Driver Profile
Other factors that impact car insurance costs include your driving record, location, and vehicle.
Here are a few more USAA cost estimates that apply to different types of drivers, including those with poor credit and driving records.
USAA Average
Monthly Cost Estimate
USAA Average
Annual Cost Estimate
National Average
Annual Cost Estimate
35-year-old driver
with good credit and driving history
$88
$1,054
$1,730
25-year-old driver
with good credit and driving history
$108
$1,292
$2,019
35-year-old driver
with poor credit
$151
$1,807
$3,123
35-year-old driver
with a recent accident
$159
$1,903
$3,212
35-year-old driver
with a DUI
$186
$2,236
$3,277
Is USAA Expensive?
Compared with other insurers, USAA offers some of the cheapest car insurance coverage in the nation. We found that it's typically 39% cheaper than the national average.
Below, you can see how USAA compares to other national insurance providers.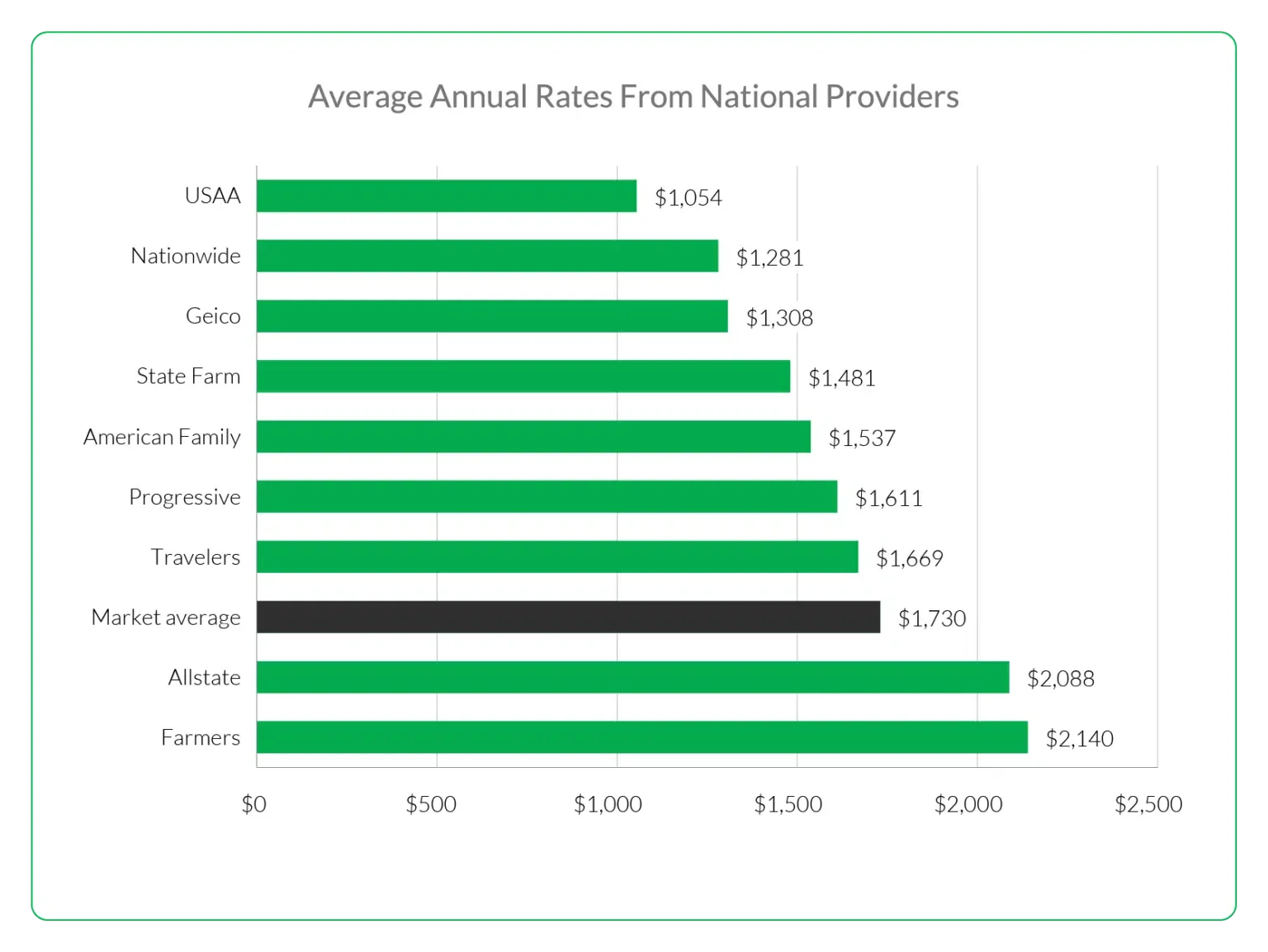 USAA Insurance Rates Compared to Others
The table below displays how USAA compares to other regional and national providers for average monthly and annual car insurance costs.
Why Is USAA Insurance So Expensive?
While USAA is generally one of the cheapest providers, there can be certain circumstances where this is not the case. The rate you get from USAA will depend on several factors, some of which are in your control and others that are not. Knowing what factors affect your car insurance premium can help ensure you get the best possible rates.
Here's an explanation of significant factors that impact your rates:
| | |
| --- | --- |
| Vehicle | Trucks and sports cars typically cost more to insure than sedans or crossover SUVs. New cars with more advanced features often cost more to insure than slightly older vehicles, as well. |
| ZIP code | You'll usually pay more for car insurance if you live in a densely populated area. |
| Driving record | Car insurance rates increase after tickets, at-fault accidents and traffic convictions. |
| Age | Car insurance is generally most expensive for teens and young drivers in their early twenties. |
| Credit score | In most states, a poor credit score will increase your car insurance rates. |
USAA Auto Insurance Discounts
USAA car insurance discounts include:
Safe driver discount
Defensive driving discount
Driver training discount
Good student discount
Multi-policy bundling discount
New vehicle discount
Multi-vehicle discount
Annual mileage discount
Vehicle storage discount
Family discount
Length of membership discount
Military installation discount
No payment plan fees
USAA members also have access to a variety of discounts on travel, home products, car care, retail, health and entertainment.
USAA Homeowners Insurance
Only military members, veterans and their family members are eligible to get home insurance quotes from USAA. Our research found that the national average for homeowners insurance premiums in 2018 was $1,249 per year, according to the NAIC.
USAA Home Insurance Quotes
Home insurance quotes are customized based on a homeowner's specific details and needs. You can expect the following factors to impact your USAA home insurance quote:
Location: The city and state where you live can significantly impact your quoted premium because some areas in the U.S. are more prone to natural disasters. Additionally, your USAA insurance premium may cost more depending on rebuild and repair costs in your area.
Home size and type: Larger and more expensive homes typically cost more to rebuild, resulting in higher home insurance costs. Your home's construction type and features can also make it more expensive to rebuild or repair after an incident.
Level of coverage: Your homeowner's insurance rate will vary depending on your coverage needs. For example, you may pay more for dwelling coverage if your home has a higher value since it will cost more to repair or rebuild after a disaster or incident. However, USAA allows you to customize coverage to fit your needs and budget.
Credit history: Homeowners with good credit scores generally have lower insurance rates.
Deductibles: The lower your insurance deductible, the higher premium you will pay. If your budget allows, raising your deductible to a higher amount can help lower your insurance premium.
USAA Home Insurance Discounts
Homeowners can take advantage of the following discounts from USAA:
| USAA Home Insurance Discount | Details |
| --- | --- |
| Bundle and save discount | You can save up to 10% on your homeowner's insurance premium if you get a car insurance policy with USAA. |
| Protective device credit | You can save on your policy by purchasing an ADT home security system. |
| Claims free discount | Homeowners or those with a condo or renters insurance policy can get 10% off their premium if they've had no claims for the past five years or more. |
USAA Home Insurance Coverage
A homeowners insurance policy provides financial protection after a disaster or accident, covering losses to a home and its contents. It can also include liability insurance for accidents like property damage or injury to others that occur at the homeowner's residence or are caused by the homeowner or their family.
USAA offers the following standard types of home insurance coverage:
Dwelling coverage: This coverage helps cover the cost of repairing or rebuilding your home after it is damaged or destroyed by a covered event. Keep in mind that you'll want to have enough dwelling coverage to pay for estimated repairs or rebuild or replace your property.
Personal belongings coverage: This covers the cost of repairing or replacing your personal property items that were damaged or destroyed by a covered event.
Loss of use coverage: This insurance helps cover additional living expenses if your home is not livable after a covered loss.
Personal liability coverage: This provides coverage when you are legally responsible for accidental injury or damage to the property of others.
Other structures coverage: This helps pay for coverage for other structures on your property separate from your home, such as detached garages, storage sheds, fences and driveways.
Home sharing coverage: This coverage option protects you and your guests when renting out a room or your entire house. It's not available in all states.
Earthquake coverage: This insurance helps pay for damages to your home after an earthquake.
USAA Endorsements
USAA also provides the following policy endorsements:
Personal umbrella policy: A standard home insurance policy includes limited liability insurance to protect you from lawsuits if someone is injured on your property. Since liability coverage is only available up to a certain amount, a personal umbrella policy can provide more protection to help pay attorney fees and lost wages.
Flood insurance: You can purchase flood insurance from USAA, which covers flood damage caused by hurricanes, melting snow and rain.
Valuable personal property (VPP) policy: This policy has no deductible and provides extra protection for high-value items such as jewelry, guns and smartwatches that are lost or accidentally damaged. This is a separate policy from your home insurance policy.
Computer coverage: You can add computer coverage to help protect desktop computers, laptops and tablets from drops or spills with a $250 deductible.
Cell phone coverage: You can add this coverage to your policy for extra protection if you lose or drop your smartphone.
USAA also provides renters insurance and condo insurance.
USAA Life Insurance
Life insurance is a contract that provides your beneficiary with a lump-sum payout when you die. Your beneficiary can use the money to pay things like daily expenses, a mortgage, your kids' education, medical bills and other expenses. USAA offers two types of life insurance policies — term life insurance and permanent life insurance.
Term life insurance provides temporary coverage lasting up to 30 years. Payments and coverage remain the same for the life of the policy. Two separate term life insurance policies are available, with different features to meet specific needs.
Permanent life insurance lasts throughout your lifetime. Payment and coverage options can be adjusted, and you are able to build cash value that earns interest.
USAA Car Insurance Reviews: Conclusion
Our industry-wide review of the best car insurance companies found that USAA stood out among the best, which is why we rated it a score of 9.2 out of 10.0 and named it Low Rates for Military in 2022. We used the same categories to assess all car insurance providers.
USAA Insurance Reviews FAQ
QUS: Below are frequently asked questions about USAA Auto Insurance Reviews.
ANS: Yes, USAA is one of the best options for car insurance on the market according to our industry review. The company is known for providing cheap car insurance and great customer service at the same time. USAA often scores above most other companies on industry studies by J.D. Power.

QUS: Is USAA good at paying claims?

ANS:  USAA tends to pay out claims to drivers quicker than other insurance companies. In our 2022 car insurance survey, 44% of those with USAA membership stated they had their claim paid out within two weeks, while 36% reported it took the company two to four weeks.

QUS: Why is USAA so cheap?

ANS:  USAA could be considered cheap because it offers a variety of discounts. Many drivers qualify for lower premiums based on safe driving, low mileage or vehicle storage. The family discount also offers drivers up to 10% off for continuing a USAA insurance policy that their parents started.

QUS: Where does USAA rank in insurance?

ANS:  After a thorough USAA insurance review, we rank the provider as one of the top options for military families. The only downside to the company is that it's exclusively available to military members and their families. If you qualify, it can be a smart choice for car insurance.

QUS: Is USAA insurance better than State Farm?

ANS:  USAA ranks higher in customer surveys and industry studies than State Farm, so it's usually the better choice for the average driver who qualifies for both companies. However, State Farm can offer better prices for students and teens with its generous student discount and Steer Clear® training program.

QUS: Is USAA homeowners insurance affordable?

ANS:  According to our research, USAA provides affordable homeowners insurance for military members, veterans and their families. The company also has various discounts to help save on your premium.