Elif Teasers – December 2020 Episodes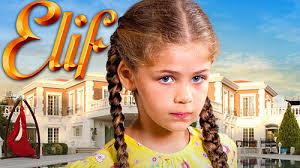 Tuesday 1 December 2020
Episode 57
Arzu's jelousy causes many misunderstandings and confusion. She does everything in her power to confront Melek personally. When Erkut sees Zeynep with Selim, he becomes jealous and comes up with a nasty plan.
Wednesday 2 December 2020
Episode 58
Melek digs in her heels and resolves not to allow Arzu to keep Elif from her. Melih gets ever closer to the truth and Tugce puts her parents on the spot about a possible divorce.
Thursday 3 December 2020
Episode 59
Will Elif and Tugce make peace? Will Selim tell Zeynep how he feels and will Veysel succeed in convincing Zeynep to marry Erkut?
Friday 4 December 2020
Episode 60
Elif saves Tugce from lockdown in her room. Veysel threatens Zeynep that he wont divorce Melek if she doesn't marry Erkut. Arzu tries to strong-arm Melih, but he has the same plan in mind.
---
Monday 7 December 2020
Episode 61
Murat saves Arzu and Veysel. Will Arzu be able to hide her wound or come up with a good enough excuse? Ipek tries to teach Tugce and Elif manners. Melih leaves a note in Arzu's car.
Tuesday 8 December 2020
Episode 62
Just when Arzu thinks she will not see Melih for a long a long time, he comes to visit and makes a surprizing announcement. Zeynep makes a big sacrifice to save Melek from Veysel.
Wednesday 9 December 2020
Episode 63
Will Ipek's family say yes to Melih's proposal,What wil Kenan do with the information he recieved and is Zeynep planning on telling the truth to Selim about Erkut. Will Zeynep go through with Veysels plan?
Thursday 10 December 2020
Episode 64
Melek and Zeynep have difficulty keeping their new home. Veysel has to do all he can to keep Murat from attacking Arzu. Tugce learns some hard lessons about being charitable.
Friday 11 December 2020
Episode 65
It's Selim's birthday and Pelin plans something special. Arzu loses her trump card. Selim receives shocking news.
---
Monday 14 December 2020
Episode 66
Selim is devastated when he finds out about Zeynep's engagement. Pelin manipulates her way into Selim's family and Erkut is starting to feel insecure about Zeynep.
Tuesday 15 December 2020
Episode 67
Pelin tries her best to make Zeynep jealous after she spent the night at Selim's house. Kenan loses a big order. Does Melih have something to do with it? Zeynep takes one step closer to marrying Erkut.
Wednesday 16 December 2020
Episode 68
Erkut means business and sets a wedding date, much to the chagrin of Zeynep. Melih's parents are on their way to meet the Emiroglus and Melek finds herself in grave danger.
Thursday 17 December 2020
Episode 69
Melek is in great danger, but is rescued by a knight on a white horse. Pelin continues to persue and manipulate Selin and starts speading lies about them. Murat and Veysel come up with another plan to blackmail Arzu.
Friday 18 December 2020
Episode 70
Veysel tells Arzu that Murat can retrieve her lost voice recording with Melih. Melih is adamant on taking revenge on Kenan's family and follows through with his plan.
---
Monday 21 December 2020
Episode 71
The Emiroglu household is left with confusion and fear after Murat escapes. Something happens to the envelope while Kenan is distracted and busy opening it? Arzu is starting to lose self confidence when none of her plans work out.
Tuesday 22 December 2020
Episode 72
Ayse shows Melek the photographs and she is completely baffled. Selim and Erkut go head to head, with painful consequences. Selim confronts Zeynep once and for all about her feelings for him. Ayse is very worried about the photographs being seen.
Wednesday 23 December 2020
Episode 73
Melih and his gang are trying very hard to find out who the mystery women in the picture is and how she fits into the family. Aliye confronts Ipek when she almost reveals Kenan's past to Melih and Arzu overhears some information she never knew about Kenan.
Thursday 24 December 2020
Episode 74
Zeynep is determined to not get married to Erkut, but Veysel has other plans for her. Melek and Zeynep are packing and an interesting visitor comes to their house. What will Selim do to Erkut?
Friday 25 December 2020
Episode 75
Melek and Zeynep gets good news about the house. Melih realises he might have found what he was looking for. Aliye battles with the ghosts in her past and tries to recompensate for her failures.
---
Monday 28 December 2020
Episode 76
Arzu receives devastating information which has terrible repurcussions for the family. Melih has dark intentions. Arzu asks Veysel to do the unthinkable.
Tuesday 29 December 2020
Episode 77
While Aliye lies in hospital, Arzu shows her true colours. Veysel faces a huge surprise. Will everything go to plan?
Wednesday 30 December 2020
Episode 78
Will Selim be able to save Zeynep form Erkut and spoil Veysels plan. Is Veysel truely going to give Melek a divorce and allow her to live happily ever after? This is all happening while Aliye is very sick and her family is waiting to hear if she will be okay.
Thursday 31 December 2020
Episode 79
Both the wedding and divorce procedures cause dissapointment, anger, fear, despair and happiness. While Zeynep is temporarily safe, Melek is in great danger. When Veysel lies to Arzu, she once again vows to destroy Melek.
---
Premiere episodes of Elif air on eExtra from Mondays to Fridays at 18h35.