Vierspel Vuurspel Teasers – Full Episodes for November 2020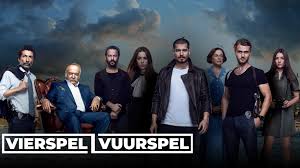 Read Below
Monday 2 November 2020
Episode 101
How is Alyanak planning on helping Sarp? Who really killed Yusuf?
Tuesday 3 November 2020
Episode 102
Sarp is on a warpath, he wants to kill Celal and find his brother. Mert shoots Coskun, but meets his brother.
Wednesday 4 November 2020
Episode 103
Coskun lures Mert and Sarp to a rendezvous. Sarp discovers photographs of his past.
Thursday 5 November 2020
Episode 104
Mert feels an increasing sense of remorse. Coskun makes a revelation that leads to a dramatic turn of events.
Friday 6 November 2020
Episode 105
Sarp and Mert have a plan to capture Celal.
---
Monday 9 November 2020
Episode 106
Will it be the end of Kudret? Sarp and Mert share a few emotional moments. Celal and Davut are trying to find out where Eylem is.
Tuesday 10 November 2020
Episode 107
Mert and Sarp band together to take down Celal. Eylem and Fusun are found out.
Wednesday 11 November 2020
Episode 108
Celal treats Yesim with callous disdain. Fusun makes a life-changing discovery about her son.
Thursday 12 November 2020
Episode 109
Celal's patience is tested by bad news on more than one front. Yesim calls Sarp for help.
Friday 13 November 2020
Episode 110
The two brothers might have a way to finally put Celal behind bars, but will Yesim keep her word?
---
Monday 16 November 2020
Episode 111
Celal has all eyes on taking down Mert and Sarp, but they pull a rabit out of a hat at the last minute.
Tuesday 17 November 2020
Episode 112
Fusun's delight with having both her son's home does not last long. Many lives are lost in Davut's efforts to save Celal from going to prison. Will Celal survive this time?
Wednesday 18 November 2020
Episode 113
The uncertainty of Celal's death tortures Sarp. Eylem receives an important gift, but it all takes a turn for the worse.
Thursday 19 November 2020
Episode 114
Final episode!
In the action-packed and highly dramatic series finale, Celal is tormented by ghosts of the past. Will the two brothers survive the final showdown with Celal?
---
A new dubbed Turkish novel titled Price of Passion replaces Vierspel Vuurspel once it ends. It premieres on Monday, 23 November at 20h55 and is preceded by one episode of MTV's One Bad Choice on Friday before.
---
Premiere episodes of Vierspel Vuurspel air on extra from Mondays to Fridays at 20h55.