True Love Teasers – March 2021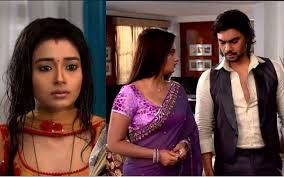 Monday 1 February 2021
Episode 1538
Sankrant tells everyone that Ambika is Malvika's daughter!
Episode 1539
Meethi asks Sankrant to forgive Ambika, for their baby's sake.
Tuesday 2 February 2021
Episode 1540
Rani eats the apple that was poisoned by Chameli's witchdoctor.
Episode 1541
Chameli is shocked to see Rani in the ICU, after her witchdoctor told her that Meethi ate the apple.
Wednesday 3 February 2021
Episode 1542
Meethi leaves no stone unturned in order to save Rani's life.
Episode 1543
Meethi walks on burning coal in order to save Rani's life. After seeing Meethi's sacrifice, Chameli repents to God for her sins.
Thursday 4 February 2021
Episode 1544
Khanna is stunned to find out that the witchdoctor is dead! He takes a gun and decides to shoot Aakash himself, but Chameli saves Aakash.
Episode 1545
Chameli is upset after seeing Khanna's daughter crying out for her dad.
Friday 5 February 2021
Episode 1546
Damini and granny have finally become friends!
Episode 1547
Rani refuses to accept Tamanna and continues being mean to her.
---
Monday 8 February 2021
Episode 1548
Damini advises Maiyya not to be so obsessed over what people think and not to value blood relations over doing the right thing.
Episode 1549
Series finale!
Chameli tells Rani to be a good person like her Meethi Ma. Damini tells Meethi that kids will only learn what we teach them and how we as elders mould them to think.
Damini wishes that she hadn't encouraged Tappu towards the path of anger and hatred, and is proud that Meethi has achieved what their generation could not achieve.
---
A new series called The Cost of Love replaces True Love once it ends.
---
True Love airs on Glow TV on StarSat and OpenView from Mondays to Fridays at 20h00 and 20h30.