True Love Teasers – January 2021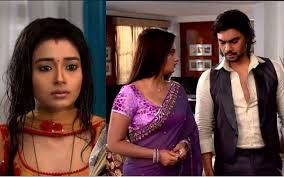 Monday 4 January 2021
Episode 1498
Meethi dresses up as a dance instructor and goes into the brothel.
Episode 1499
Aakash goes to meet Chameli. Will she tell him that Rani is his biological daughter?
Tuesday 5 January 2021
Episode 1500
Meethi finds a photo of Chameli and Aakash together! Will she figure out that Rani is Aakash's daughter?
Episode 1501
Maiyya recognizes Chameli and is shocked to see her!
Wednesday 6 January 2021
Episode 1502
Chameli tells Maiyya and everyone else that Rani is Aakash's daughter. Will Maiyya accept her?
Episode 1503
Maiyya and Aakash both want Chameli to leave the house but Meethi insists that for Rani's sake, she should stay.
Thursday 7 January 2021
Episode 1504
Nani is very impressed when Vishnu comes home with packets full of things, which he bought with the money given to him by the person who bumped into him.
Episode 1505
Malvika purposely take the pink sari bought by Aakash for Meethi, and gives it to Nandini to wear.
Friday 8 January 2021
Episode 1506
Vishnu goes onto the street and tries to walk in front of cars in order to get bumped and earn some money!
Episode 1507
Aakash arrives home and sees a lady in the pink sari and mistakenly thinks it's Meethi and hugs her.
---
Monday 11 January 2021
Episode 1508
Chameli is upset after Meethi tells her that she doesn't need any help to look after Aakash.
Episode 1509
Malvika convinces Chameli that she should be with Aakash and tells her that she will help her to break up Meethi and Aakash!
Tuesday 12 January 2021
Episode 1510
Aakash's business partner, Mr. Khanna, arrives and recognizes Chameli!
Episode 1511
Vishnu is on the road trying to get bumped again, when Mr. Khanna gets off from his car and offers a job to Vishnu.
Wednesday 13 January 2021
Episode 1512
Aakash gets a credit card for Chameli!
Episode 1513
Chameli buys a jacket for Aakash and continues trying to win him back and take him away from Meethi.
Thursday 14 January 2021
Episode 1514
Mukta realizes that Vishnu has been lying about working at the hospital.
Episode 1515
Meethi is shocked to see that Aakash, Chameli and Rani took a family photograph together.
Friday 15 January 2021
Episode 1516
Chameli burns the sari that Aakash has bought for Meethi.
Episode 1517
Chameli dresses up as a bride and vows that Aakash will be hers again.
---
Monday 18 January 2021
Episode 1518
Chameli challenges Meethi and tells her that she will take Aakash away from her and he is only with Meethi because she left him.
Episode 1519
Maiyya sees Chameli holding Aakash's shirt and tells her to get out of the house!
Tuesday 19 January 2021
Episode 1520
Mr. Khanna asks Vishnu to help him destroy Aakash. Do you think Vishnu will agree?
Episode 1521
Chameli confesses to Meethi that she has started the fire and will go to any lengths to get Aakash back.
Wednesday 20 January 2021
Episode 1522
Malvika pleads her innocence but the police still arrest her as Chameli planted the evidence in her room. It seems Malvika has met her match!
Episode 1523
Meethi manages to escape with the pen drive containing evidence against Khanna.
Thursday 21 January 2021
Episode 1524
Chameli overhears Aakash speaking about Khanna on the phone to Vishnu.
Episode 1525
Chameli finds the hard drive containing the proof against Khanna!
Friday 22 January 2021
Episode 1526
Chameli mixes poison into Meethi's water.
Episode 1527
Khanna is informed that one of his employees is leaking information to the police. Do you think he will he realize that it is Vishnu?
---
Monday 25 January 2021
Episode 1528
Mukta tells Meethi that Chameli is the reason that her life is in a mess but Meethi says that Chameli can't be blamed for every single thing that goes wrong. Will she figure out that Chameli is poisoning her?
Episode 1529
Damini is shocked to hear Maiyya say that an evil spirit has entered into Meethi.
Tuesday 26 January 2021
Episode 1530
Aakash tells Damini that he will have to take Meethi to a psychiatrist.
Episode 1531
Khanna sets Vishnu up and the police are now after Vishnu!
Wednesday 27 January 2021
Episode 1532
Damini is sure that someone is doing black magic on Meethi. Will they figure out that it is Chameli?
Episode 1533
Vishnu overhears Chameli on the phone with Khanna!
Thursday 28 January 2021
Episode 1534
Chameli continues trying to kill Meethi with her evil spells, while Aakash continues to pray for Meethi, and the battle between good and evil continues.
Episode 1535
The witchdoctor is shocked to hear that Meethi is still alive and decides to combine all her 'powers' and kill Meethi once and for all.
Friday 29 January 2021
Episode 1536
Chameli threatens to take Rani if they force her to leave the house.
Episode 1537
Rani finds Meethi's idol in the garden and tells everyone that Chameli hid it there.
---
True Love airs on Glow TV on StarSat and OpenView from Mondays to Fridays at 20h00 and 20h3