The Vow 2 Teasers – December 2020 Episodes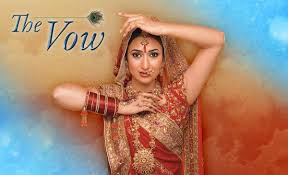 Coming up on The Vow in December 2020:
Tuesday 1 December 2020
Episode 67
The community members crucify Gaury and her family for the choices they have made. To restore Gaury's reputation, Amar puts vermillion on Gaury's forehead, deeming her his wife, how will he tell Divya about this?
Wednesday 2 December 2020
Episode 68
Karan continues abusing Aditi. Divya starts becoming suspicious of her brother's behaviour with Aditi. Amar returns home and aims to tell Divya the truth but other issues take way. Gaury goes to Delhi to find Amar.
Thursday 3 December 2020
Episode 69
Bharat brings home a woman he regards as his mother. Uma brings Gaury to the house. Will her arrival cause a rift between Amar and Divya?
Friday 4 December 2020
Episode 70
Gaury sees Amar dancing and embracing Divya, she is taken aback by this and leaves the house. Amar reveals the truth to Gaury.
---
Monday 7 December 2020
Episode 71
Bharat receives the news that Karan has signed the divorce papers and that he can now be with Aditi. Karuna seems to not agree with Bharat's choice to marry a divorcee. she sternly refuses to accept the situation.
Tuesday 8 December 2020
Episode 72
The woman Bharat considers as his mother refuses to accept Aditi as his wife. Gaury is struggling to accept that Shivam has passed on.
Wednesday 9 December 2020
Episode 73
Divya catches Gaury embracing Amar's clothing. Divya starts becoming suspicious of Gaury.  She finds out the truth about Amar and Gaury.
Thursday 10 December 2020
Episode 74
Divya tells Amar that Gaury is his lawful wife and denies her relationship with him, what could Divya be up to? Karuna refuses to give Bharat and Aditi her blessings for marriage.
Friday 11 December 2020
Episode 75
Karuna tells Bharat that she will not attend his wedding. The wedding is underway and everyone is happy with the outcome. Divya keeps suffering in silence, what could she be hiding?
---
Monday 14 December 2020
Episode 76
The doctor suggests that Divya terminate the pregnancy to save her life but she refuses to do this. Divya's condition gets out of hand and she is sent to the operation theatre immediately.
Tuesday 15 December 2020
Episode 77
Amar and Divya keep the secret about the baby from their family. The tragic secret about Divya's pregnancy is revealed to the family. It appears that Divya had her own plans.
Wednesday 16 December 2020
Episode 78
Divya continues hiding the secret about her pregnancy from the family. Divya encounters complications during a family outing.
Thursday 17 December 2020
Episode 79
Karuna speaks ill of Aditi behind her back. Divya's lie comes out and Amar does not take this well. Amar goes to the extreme to try and save his wife's life.
Friday 18 December 2020
Episode 80
The court case gets postponed when Divya falls ill. Amar apologises to Gaury for all he has put her through.
---
Monday 21 December 2020
Episode 81
Sindoora is back. However, she is in a mental institution. It appears that Bharat has been taking care of Sindoora, could she be up to something?
Tuesday 22 December 2020
Episode 82
Amar makes a decision that puts Divya's life at stake. Aniket sees a difference in Bharat's behaviour and questions him. Aniket remove the obstacle between Bharat and Aditi.
Wednesday 23 December 2020
Episode 83
Amar follows Bharat to the mental asylum and finds out what he has been up to. The family is shocked to see Sindoora back to the house. They try to convince Bharat to move her back to the institute.
Thursday 24 December 2020
Episode 84
Bharat shows love and care to Sindoora despite her past. Divya starts to question Sindoora's suspicious behaviour.
Friday 25 December 2020
Episode 85
Divya falls for Sindoora's act. But Sindoora later reveals her true colours to Divya. The family receive horrific news about Divya.
---
Monday 28 December 2020
Episode 86
Sindoora instigates Gaury against Amar. Sindoora realises that ending Divya's life is not a good idea and might land her in trouble.
Tuesday 29 December 2020
Episode 87
Amar gets news that Divya's condition is getting worse. Will Divya come out of the coma?
Wednesday 30 December 2020
Episode 88
Aditi finds out that Sindoora has an ulterior motive. Amar finally accept Dia and the responsibilities he has over her. Sindoora goes to the extreme to rid herself from the curse.
Thursday 31 December 2020
Episode 89
Bharat shows Sindoora affection, being oblivious to the possibility of her deceiving him. Aniket refuses to fall for Sindoora's act. She however, continues with her mission.
---
Premiere episodes of The Vow air on Zee World from Mondays to Fridays at 18h00.