The River 2 on Mzansi Magic Teasers – Episodes November 2020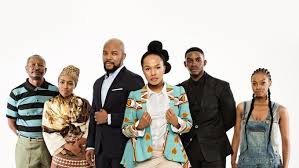 Read Below
Monday 2 November 2020
Episode 26
No Loan. No Lay-By
A furious Lindiwe takes revenge against one of her own, just as Sihle causes a stir among the Refilwe women.
Tuesday 3 November 2020
Episode 27
Torn Apart
Cobra falls headlong into Lindiwe's trap and Beauty has it bad for Sihle.
Wednesday 4 November 2020
Episode 28
Oh Mama
Zweli makes a dangerous confession to Andile and an unwelcome relative drops into Lindani and Paulina's life.
Thursday 5 November 2020
Episode 29
Grin and Bear It
Zolani learns that all is not as it seems with Andile. Zodwa runs circles around Malome Sechaba at the lobolo negotiations.
Friday 6 November 2020
Episode 30
Hook-Ups
Paulina settles the score with her greedy mother. A blast from Cobra's past arrives with hectic news.
---
Monday 9 November 2020
Episode 31
It Wasn't Me
Lindiwe does a little digging on Sihle and Cobra has to face Paulina with his latest news about Angelina.
Tuesday 10 November 2020
Episode 32
Set Me Free
Lindiwe's meeting with Sihle doesn't go as anticipated and Zolani is gutted when he learns what Tumi wants from him.
Wednesday 11 November 2020
Episode 33
Umkhehelo!
Not everyone is happy for Cobra and Paulina. Lindiwe gets information on Sihle that could help her case.
Thursday 12 November 2020
Episode 34
Bride Wars!
Lindiwe taints Cobra and Paulina's union from afar while Angelina plays her own tricks on the happy couple.
Friday 13 November 2020
Episode 35
Celebrations and Sorrow
Cobra and Paulina's wedding is filled with drama. Zolani makes a surprise appearance at the wedding.
---
Monday 16 November 2020
Episode 36
Baby Mama Drama!
Dambisa's return wreaks havoc in the Dikana family and Angelina's plan to come between Cobra and Paulina is on track.
Tuesday 17 November 2020
Episode 37
Trouble Brewing
Dambisa is on the war path and Angel pulls all the stops to make sure Paulina and Cobra are miserable newlyweds.
Wednesday 18 November 2020
Episode 38
Murderer!
Just as Lindiwe thinks she has everything under control, she's dealt another blow.
Thursday 19 November 2020
Episode 39
Fool Me Once
Lindiwe starts plotting revenge against the vandal who spray painted her wall. Paulina comes home to a nasty surprise.
Friday 20 November 2020
Episode 40
You've been Served
Cobra and Paulina's marriage faces lies, violence and manipulation just as the Dikanas get more surprises from Lindiwe's upcoming trial.
---
Monday 23 November 2020
Episode 41
Fighting Dirty!
Lindiwe is preparing for the worst after she finds out what the opposition is planning. Neither Cobra nor his family know how to solve the headache that is Angelina.
Tuesday 24 November 2020
Episode 42
Vision
Zolani solicits help from an external party, but Lindiwe is not too chuffed or willing to let them in. Cobra goes all out to win back Paulina's heart.
Wednesday 25 November 2020
Episode 43
The Fool is Fooled
Lindiwe and Zolani get more than what they bargained for. Cobra and Paulina manage to fool Angel.
Thursday 26 November 2020
Episode 44
Trial Loading…
Angelina makes a decision that shocks everyone in the Mokoena home and Andile's hatred for his mother grows as they prepare for the trial.
Friday 27 November 2020
Episode 45
Cut the Apron Strings
A close family member testifies against Lindiwe and Paulina walks right into Angel's carefully laid trap.