The Queen Teasers – December 2020 Episodes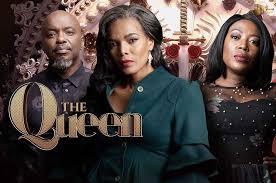 Coming up on The Queen in December 2020:
Tuesday 1 December 2020
Episode 92
Don't Tell The Bride
Mpho learns something shocking about Schumacher. Vuyiswa has an interesting theory about the rapist but Hector doesn't buy it.
Wednesday 2 December 2020
Episode 93
Double Life
Vuyiswa gets the shock of her life. Mpho takes a firmer stance against Thando.
Thursday 3 December 2020
Episode 94
Drama
Schumacher decides he needs drama in his life. Vuyiswa goes one step forward, ten steps backwards.
Friday 4 December 2020
Episode 95
Inside Man
Derrick takes Vuyiswa hostage. Thando tries to make Schumacher sign a prenup.
---
Monday 7 December 2020
Episode 96
This Is All Your Fault
Vuyiswa is left speechless when the tables unexpectedly turn on her. Mpho makes a startling discovery.
Tuesday 8 December 2020
Episode 97
This is Personal
Hector tries to flush Derrick out. Schumacher can see his meal ticket slipping away.
Wednesday 9 December 2020
Episode 98
Public Opinion
Schumacher comes up with a plan to win Mpho back but will she listen to him? Tembisa turns on Vuyiswa and Hector making their manhunt more difficult.
Thursday 10 December 2020
Episode 99
Getting Away With It
Not everyone is happy about Mpho's latest decision. Vuyiswa's failure weighs on her.
Friday 11 December 2020
Episode 100
Dead Set
Schumacher falls off the bandwagon even as Patronella and Mjekejeke worry he'll end up dead.
---
Monday 14 December 2020
Episode 101
Greener Pastures
An old friend has Jackal questioning his life. Schumacher and Mpho have a shocking surprise for Thando and Hector.
Tuesday 15 December 2020
Episode 102
Small Change
Sipho makes some demands of Schumacher. Jackal and Solly go for a night out that takes a surprising turn.
Wednesday 16 December 2020
Episode 103
Franchise
Schumacher makes Hector a tempting offer. Solly offers Jackal a chance to buy into his business but there's a catch.
Thursday 17 December 2020
Episode 104
Stay Close
Thando has a surprise for Mpho. Solly reels in his unsuspecting fish.
Friday 18 December 2020
Episode 105
Good Fortune
Thando plays her ace and it looks like Schumacher's dreams will crumble. A lot of money is handed over for a dream investment.
---
Monday 21 December 2020
Episode 106
Broody
The Khozas are shocked when they receive an unexpected visitor. Schumacher has another proposal for Mpho.
Tuesday 22 December 2020
Episode 107
Someone To Lean On
Shaka takes drastic measures to find out whether Siyanda or Goodness are telling the truth. Thato has had enough of Jackal messing up and kicks him out.
Wednesday 23 December 2020
Episode 108
That Is No Hlase
Kagiso is warming up to what may turn out to be his new life but his family is not convinced he's making the right choice. Georgina is thinking of turning her side hustle into her main hustle.
Thursday 24 December 2020
Episode 109
Of Fear and Hope
Kagiso fears he will lose the love of his life while Harriet fears she will lose her son. Georgina takes a giant leap of faith.
Friday 25 December 2020
Episode 110
Affront
Kagiso commits to Goodness. Jackal makes a shocking discovery.
---
Monday 28 December 2020
Episode 111
Guess Who's Back
Kagiso struggles to come to terms with Goodness' latest revelation. Jackal plans to reveal Solly's secret but things take an unexpected turn.
Tuesday 29 December 2020
Episode 112
SAB Approved
Goodness is given a difficult ultimatum. Jackal finds it hard to live with the deal he made with Solly.
Wednesday 30 December 2020
Episode 113
Trainsmash
Kagiso learns that he should be careful of what he wishes for. Solly has Jackal over a barrel.
Thursday 31 December 2020
Episode 114
A Fighting Chance
Kagiso lashes out as he battles with the consequences of his actions. Vuyiswa smells a rat and is determined to expose it.
---
Premiere episodes of The Queen air on Mzansi Magic from Mondays to Fridays at 21h00.