The Queen Teasers – April 2021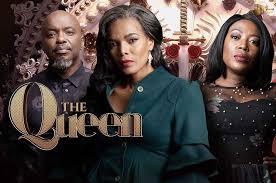 We (keportal Team) pleased to inform you about The Queen Teasers – April 2021
Thursday 1 April 2021
Episode 179

Strawberries and Cream
Shaka faces a sobering reality. Schumacher does the unthinkable.
Friday 2 April 2021
Episode 180
One Way or Another
Shaka finally gets through to Khaya but Brutus is still suspicious of his grandson's intentions. Caught red handed, Schumacher can't see a way out of his dilemma.
---
Monday 5 April 2021
Episode 181
No Contest
Khaya is forced to make a risky move to help Cici. Schumacher tries to hide away from the Sebatas.
Tuesday 6 April 2021
Episode 182
Icing on the Cake
Harriet struggles to convince the Khozas of her plans for the family business. Cici's life is in danger because of the "drugs" Khaya got for her.
Wednesday 7 April 2021
Episode 183
Tough Enough?
Khaya's attempt to be a hero leads him to deadly grounds. Schumacher is all about living in the moment, even if it means doing it on someone else's budget.
Thursday 8 April 2021
Episode 184
Own Medicine
Mpho has the perfect revenge in mind for Schumacher. Shaka has to stop Khaya from making the biggest mistake of his life.
Friday 9 April 2021
Episode 185
Overdue
The Khozas are panicked as Vuyiswa takes decisive action against Khaya. Mpho has one final request for Schumacher.
---
Monday 12 April 2021
Episode 186
Loneliness Knows Him by Name
Shaka displays a side of him Harriet never knew existed. Vuyiswa throws herself in the firing line.
Tuesday 13 April 2021
Episode 187
Visitation
A visit from beyond the grave offers Vuyiswa a chance at happiness. A mysterious beauty bails Shaka out of a jam but what does she want in return?
Wednesday 14 April 2021
Episode 188
Another Chance at Love
Vuyiswa's firm grasp on the past starts to worry Thato. Thando finds herself still wrapped up in the past.
Thursday 15 April 2021
Episode 189
Play Along
Thando hatches a plan that Goodness is able to buy into. Will Hector be able to tell Mpho the truth about his latest choice?
Friday 16 April 2021
Episode 190
Outed
Thando has a surprise for Shaka when he fails to honour his promises again. Vuyiswa is upset when Hector walks on eggshells around Mpho instead of telling her the truth.
---
Monday 19 April 2021
Episode 191
Monday 19 April 2021
Hector tries to convince Mpho about his relationship with Vuyiswa. Thando has an unexpected conversation with Shaka. Vuyiswa struggles to come to terms with Mpho's rejection.
Tuesday 20 April 2021
Episode 192
This Child
Mpho gives her father an ultimatum. Shaka is not exactly done with Thando.
Wednesday 21 April 2021
Episode 193
Done with Trash
Shaka starts to question if he's made the right choices in life. Hector is at the end of his rope, when he struggles to find his daughter.
Thursday 22 April 2021
Episode 194
Stop Chasing Skirts
The Khozas are divided by Shaka's choice of girlfriend. Mpho makes a surprising revelation.
Friday 23 April 2021
Episode 195
Maratongfontein
Lovers have to deal with overprotective family and surprises coming out of the blue.
---
Monday 26 April 2021
Episode 196
The Announcement
Hector is grooming a reluctant Thando to take over the dealings with Santiago. Shaka finds out Thando hasn't told anyone about their relationship. Is she ashamed of him?
Tuesday 27 April 2021
Episode 197
Flash the Ring
Schumacher exposes Hector's darkest secret. Thando is forced into a corner.
Wednesday 28 April 2021
Episode 198
Too Close for Comfort
Thato starts to ask questions about Hector that make Schumacher and Mjekejeke uncomfortable. Thando continues to entangle herself in a web of lies, finding it harder and harder to be honest with Shaka.
Thursday 29 April 2021
Episode 199
Fly Me to Colombia
Thato is on a quest to find out the truth about Hector. Shaka defies his family and chooses to fight for his relationship.
Friday 30 April 2021
Episode 200
Side Hustles
Kagiso comes across something that could blow up Shaka's world. Thato starts asking questions that make Thando and Hector nervous.