New! The Evil Eye Teasers – November 2020 Episodes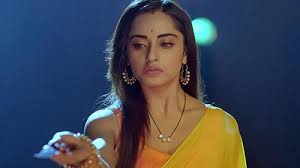 Star Life's new novela The Evil Eye premieres this Saturday (28 November) at 22h00 and covers a topic many of us know.
A run of bad luck.
Things going wrong, left, right and and centre. And you can't seem to get out of it.
Ansh's son is having quite the spate of bad luck at the moment.
Unfortunately, it isn't just simple bad luck afflicting him. A witch has cast her evil sight on the child, and the entire family is suffering under her powerful spell.
Witness their struggle to break this spell and live a normal life…
Saturday 28 November 2020
Episode 1
A beautiful witch, in her quest for perpetual youth, kills people using dark magic. Meanwhile, Ansh's superstitious mother is concerned about his future.
Episode 2
Ansh's mother feels the chill as she encounters a series of bad omens. Ansh tries to act normal in front of his mother while the enchantress finds her way to slither inside his house.
Sunday 29 November 2020
Episode 3
The family members feel worried when Ansh's mother loses her consciousness. Later, Ansh's mother tells everyone about the witch, Mohona who killed Mridul in the past.
Episode 4
Vedasree tells the story behind the death of the witch, Mohona to her family. Later, a tensed Vedasree decides to visit Mohona's grave to make sure that she is dead.
Monday 30 November 2020
Episode 5
Mohona keeps an eye on Vedasree and her family members. Meanwhile, Ansh and his friends decide to find out the reason for Preeti's death by speaking to her spirit.
Episode 6
Ansh and his cousins flee from the spot after witnessing paranormal activities. The forensic team is baffled as the witch sneaks into the hospital and disappears with Preethi's dead body.
---
Premiere episodes of The Evil Eye air on Star Life from Mondays to Sundays at 22h00 and 22h30.