The Evil Eye Teasers – March 2021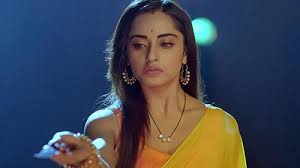 We (keportal Team) pleased to inform you about The Evil Eye Teasers – March 2021
Coming up on The Evil Eye this March 2021:
Monday 1 March 2021
Episode 186
The family realises that Aditya has turned into a jaljeev while tracking his whereabouts. Elsewhere, Saavi attempts to warn Tara.
Episode 187
Piya turns into a Jalpari to save Munna while Mohana joins the family. Later, Tara suspects Mayank while Mohana reveals her evil deeds to Vedashri.
Tuesday 2 March 2021
Episode 188
Ansh and Nishant search for Piya while a group of sailors tries to kill her. Later, Tara gets a clue about the presence of dark power.
Episode 189
Piya and Ansh's reunion is cut short by a gang of sea demons. Meanwhile, Tara discovers the identity of the mysterious entity that had been haunting her.
Wednesday 3 March 2021
Episode 190
After a tough fight, Ansh finally saves Piya. Meanwhile, during Mayank and Tara's first night, he tells her a shocking truth about his mother.
Episode 191
Piya saves Ansh from the sea demons while Nishant worries for her. Later, Naman and Saavi bring the Makshika fairy to help Piya.
Thursday 4 March 2021
Episode 192
Mohana wants to cure Piya but the Rathods refuse her. Later, Mohana targets Munna to make Piya and Ansh seek her help while Nishant gets suspicious.
Episode 193
In an effort to save Aditya, Piya accepts Mohana's proposal. Later, Ansh is suspicious when Shekhar brings home a new problem.
Friday 5 March 2021
Episode 194
Rahul uses his magical powers to torture Mohana. Elsewhere, Tara meets Sanam, Mayank's ex-fiance. Will they have a clash?
Episode 195
Mohana makes a deal with Kohra while Sanam learns about Panna's evil intentions. Elsewhere, Tara discovers a vital clue.
Saturday 6 March 2021
Episode 196
Tara spills the ginger juice to hinder Panna's way while Piya kills Rahul. Later, Piya discloses the truth about her knife while Mohana reveals Rahul's identity.
Episode 197
Mayank reveals his real identity to Tara and helps her escape with Naman and Saavi. Later, Ansh tells the family that Kohra will attack them.
Sunday 7 March 2021
Episode 198
Nishant learns about Rahul's identity while Tara saves Mayank from torture. Later, Panna reveals her devious intentions.
Episode 199
With the guests at home, Ansh and Mohana struggle to hide Rahul's body. Later, Tara teams up with Sanam to expose Panna.
---
Monday 8 March 2021
Episode 200
Panna eavesdrops on Tara and Sanam's conversation and learns about their plan. Elsewhere, Ansh and Nishanth plan to dispose of Rahul's body.
Episode 201
Shalaka searches for Rahul's corpse and later threatens to kill Mohana. Elsewhere, Tara saves Mayank's life and stops Panna from torturing him.
Tuesday 9 March 2021
Episode 202
Ayush discusses the disposal of Rahul's body with Nishanth while Shakala confronts him. Later, Naman and Saavi learn a shocking truth.
Episode 203
At Neha's Mehendi ceremony, Shalaka possesses her while Tara witnesses a strange occurrence. Later, Nishant tells Ansh a way to resist Shalaka's powers.
Wednesday 10 March 2021
Episode 204
Ansh comes up with a plan to outsmart Shalaka while Tara stumbles upon a mysterious photo. Later, the Rathods are in a fix as Shalaka gets suspicious.
Episode 205
The Rathods outsmart Shalaka while Sanam and Tara get some shocking information. Later, in an effort to hide Rahul, Ansh tries to escape a giant Shalaka.
Thursday 11 March 2021
Episode 206
Mohana decides to join hands with Shalaka and help her find Rahul's murderer. Elsewhere, Tara and Sanam discover some unexpected facts about Panna.
Episode 207
Ansh and Piya desperately search for Munna while Mohana attacks the Rathods. Later, in front of Panna, Tara reveals a shocking information about her to Mayank.
Friday 12 March 2021
Episode 208
As Mohana attempts to kill Vedashri, she gets stabbed by Chaitrali. Later, Panna threatens Tara, while Nishant prepares a poisonous potion to battle Mohana.
Episode 209
Piya fights with Shalaka to save Adi while the Rathods struggle to get rid of Mohana's illusions. Elsewhere, Sanam tells Naman about a magical parrot named Heera.
Saturday 13 March 2021
Episode 210
Despite being warned by Nishant, Ansh takes a big risk and stabs Vedashri. Elsewhere, Heera disappears after transforming into a human being.
Episode 211
Ansh kills Piya and the rest of the family while a helpless Nishant looks on. Elsewhere, Tara reveals Heera's identity to Mayank.
Sunday 14 March 2021
Episode 212
The Rathods go back in time. Vedashri is planning Ansh and Ruby's marriage while Mohana makes a comeback, but where is Piya?
Episode 213
Ansh steps on Piya's earring and gets a glimpse of the past. Later, he throws holy water on Ruby while the Rathods are shocked.
---
Monday 15 March 2021
Episode 214
Ansh tries to help the Rathods regain their memory while Mohana brews an evil plan. Later, he manages to find Piya.
Episode 215
Teaser unavailable.
Tuesday 16 March 2021
Episode 216
Nishant traps Ansh using Pataal Ketki. Later, the Rathods visit him while Ansh makes desperate efforts to escape from his captivity.
Episode 217
While the Rathods keep Dilruba from fulfilling her goal, Ansh struggles to stop Piya and Naman's wedding.
Wednesday 17 March 2021
Episode 218
Piya remembers the past while Mohana takes Munna with her. Later, as the Rathods make their escape, Mohana tries to kill them.
Episode 219
Ansh and Piya find Munna while Nishant helps them reach the present. Later, Piya is worried as Mohana goes missing. Where is she hiding?
Thursday 18 March 2021
Episode 220
Piya and Adi are trapped underground while Nishant makes a shocking revelation. Meanwhile, Ansh desperately tries to find Piya and Adi.
Episode 221
An unexpected source helps Ansh save Piya and Munna. But his appearance throws them in shock. Who is he?
Friday 19 March 2021
Episode 222
Ansh and Piya discover a shocking fact about Karan's past. Later, Saavi and Naman team up to trap Panna.
Episode 223
Nishant attacks Karan with Pataal Ketki and discovers a shocking truth about him. Later, Naman decides to marry Sanam while Saavi warns him of the repercussions.
Saturday 20 March 2021
Episode 224
Karan plots against Piya and Adi. Piya suspects Karan. Meanwhile, he keeps Nishant trapped while an exuberant Dilruba marries Naman.
Episode 225
The Rathods fall prey to Mohana and Karan's evil trap while Nishant warns Ansh. Elsewhere, Saavi plans to expose Dilruba.
Sunday 21 March 2021
Episode 226
Nishant rescues the Rathods and warns them about Karan's cunning trick. Later, Naman finds Sanam missing while Saavi learns a shocking fact.
Episode 227
Ansh and Karan exchange punches after the latter converts Piya and Adi into a stone. Elsewhere, Naman is baffled while Guru Ma learns about Sanam's real identity.
---
Monday 22 March 2021
Episode 228
Karan is baffled to learn about Mansi's identity while Mohana reveals the truth. Meanwhile, Guru Ma and Saavi plan to trick Sanam.
Episode 229
While Mohana and Mansi attack the Rathods, Karan does the unthinkable to save Piya and Adi. Elsewhere, Naman catches Guru Ma red-handed.
Tuesday 23 March 2021
Episode 230
The Rathods are displeased with Ansh's decision. Elsewhere, Naman learns a shocking truth as Saavi accuses Sanam.
Episode 231
Mohana pushes Ansh off the roof while Naman confronts Sanam about her intentions. Later, a baffled Ansh finds Adi missing from the daycare.
Wednesday 24 March 2021
Episode 232
Mohana is overjoyed at her plan's success. Elsewhere, Naman saves the Chudail's life while Vedashri learns a frightening truth about her wound.
Episode 233
Mohana endangers the kids while a distraught Piya fights her with all the might. Elsewhere, Naman has a hard time controlling Dilruba.
Thursday 25 March 2021
Episode 234
When Mohana's proposition is denied, she makes Vedashri bleed. Elsewhere, Sanam turns violent after spotting a burglar in Guru Ma's room.
Episode 235
Mohana offers an obnoxious deal to Ansh which puts him in a dilemma. Later, the Rathods are baffled on noticing Vedashri missing.
Friday 26 March 2021
Episode 236
Ansh does the unthinkable while Mohana and Piya challenge each other. Elsewhere, Saavi rebukes Sanam as Naman loses control over the situation.
Episode 237
The Rathods gear up to celebrate Adi's birthday while Piya is suspicious about Vedashree's behaviour. Elsewhere, Sanam and Naman find a corpse missing from the coffin.
Saturday 27 March 2021
Episode 238
Piya tells Nishant about Vedashri's demonic possession. Later, a furious Saavi berates Naman and Sanam for setting Panna free.
Episode 239
Piya decides to cut Vedashri's hair. Elsewhere, Naman, Sanam and Saavi find hidden evidence while Piya saves the Rathod Mansion from a disaster.
Sunday 28 March 2021
Episode 240
Mohana makes a deal with Panna and plays her trump card. Later, Vedashri gets hospitalised after Piya's attack while a dejected Ansh berates Piya.
Episode 241
Mohana endangers Vedashri's life while Piya's rash behaviour leaves Ansh heartbroken. Later, Sanam takes the form of Guru Ma with a plan in mind.
---
Monday 29 March 2021
Episode 242
Mohana threatens to kill Vedashri. Later, Naman plans a trip with Sanam while she is suspicious of Masi's illness.
Episode 243
Piya's audacious step leaves the Rathods in pain while Ansh struggles to handle Adi alone. Elsewhere, Nishant and Saavi follow Mohana to discover her secret.
Tuesday 30 March 2021
Episode 244
Piya puts forth a condition in front of Mohana while Ansh suspects her for taking Adi away from him. Elsewhere, Sanam is accused of murder.
Episode 245
Kalindi instructs Astha to stay away from Shlok. Astha decides to attend the interview and also help the people of the old age home. Meanwhile, Shlok decides to teach Astha a lesson. What does Shlok have on his mind?
Wednesday 31 March 2021
Episode 246
During a dispute over Adi, Piya ends up stabbing Ansh. Elsewhere, Nishant suggests a risky plan to save Vedashri.
Episode 247
Upon not finding Adi, Ansh kills Piya and threatens to murder Mohana. Elsewhere, Nishant offers Shekhar a solution.
---
Premiere episodes of The Evil Eye air on Star Life from Mondays to Sundays at 22h00 and 22h30.