The Evil Eye Teasers – December 2020 Episodes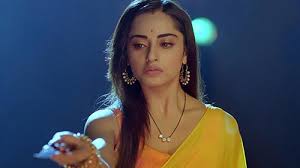 Tuesday 1 December 2020
Episode 7
A bewitched Ansh fights against two men who try to kill Rishi in the pool and comes across Piya at the same time. Later, the sorceress tries to entrap Ansh.
Episode 8
Vedashri's prayers are answered as she finds Piya and notices the Durga Devi's mark on her neck. Later, Piya gets trapped in a room. Is this the act of the witch?
Wednesday 2 December 2020
Episode 9
Ruby determines to wreak havoc and murders a police constable. Piya is in distress as she remains stuck in the college, while Vedashri introduces Ansh to his future bride, Ruby.
Episode 10
Piya feels distressed and gasps for breath as no one comes to her rescue. Ruby is alarmed as the police dogs are about to approach her. Will she be able to escape?
Thursday 3 December 2020
Episode 11
A bad omen upsets Vedashri. She asks Ruby to protect Ansh and convince him to marry her. Vedashri later advises Ansh to marry Ruby, while Mohana influences Ruby to achieve her target.
Episode 12
Vedashri slaps Ansh for insulting her. Ansh regrets hurting Vedashri's feelings. Ruby plans to hypnotise Ansh and make him marry her, while Vedashri is upset as Ansh doesn't wish her on her birthday.
Friday 4 December 2020
Episode 13
Piya visits Ansh's residence and celebrates Vedashri's birthday along with him. Vedashri is shocked as Piya reveals her native place while Ruby bewitches Ansh.
Episode 14
Bobby learns that Ruby is a witch. To keep her identity safe, Ruby targets Bobby. Ansh is smitten by Piya. Later, Ruby casts a spell on Ansh in order to manipulate him.
Saturday 5 December 2020
Episode 15
Piya taunts Ruby as she tries to warn her to stay away from Ansh. Vedashri learns about the presence of the witch in the house and performs a ritual to corner the devil. Will she be successful?
Episode 16
Piya tries to thank Ansh for helping her. Ruby panics on seeing Vedashri and the others conduct a ritual to track the witch. She strives to escape from the house. Mohana fears that Ruby's identity might be exposed!
Sunday 6 December 2020
Episode 17
Ruby prevents Bobby from exposing her identity. Vedashri is determined to ward off the witch. Ansh finds Piya's earrings with him. Piya requests the investigation bureau to help find her mother.
Episode 18
Ansh hesitates to return the earrings to Piya. After Ansh shows interest in Piya, Ruby tries to influence Piya to go away. Nishant asks Piya to spy on Ansh. However, Ansh confronts her for following him.
---
Monday 7 December 2020
Episode 19
Ansh decides to leave the house when Vedashri pesters him to marry Ruby. Meanwhile, Ruby augments Vedashri's fears. Ansh asks Piya to stay away from him. However, Piya sits next to him on the bus during the trip.
Episode 20
A college bus meets with an accident as Ruby performs black magic on it. Ruby tracks Ansh and Piya who are lost in the jungle.
Tuesday 8 December 2020
Episode 21
Piya prevents Ansh from falling prey to a trap. In a bid to save Ansh from an arrow, Piya gets shot. When Ansh confronts the archer, some people shoot arrows at him!
Episode 22
Piya thanks Ansh when he tends to her injury. He tells her he will to help find her mother. Ruby is determined to separate Piya from Ansh. Mohana tells her to gain control over Ansh.
Wednesday 9 December 2020
Episode 23
Vedashri forbids Ansh from leaving the house. On learning about this, Ruby executes her plan to trap Ansh inside the chakra she created during the lunar eclipse. Will Ruby succeed?
Episode 24
Vedashri comes to Ansh's rescue when he gets trapped in the chakra prepared by Ruby. Ansh comes under Mohana's influence and agrees to marry Ruby. Piya is upset on learning that he is getting engaged to Ruby.
Thursday 10 December 2020
Episode 25
Ruby's true self starts showing up as Vedashri performs the holy ritual. She manages to step out of the hall and uses her powers to become human while Vedashri witnesses the horror!
Episode 26
Ruby seeks Mohana's help to get engaged to Ansh. Mohana casts her spell on Ansh and ensures that he gets engaged to Ruby. After their engagement, Mohana regains her powers and tries to escape from the temple.
Friday 11 December 2020
Episode 27
Mohana threatens the saintess to help her escape from the temple. She learns a shocking truth about Piya. Ansh and Piya come closer. Mohana dances as Ansh is getting married to Ruby. Vedashri too is happy.
Episode 28
The mehendi meant for Ruby gets applied onto Piya's hands. When Ruby tries to kill the mehendi artists, one of them escapes and seeks Piya's help. The saintess informs Vedashri that Ruby is not a Daivik.
Saturday 12 December 2020
Episode 29
Mohana and Ruby portray Piya in a bad light when she complains to Vedashri about Ruby's atrocity. After Guruma tells Vedashri that Piya is Daivik, she and Chaitali set out to verify her claims.
Episode 30
Guruma asks Ruby and Piya to conduct a special ritual. Ruby seeks Mohana's help to mislead everyone about her true identity.
Sunday 13 December 2020
Episode 31
Ansh threatens Rishi against telling Vedashri that he is reluctant to marry Ruby. The pandit tells Vedashri to stop Ansh's marriage and comes up with a plan to prove that Ruby is not a Daivik.
Episode 32
Ruby pushes the pandit off the balcony as he learns about her true identity. She mesmerises Ansh to marry her despite Vedashri's denial. Will Ansh marry Ruby?
---
Monday 14 December 2020
Episode 33
Vedashri learns about Ruby's true identity and is determined to stop the marriage. Piya falls prey to Mohana's trap. Who will save Piya from Mohana's evil grasp?
Episode 34
Ruby tries to kill Vedashri before others can find out about her true identity. The pandit witnesses the same and does the unthinkable!
Tuesday 15 December 2020
Episode 35
Vedashri and Mohana try to revive Ruby. Meanwhile, Piya prays fervently to escape from Mohana's clutches. Will she succeed?
Episode 36
As Shekar and the others are against Ansh marrying Ruby, Mohana and Vedashri cast an evil spell on them and try to go ahead with the wedding.
Wednesday 16 December 2020
Episode 37
Mohana rejoices as Vedashri gets Ruby married to Ansh. Vedashri snaps out of the witch's spell while Piya tries to stop Mohana from leaving the temple.
Episode 38
Mohana makes a demand to Guruma for Piya's release, while Vedashri begs in front of Ruby to save Ansh. Mohana turns young again.
Thursday 17 December 2020
Episode 39
Ruby forbids Ansh from carrying the idol of Lord Ganesh to their house when Shekar asks him to do the same. Vedashri frets when Mohana visits her.
Episode 40
Mohana lashes out at Ruby when Ansh brings Lord Ganesh's idol home and performs the aarti. Mohana tells Vedashri that she will take Ansh away from her.
Friday 18 December 2020
Episode 41
Vedashri feels distressed as Mohana takes control of Ansh. Later, she feels scared when she witnesses a miracle.
Episode 42
Vedashri is relieved as Ansh is on the way to immerse the Lord Ganesh idol. Mohana is aghast as she faces an unexpected situation. What is it?
Saturday 19 December 2020
Episode 43
Mohana threatens Vedashri against telling the truth to Ansh. However, Vedashri tells Ansh and others that Ruby is a witch. Will they believe her?
Episode 44
Vedashri asks Ruby to prove that she is not a witch. Mohana misleads Ansh about her reasons for staying away from him.
Sunday 20 December 2020
Episode 45
Mohana gains Kajal's sympathy and apologises to Ansh. She blackmails Vedashri and others to oblige her. Vedashri wants to protect Ansh from Mohana.
Episode 46
Vedashri and Chaitrali plan to spy on Mohana and Ruby. Chaitrali tries to expose Ruby's evil side to Ansh.
---
Monday 21 December 2020
Episode 47
Mohana and Ruby are annoyed as Vedashri foils Ansh and Ruby's wedding night. Mohana executes her plan to revive Ansh's evil powers.
Episode 48
After Vedashri foils Mohana's attempt of transforming Ansh into an evil, Mohana does the unthinkable to her!
Tuesday 22 December 2020
Episode 49
Mohana tries to prevent Ansh from rescuing Vedashri. After learning that Ruby is not a daivik, Ansh sets out to fetch Piya to rescue Vedashri.
Episode 50
Naman's plan of getting married to Piya is foiled by Guruma. Later, Ansh is assaulted by Naman when he tries to stop him from killing Guruma.
Wednesday 23 December 2020
Episode 51
Piya strives to escape from Ansh when he compels her to go with him. Naman tries to stop Ansh, while Ruby faces Mohana's ire.
Episode 52
Piya tries to assault Ansh to foil his attempts. He carries her after she faints. Shekhar threatens Mohana to revive Vedashri.
Thursday 24 December 2020
Episode 53
Ansh defends himself when Naman accuses him of abducting Piya. Mohana is resolute about not letting anyone know that Piya is the real daivik.
Episode 54
Vedashri tries to stop Piya from leaving her house. Ansh apologises to Piya and requests her to stay back. Piya frets on learning that Mohana is Ansh's mother.
Friday 25 December 2020
Episode 55
Vedashri is overwhelmed as Piya plans to tackle Mohana. Piya rebukes Ansh for preventing Naman from bonding with her.
Episode 56
Vedashri and Piya are jubilant as they win against Mohana and Ruby in the Dandiya competition. But, their joy is short-lived as an evil entity targets Ansh.
Saturday 26 December 2020
Episode 57
Ansh fights back when he is brutally attacked by the evil entity. Piya supports Ansh when the evil entity overpowers him.
Episode 58
Everyone is shocked as Piya takes the form of Goddess Durga and decimates the evil entity. Ansh helps Piya kill the demon.
Sunday 27 December 2020
Episode 59
Naman and Mohana secretly make plans to kill Guruma. Piya comes in search of Guruma and is shocked as she doesn't find her.
Episode 60
Guruma exposes Naman's lies to Piya and tells her to marry Ansh. Despite this, Piya sets out to marry Naman! Why?
---
Monday 28 December 2020
Episode 61
Ansh does the unthinkable to stop Piya's marriage with Naman. Later, everyone is shocked as Naman stabs Ansh.
Episode 62
Mohana tells Ansh that she is a witch and that he is a davansh. She accuses Vedashri and the others of separating her from Ansh and Kajal.
Tuesday 29 December 2020
Episode 63
Ansh and his family remain shocked as Mohana makes a shocking revelation. Later, he is in a dilemma as he is asked to choose between Mohana and Vedashri.
Episode 64
Vedashri decides to get Ansh and Piya married while Mohana is determined to stop the marriage. Piya's life is in peril!
Wednesday 30 December 2020
Episode 65
Ansh forces Piya to tell him the truth. Mohana tries to make Ansh detest Piya by making him evil and powerful.
Episode 66
Teaser unavailable.
Thursday 31 December 2020
Episode 67
Piya criticises Ansh for harming Nishant. Ansh decides to find Piya after she goes away from his home.
Episode 68
Mohana uses all her powers to prevent a determined Ansh from leaving the house to find Piya. Meanwhile, Piya falls prey for a trap.
---
Premiere episodes of The Evil Eye air on Star Life from Mondays to Sundays at 22h00 and 22h30.