The End of Paradise Teasers – February 2021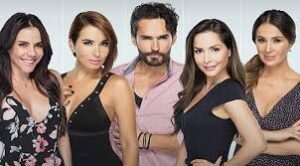 Monday 1 February 2021
Yesica, pretending to be Valeria, tells Albeiro that she will help him rescue his son. Moncho asks Mariana to leave the business and have a child.
Tuesday 2 February 2021
Moncho and Mariana are forced to work for Alex. Meanwhile, Catalina and her group plan their capture of Yésica.
Wednesday 3 February 2021
Catalina watches as Alexander's group is about to detonate the bomb. Alexander records a video in which he introduces himself as the new Black Hand.
Thursday 4 February 2021
Colonel Granados is badly wounded in the explosion. Yésica is furious when Nelly tells her what she heard in Alfonso's call with the FBI.
Friday 5 February 2021
Hilda arrives at Sombra's hiding place and is furious when she finds Titi there. The new Black Hand sends Yadith to spy on Mariana.
Saturday 6 February 2021
Albeiro and Titi, with their respective coaches, prepare for the fight. Meanwhile, Johana leaves prison ready to take revenge on Hilda.
Sunday 7 February 2021
Valeria names Black Hand's successor and Catalina Santana as responsible for Alfonso's death, making Catalina the country's number one enemy.
---
Monday 8 February 2021
Johana ties up Maribel and goes to kill Hilda. Maribel, however, manages to break free and calls the police. Mariana has a nightmare about her father.
Tuesday 9 February 2021
La Diabla finds the phone Berrio used to communicate with the FBI. Meanwhile, Santiago leaves a farewell message for Catalina.
Wednesday 10 February 2021
Santiago is about to kill Valeria, but is stopped by her bodyguard. Valeria, furious, demands more protection. Titi and Albeiro fight.
Thursday 11 February 2021
Valeria becomes an official candidate to replace the late President Berrio. Meanwhile, Albeiro and Titi are in a serious condition in the hospital.
Friday 12 February 2021
Hilda recognises Valeria and very kindly asks her to drop all charges against her daughter. Valeria replies that she will think about it.
Saturday 13 February 2021
Series finale!
Valeria is kidnapped in an operation orchestrated by Catalina. Natalia is appointed the new director of the DEA in Colombia.
---
Season 2 of Close Enemies replaces The End of Paradise from Monday 15 February at 22h00.
---
Premiere episodes The End of Paradise air Mondays to Sundays at 22h00.