The End of Paradise Teasers – December 2020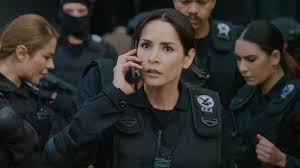 Tuesday 1 December 2020 
Rocco informs Black Hand that he already knows Catalina and Mariana's whereabouts. Meanwhile, Johana and Mateo plot to ruin Hilda's reputation.
Wednesday 2 December 2020 
Titi arrives at the hospital to rescue Diabla. Meanwhile, Johana visits Hilda and makes her believe that she is on her side.
Thursday 3 December 2020 
La Diabla takes advantage of the nurse's carelessness to communicate with Black Hand. Catalina is cornered and has no choice but to shoot to kill.
Friday 4 December 2020 
Attorney Pinzón receives a call informing her that Jota passed away. Meanwhile, Valeria eavesdrops on a conversation between Natalia and Catalina.
Saturday 5 December 2020 
Catalina, Natalia and Valeria return to Colombia. Meanwhile, Shadow tells Jota and Santiago the story of how Black Hand destroyed his life.
Sunday 6 December 2020 
Catalina confirms her attendance at the anti-drug meeting. Johana and Mateo rejoice in their plan to publish Hilda and Catalina's past.
---
Monday 7 December 2020 
Berrio hires former prosecutor Lucrecia Olivares, who at some point shared a cell with Diabla. He invites her to a meeting with Catalina and Valeria.
Tuesday 8 December 2020 
Titi places a bomb at the anti-drug conference. Catalina finds out about the publication that is destroying her mother's reputation.
Wednesday 9 December 2020 
The car bomb explodes at the doors of the conference, and everyone believes that Catalina is dead. Natalia is taken to intensive care.
Thursday 10 December 2020 
Valeria listens as Catalina confesses to Hilda that Titi has saved her life several times. Hilda asks Catalina to quit her job at the DEA.
Friday 11 December 2020 
At home, Catalina is surprised by the arrival of Santiago and Jota. She apologises to Santiago for abandoning him and for not believing him.
Saturday 12 December 2020 
Yésica calls Black Hand and accuses Titi of warning Catalina about the attack. Santiago and Jota leave Catalina's house.
Sunday 13 December 2020 
Titi and Pilar cheat Black Hand and his cartel by leaving them a fake drug. Meanwhile, Kike and Octopus kidnap Mariana's daughter.
---
Monday 14 December 2020 
Johana begins to carry out her new plan to destroy Hilda. Meanwhile, Count strategically visits Berrio in hospital in front of all the press.
Tuesday 15 December 2020 
Catalina, shocked, tells Vanessa that Albeiro confessed that Yésica is alive. At that moment, Valeria arrives and feigns surprise at the news.
Wednesday 16 December 2020 
Catalina tells Albeiro that she wants to be with him, and they share a kiss. Meanwhile, Johana plays cruel a trick on Hilda.
Thursday 17 December 2020 
Demonia gives Black Hand the USB stick containing the formula for the drug XY4. What they don't realise is that Pilar placed a GPS tracker in it.
Friday 18 December 2020 
Catalina and the DEA arrive at Black Hand's lair just as they are escaping. Mariana shoots at Titi and believes she has killed him.
Saturday 19 December 2020 
Mariana has a vision in which Titi asks for her daughter. Moncho helps to calm her down. Meanwhile, Hilda and Salvatore speak with the new detective.
Sunday 20 December 2020 
Titi agrees with Morón and Cardonita's idea to make everyone believe he is dead. Despite training hard, Albeiro cannot meet his coach's expectations.
---
Monday 21 December 2020 
Alfonso is interviewed by the press as he leaves the clinic with Valeria. A family watching television recognises Valeria as their missing daughter.
Tuesday 22 December 2020 
Dayana confesses to Mariana that she slept with Titi. Meanwhile, Catalina arrives at Titi's wake and confirms it is him in the coffin.
Wednesday 23 December 2020 
Titi celebrates the success of his own funeral. Meanwhile, Dayana tells Moncho that Mariana is causing problems for the cartel.
Thursday 24 December 2020 
Dayana gives Moncho an ultimatum. Meanwhile, Natalia speaks with Ivan, Calvo's son, and asks him to work with the DEA to capture his father.
Friday 25 December 2020 
Lucrecia has some information that she needs to share with Catalina as soon as possible. Valeria eavesdrops on Natalia and Ivan's conversation.
Saturday 26 December 2020 
Santos arrives at the debate and gives the XY5 drug to Yésica, who puts it in the water that will soon be delivered to Berrio.
Sunday 27 December 2020 
At the presidential debate, no one knows what to do when Berrio starts to lose control. Agent Valeria savours the moment. Mateo looks for Hilda.
---
Monday 28 December 2020 
Natalia is suspended and subjected to an interrogation after the events at the debate. Mateo tells Hilda that it was Johana who took the video of her.
Tuesday 29 December 2020 
Catalina finds Vanessa injured. Meanwhile, Hilda reconciles with Marcela, who tells her that Albeiro is determined to end Yésica.
Wednesday 30 December 2020 
Catalina talks with Berrio and promises him that she will find the culprit who gave him the drug. Berrio suspects it was not Natalia.
Thursday 31 December 2020 
Leticia tells Hilda that the DEA agent Valeria Montes has the same face as her missing daughter. Daniel and Simon visit Black Hand's ex-wife.
---
Premiere episodes The End of Paradise air Mondays to Sundays at 22h00.