The Candidate Teasers – January 2021 Episodes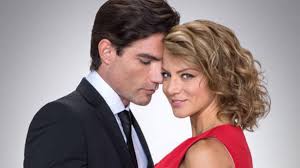 Coming up on The Candidate this January 2021:
Friday 1 January 2021
Episode 35
Regina makes an alliance with Gerardo to be the candidate for the presidency. Ignacio and Jessica interrogate Ximena about Nayeli's whereabouts.
---
Monday 4 January 2021
Episode 36
Alonso gives a donation to the university. Omar interrogates the owner of the cafeteria about Marcia.
Tuesday 5 January 2021
Episode 37
Omar and Alonso agree to let Lorena live so they don't get into trouble. Ignacio asks Gerardo to be careful and avoid problems with Regina.
Wednesday 6 January 2021
Episode 38
Gerardo refuses to lose Regina and asks her to give him another chance. Teresa thinks about her pregnancy and how unhappy she will be.
Thursday 7 January 2021
Episode 39
Natalia and Omar meet up to discuss their divorce agreement. Emiliano is seduced by Cecilia once again.
Friday 8 January 2021
Episode 40
Alonso is furious because someone bought an expensive bracelet with public funds. Nayeli steals all the money and runs away with Ximena.
---
Monday 11 January 2021
Episode 41
Gerardo wants to keep his relationship with Regina going. Mauro reminds Magda that Israel has always used Magda for his own benefit.
Tuesday 12 January 2021
Episode 42
Gerardo and Regina say goodbye to each other when they realise they cannot be together. Mario is ambushed. Ignacio goes to the morgue to identify his daughter's corpse.
Wednesday 13 January 2021
Episode 43
Omar humiliates Marcia. Mario reminds Noemi to behave herself and drink responsibly. Mario is worried by Almiron`s health.
Thursday 14 January 2021
Episode 44
Regina is worried because Emiliano is not home and she goes out to look for him with Gerardo. Emiliano confesses to Natalia that he is in love with Cecilia.
Friday 15 January 2021
Episode 45
Hernan asks Cecilia to come work with him and Gerardo. Isela and Larry extort Ximena by showing her photos in which she is shown to be receiving drugs.
---
Monday 18 January 2021
Episode 46
Natalia asks Mario to help her stop Omar from killing Jose. Gerardo begs Regina to understand that he did not send Andres to plant bugs and hidden cameras to spy on her.
Tuesday 19 January 2021
Episode 47
Alonso is nervous about Regina's decision and the consequences for Emiliano. Isola decides to leave Ximena alone after Alma's investigation.
Wednesday 20 January 2021
Episode 48
Isela is upset because Cecilia did not blackmail Hernan as agreed. Roel tells Regina that she will have his support if Mauro give him his job.
Thursday 21 January 2021
Episode 49
Cecilia seduces Hernan in a bid to convince him to cancel the interview. Natalia is disappointed to see Jose drunk and with Blanquita.
Friday 22 January 2021
Episode 50
Regina and Teresa fight. Fernando, Daniela, Alonso, Emiliano and Cecilia are at the hospital's inauguration. Hernan covers the news. Gerardo survives an assassination attempt.
---
Monday 25 January 2021
Episode 51
Regina remains confused by Teresa's accident. Emiliano snubs his father because of his affair with Cecilia. Marcia rejects Alonso.
Tuesday 26 January 2021
Episode 52
Alonso and Teresa decide to be together. Teresa, covered in bruises, asks to be interviewed so she can expose Gerardo as a violent man. Ximena confesses to Emiliano that she is being blackmailed.
Wednesday 27 January 2021
Episode 53
Regina notices that someone is spying on them. Mauro is surprised to see Lorena at the Chulo´s residence. Noemi and Mario demand Regina stay away from Gerardo.
Thursday 28 January 2021
Episode 54
Mario humiliates Marcia. Isela tells Cecilia that Alonso will never marry her. Franco informs Mauro about Alonso's threat.
Friday 29 January 2021
Episode 55
Regina tells Emiliano not to quit on Ximena. Noemi tells Regina that her father has had another family for many years.
---
Premiere episodes of The Candidate air on FOX from Mondays to Fridays at 15h05.