The Candidate Teasers – February 2021 Full Episodes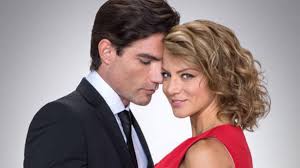 Monday 1 February 2020
Episode 56
Omar is diagnosed with an inoperable tumour. Noemi confesses to Regina that her father had a relationship with a prostitute for years and as a result she has a sister.
Tuesday 2 February 2020
Episode 57
Alonso and El Chulo plan to sabotage Regina. Alonso goes to see Fernando and demands that he supports him in his campaign for the presidency.
Wednesday 3 February 2020
Episode 58
Cecilia overdoses. Isela demands that Mario divorce Noemi and marry her. El Chulo demands that Fernando leaves Marcia for him.
Thursday 4 February 2020
Episode 59
The doctor manages to stabilize Cecilia but she is not well. Alonso argues with Emiliano about Ximena's pregnancy.
Friday 5 February 2020
Episode 60
Fernando orders a hit on Lorena. Regina manages to stop Mario from suffocating Noemi. It seems Alonso may get the presidency.
---
Monday 8 February 2020
Episode 61
There are shots fired at Mario's residence. Noemi, Mario, Regina are all injured in the aftermath. Natalia and Jose break up.
Tuesday 9 February 2020
Episode 62
Series finale!
Cecilia commits suicide. Alonso moves abroad with El Chulo. Emiliano, Ximena, Natalia, Noemi are all sitting in the presidential balcony at Regina's inauguration. But there is a sniper lurking. The End.