The Bold and the Beautiful on Eva Teasers – November Episodes 2020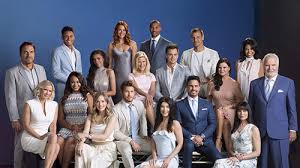 Monday 2 November 2020
Episode 7924
Ridge and Brooke continue to disagree about Ridge's decision at Forrester. Brooke doesn't fully believe Ridge when he tells her that his decision was financial, not personal. Tired of arguing, Ridge calls a temporary truce with Brooke.
Steffy makes it known to Hope that she is taking charge of her own life and doesn't need a man to feel complete. Things begin to heat up between Xander and Emma. Emma pulls back from a kiss and tells Xander that she is not ready. Once she leaves, Zoe swoops in to take her place.
Tuesday 3 November 2020
Episode 7925
Zoe continues her seduction of Xander. Quinn gives her support to Ridge. Brooke and Bill have another secret meeting where Bill pleads with her to discourage Katie from moving forward with her lawsuit.
Ridge wonders why Brooke has sympathy for Bill after all he has done. Thorne is appreciative that Ridge has his back. Brooke meets with Katie.
Wednesday 4 November 2020
Episode 7926
Brooke pushes for Katie not to deny Bill custody of Will. Steffy asks Ridge if his desire to see Bill lose custody of Will is really just payback. Brooke goes to Bill to explain what happened when she spoke with Katie. Bill is grateful for her support. Thorne makes a beautiful proposal of marriage.
Thursday 5 November 2020
Episode 7927
Brooke addresses Bill's sudden and unexpected kiss. Thorne reassures an apprehensive Katie. Bill and Katie's custody battle becomes negative publicity for Forrester Creations. Brooke and Ridge speculate about Thorne and Katie's decision for a quick wedding.
In the dark about Brooke and Bill's secret meetings, Ridge issues a warning to his wife.
Friday 6 November 2020
Episode 7928
Justin gives Bill much needed advice on how to make friends and influence people. Sally's dream comes true when Steffy expresses that she'd like to include her designs in the Intimates collection. Steffy and Sally get a flash of inspiration when they have an accidental run-in with Xander.
Ridge and Brooke find themselves with opposite opinions about the custody battle. Bill comes undone when Katie shows him her engagement ring.
---
Monday 9 November 2020
Episode 7929
Determined not to lose his son, Bill instructs Justin to do whatever it takes to ensure that he wins the custody battle. Zoe gets flirtatious when Xander reveals how his new job came to be.
Hope and Steffy have heated words about Sally's gig with the Intimates line before Hope makes a serious accusation against her nemesis. Ridge makes a surprise, and uninvited, appearance to Bill's office.
Tuesday 10 November 2020
Episode 7930
Carter confirms to Katie and Thorne that a court-date and judge has been set for their custody hearing. Bill holds firm to Ridge that he won't back down in regards to Will. Liam and Wyatt discuss Bill; his attributes, his flaws, and whether or not he has what it takes to be a good father.
The Spencer brothers have differing opinions on whether Thorne or Bill would be a better dad to Will.
Wednesday 11 November 2020
Episode 7931
Ridge makes an unusual request of Judge McMullen. Thorne proposes a quick wedding to Katie. Not realizing that Ridge is keeping his own secret, Brooke worries that someone will find out about her clandestine meetings with Bill.
Thursday 12 November 2020
Episode 7932
During a secret meeting, Brooke informs a stunned Bill that Katie's wedding is taking place the next day! Thorne and Katie share their wedding plans with Will. Ridge and Eric disagree about Thorne's motives.
Eric makes Thorne an offer regarding the location of his wedding. Bill pays Katie an unexpected visit where an argument ensues. Things become more heated when Ridge arrives and further antagonizes Bill.
Friday 13 November 2020
Episode 7933
As Katie primps for her wedding day, Bill vents his fury over Thorne becoming a fixture in Will's life to Justin. Donna and Bridget join Brooke and Hope in supporting Katie before she walks down the aisle to become Mrs. Thorne Forrester.
During a moment alone, Brooke expresses her concerns to Katie over Bill's role in Will's life. Thorne makes sure to involve Will as the wedding commences.
---
Monday 16 November 2020
Episode 7934
Brooke and Ridge find they still have one thing in common; their shared joy that their siblings have found happiness with one another. Bill attempts to win over Wyatt and Liam in hopes of having them testify on his behalf. Brooke expresses her dismay over Ridge interjecting himself in Katie and Bill's custody battle.
Brooke must hide the fact that she has been secretly meeting with Bill when Ridge learns that Bill has subpoenaed Brooke to the witness stand.
Tuesday 17 November 2020
Episode 7935
Katie and Bill's custody battle begins; sides are taken and husbands and wives, lovers and siblings all take different sides and approaches. Ridge wonders if Judge Craig McMullen will honour the request he made to his old friend. Lawyers Carter Walton and Justin Barber go to battle for their clients.
Wednesday 18 November 2020
Episode 7936
Judge McMullen askes to hear Bill's defense after Carter has called his last witness. Together at Forrester Creations, Hope and Steffy wonder and worry about Liam and Wyatt and how they are holding up during this stressful time. Wyatt, Brooke and Bill all take the stand.
Thursday 19 November 2020
Episode 7937
Bill, Katie, Thorne, Ridge, Brooke, Liam and Wyatt nervously await Judge McMullen's ruling in the Spencer vs. Spencer custody trial. Ridge's 'blackmail' weighs heavily on his mind before Judge McMullen announces his decision.
At Forrester Creations, Hope and Steffy disagree about Bill's fathering abilities while Quinn and Eric discuss Thorne's new lease on life.
Friday 20 November 2020
Episode 7938
Xander participates in his first Intimates line fashion photo shoot. Emma becomes jealous when she witnesses Zoe help Xander get the swing of the modelling gig. Liam and Wyatt become concerned when they realize that no one has heard from Bill since the hearing.
A concerned Will asks Katie and Thorne how often he will be able to see Bill. Sally shares the good news of a successful photo shoot with Wyatt by modelling lingerie for him. Bill visits with Liam and Kelly.
---
Monday 23 November 2020
Episode 7939
Wyatt and Sally make love. Ridge and Brooke continue to disagree about Bill. Upset because she thinks Xander is enjoying his time with Zoe, Emma continues to confront them. Zoe intervenes which heightens Emma's anger.
When Emma leaves, Zoe tells Xander it is not fair that Emma is sabotaging his modelling career. Emma's friend Tiffany gives her sage advice and a warning not to let history repeat itself.
Tuesday 24 November 2020
Episode 7940
Having overheard a conversation not meant for her ears, Brooke does some amateur detective work in regards to Ridge. Bill pays an unexpected visit to Ridge while Brooke makes a surprise visit to Judge McMullen.
Wednesday 25 November 2020
Episode 7941
Brooke catches Judge McMullen in a lie. Ridge gloats over Bill and the loss of his son. Katie watches Bill and Will reconnect after her son asks to spend time with his father. Ridge is stunned by the velocity of Brooke's outburst after he disses Bill.
Friday 26 November 2020
Episode 7942
Furious that Ridge manipulated Katie and Bill's court case, Brooke lashes out at her husband for his serious misdeeds. She accuses him of using Will as an excuse but secretly wanting payback against Bill Spencer.
Ridge reminds Brooke of all the people's whose lives will be ruined, including their own, if she reveals the truth. Bill spends quality time with Will. Steffy offers Wyatt a position at Forrester. Bill expresses his sorrow at losing custody of his son to a conflicted Brooke.
---
Monday 29 November 2020
Episode 7943
Sally and Wyatt celebrate Wyatt's new job. Steffy questions Ridge about why he's arguing with Brooke and why Brooke is siding with Bill. Brooke feels guilty harbouring the secret of what Ridge did to sway the case from Bill.
Bill makes admissions of regret to Brooke before initiating a forbidden kiss, which is witnessed by an unseen Steffy.
Tuesday 30 November 2020
Episode 7944
Shocked to have seen Brooke kissing Bill, Steffy begins a conversation, trying to get Brooke to admit to her sin. Steffy becomes frustrated when Brooke admits to nothing.
Brooke swears Katie to secrecy and spills the information about Ridge and his relationship with Judge McMullen. Concerned for her father, Steffy takes the news she has about Brooke and Bill to Ridge.
---
Premiere episodes of The Bold and the Beautiful air on Eva from Mondays to Fridays at 17h30. A rebroadcast of the previous day's episode airs at 17h00 and a Saturday omnibus airs weekly at 16h00.