The Bold and the Beautiful on Eva Teasers – January 2021 Episodes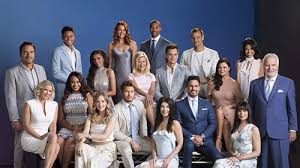 Friday 1 January 2021
Episode 7968
In the Spencer office building, Justin plays back a recording proving that Ridge and Judge McMullen were in cahoots. Pam conspires to get Donna hired at Forrester so she can further drive a wedge between Quinn and Eric.
Pam apologizes to Donna for her past transgressions. Katie expresses remorse to Bill and tells him that the moment she learned the truth, she allowed him more access to Will. Bill explains that all he wants is an opportunity to raise Will, because he was denied that with Wyatt and Liam.
---
Monday 4 January 2021
Episode 7969
Brooke pleads with Bill for mercy so he won't press charges against Ridge. Wyatt and Liam mull over the fact that both of them are working for Forrester Creations and not for their father. The two bump into Will who has arrived to see his mother and Thorne and the three Spencer brothers bond.
Katie agrees when Bill requests an immediate change in the child custody agreement. Bill reveals to Brooke how she and Will inspire him.
Tuesday 5 January 2021
Episode 7970
Katie shares with Wyatt and Liam that Ridge tampered with Judge McMullen to dictate the outcome of the hearing. Wyatt is stunned that Katie and Thorne were complicit in Ridge's crime.
Bill makes an admission to Brooke about their past and future. Ridge shares his belief that Bill is not genuine and is simply manipulating them to get what he wants; Brooke.
Wednesday 6 January 2021
Episode 7971
Brooke attempts to put Ridge's mind at ease when he worries about her private conversation with Bill. Quinn becomes upset when Eric mandates that she add Pam and Charlie to the Thanksgiving guest list, then becomes irate when she overhears Pam tell Donna that she is the right woman for Eric.
Brooke and Ridge share a heartwarming moment. Bill makes a vow to Liam and Wyatt.
Thursday 7 January 2021
Episode 7972
Steffy and Liam discuss baby Kelly's future while Hope watches, happy that this will also be her future. Katie gives Bill the legal papers for shared custody while Thorne is at work.
Steffy and Hope come to an agreement. Steffy gets honest with Liam and Hope about her thoughts on the upcoming holidays. With Katie looking on, Bill asks Will what he wants most for Christmas.
Friday 8 January 2021
Episode 7973
The Forresters, Logans, Spencers, Avants and Spectras gather for their traditional Thanksgiving dinner, setting aside their grievances and saying something kind to the person to their right.
Baby Kelly and Zoe celebrate their first Thanksgiving, Quinn is forced to be gracious to Pam and Donna, and Wyatt and Liam question Bill's absence.
---
Monday 11 January 2021
Episode 7974
Justin attempts to persuade Bill to put his Spencer necklace back on and blames Brooke for changing him. Brooke suggests a baby name for Hope and Liam's child. Detective Sanchez arrives and wants to re-open his investigation into Bill's shooting.
Taylor argues with Steffy that Liam should be with her, not Hope. Steffy reminds Taylor that Bill did them a favour by not turning her in and Taylor worries that Bill may change his mind. Det. Sanchez raises concern that Bill does not want to solve his attempted murder.
Tuesday 12 January 2021
Episode 7975
Taylor continues to be haunted by the fact that she shot Bill. Liam becomes concerned when Steffy tells him that her mom just finished visiting. Steffy indicates Taylor's intentions for her future and defends Taylor to Liam.
Hope reminds Brooke that she and Steffy are on better terms than they've ever been. Brooke tells Hope that Steffy reminds her of Taylor. Later, Hope is startled by Taylor who accuses Hope of taking everything away from Steffy. Liam and Steffy argue about whether or not Taylor is stable enough to watch baby Kelly.
Wednesday 13 January 2021
Episode 7976
Liam continues to push that he doesn't want Taylor around Kelly. He confesses to Steffy that he also thinks Taylor has extra animosity towards Hope. Meanwhile, in the Forrester CEO office, Hope and Taylor continue to argue. Hope defends herself, which angers Taylor.
Bill arrives at Steffy's and tells her about Taylor's visit and that he's not sure her therapy is working. Liam arrives as Taylor is verbally attacking Hope and intervenes on Hope's behalf. When Taylor leaves, Liam tells Hope that there is more to Taylor than she knows.
Thursday 14 January 2021
Episode 7977
Hope is shocked to learn from Liam that Taylor was the one who shot Bill. She has many more questions for Liam. Taylor and Ridge discuss how horrible they think Bill is.
Taylor arrives to see Steffy in time to catch Brooke and Steffy's argument about Hope. When Steffy leaves, Taylor and Brooke reignite their decades-long feud over their daughters.
Friday 15 January 2021
Episode 7978
Hope walks in on Taylor and Brooke's fight and tries to diffuse the situation. Steffy is upset that Liam told Hope about Taylor shooting Bill. Dr. Reese Buckingham, Zoe's father, makes a surprise visit, which catches Zoe off guard. She becomes unhappy when he reveals that he is moving to Los Angeles.
Liam believes that Steffy should not tell Taylor that Hope knows, as she may not have a positive reaction.
---
Monday 18 January 2021
Episode 7979
Brooke is shocked to learn from Hope that Taylor is responsible for Bill's shooting. Worried that Taylor is back in town, Liam visits Bill to tell him that he feels Taylor is still a danger to their family. Bill makes an admission to Liam about his hope for the future of their relationship.
Brooke confronts Taylor and the two do battle over their past transgressions and Brooke's accusation that Taylor is unstable.
Tuesday 19 January 2021
Episode 7980
Brooke and Taylor argue about whether or not Taylor should be in Kelly's life. Steffy is upset that Hope told Brooke about Taylor shooting Bill. Quinn walks in on Donna and Pam having a minor argument and later lets Eric know about her irritation that Donna and Pam are sharing reception duties.
Wednesday 20 January 2021
Episode 7981
Taylor begs Brooke not to tell anyone that she shot Bill and promises that she is not a threat to anyone. Pam convinces Donna to model a Forrester original for Eric and keeps Quinn at bay so that they can be alone together.
Realizing her father needs to hear it from her first, Steffy tells Ridge about Taylor shooting Bill. Brooke arrives at Bill's office and tells him she knows the truth about Taylor. Bill stuns Brooke by telling her why he didn't press charges against Taylor.
Thursday 21 January 2021
Episode 7982
Brooke and Ridge realize that they each know that Taylor was the culprit in Bill's shooting and both have very different reactions. Steffy throws a party for her staff to celebrate their success. Reese meets Taylor at Steffy's party and they instantly hit it off. Taylor shares some of her and Brooke's history with Reese.
Friday 22 January 2021
Episode 7983
Brooke and Ridge discuss how protective Ridge is of Taylor and the complicated ties between their families. Hope and Liam share in their excitement for the baby to arrive. They also share in how difficult it is to process what Taylor did to Bill.
Ridge receives a text from Taylor and leaves Brooke to meet with Taylor and Steffy. Reese questions Zoe about Brooke.
---
Monday 25 January 2021
Episode 7984
Katie, Brooke, Hope and Donna have a baby naming session for Hope's daughter. Taylor pleads with Liam to convince Hope and Brooke that she is not a threat to anyone, especially her granddaughter Kelly.
Zoe confronts her father about his past behavior with women. She reminds him that Taylor is her boss's mother and hopes he won't create a problem for her. Later, Zoe tells Xander about Reese's history. Taylor meets with her sponsor. Katie and Donna pester Brooke to reveal why she's so upset with Taylor.
Tuesday 26 January 2021
Episode 7985
Steffy is adamant to Liam that Taylor is not a threat to anyone. She states that the biggest problem in their lives is not Taylor, but Brooke and Hope telling other people that Taylor was the person who shot Bill.
Reese asks Taylor to reconsider when she admits she's thinking of leaving Los Angeles. Brooke tells Hope that having Taylor back in Los Angeles is dangerous for everyone. Reese questions Taylor about her current romantic status before giving her an unexpected kiss.
Wednesday 27 January 2021
Episode 7986
Hope tells Brooke she understands her position on Taylor but she doesn't want to upset Steffy and ruin the dynamic of their extended family. Zoe expresses her fear to Xander that Reese will upset her perfect life in Los Angeles. Zoe and Xander reflect on their relationship. Zoe introduces Tiffany to Reese.
Taylor shares her interest in Reese with Steffy, who suggests she move in with her and baby Kelly. Brooke warns Liam that he needs to protect his family.
Thursday 28 January 2021
Episode 7987
Steffy and Taylor are equally excited about the prospect of living together. Wyatt and Sally practice yoga poses as Sally shares her plans for a new athletic line for Forrester Creations. Wyatt tells Sally that he loves her. The situation gets intense when Brooke arrives at Steffy's and finds Taylor alone with baby Kelly.
Friday 29 January 2021
Episode 7988
Steffy vehemently defends Taylor to Hope and Liam. Hope makes a statement that impacts their future relationship. Brooke visits Bill to garner his support regarding the situation with Taylor. Bill is surprised by what Brooke suggests he do. Sally tells Wyatt that she loves him back.
---
Premiere episodes of The Bold and the Beautiful air on Eva from Mondays to Fridays at 17h30. A rebroadcast of the previous day's episode airs at 17h00 and a Saturday omnibus airs weekly at 16h00.