The Bold and the Beautiful on Eva Teasers – February 2021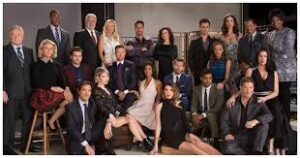 Monday 1 February 2021
Episode 7989
Hope asks Liam to choose if he wants to have a family with her or with Steffy. Bill confirms that Brooke is asking him to report Taylor to the police.
Emma lets Xander know, who in turn tells Zoe, that he will be interviewed by a major fashion magazine. Zoe expresses her gratitude to Xander for being by her side especially now that her father is in town. Xander promises to always have her back.
Liam bonds with baby Kelly while Hope laments to Brooke that Liam took Steffy's side regarding Taylor.
Tuesday 2 February 2021
Episode 7990
Taylor realizes that Hope isn't coming to Christmas at Steffy's house because of her. Hope confirms to Liam and Brooke that as long as Taylor lives with Steffy they will have separate holidays. Liam argues that he will not miss his daughter's first Christmas.
Reese questions Zoe about why Brooke hates Taylor. Taylor confronts Brooke in her office and accuses her of trying to keep Liam and Steffy apart. Reese walks in on the argument and demands that Brooke apologize to Taylor.
Wednesday 3 February 2021
Episode 7991
Steffy and Hope are unable to compromise on what to do about Taylor. Reese lays into Brooke, telling her not to disrespect Taylor. Maya returns to town and becomes wary of Zoe and her relationship with Xander and Forrester Creations.
Later, Maya arrives at Brooke's house and delivers bad news about Rick. Taylor is moved when Reese commits himself to always be there for Taylor.
Thursday 4 February 2021
Episode 7992
Reese reminds Taylor that she is not alone. Hope reiterates that she wants Steffy and Kelly to spend Christmas at Eric's without Taylor. Brooke is shocked by Maya's news about Rick. Julius and Vivienne show their support for their daughter Maya during this difficult time. Brooke makes an offer to Maya.
Steffy becomes sad that her daughter and Hope's daughter will not grow up together because of Hope's agenda against Taylor. Steffy vows never to turn her back on her mother.
Friday 5 February 2021
Episode 7993
Hope tells Steffy and Liam that she wants to enjoy Christmas without Taylor. Maya shares her news about Rick with Hope and Liam, who in turn ask Maya for a favour. Taylor realizes that Hope is forcing Steffy to choose between spending time with Taylor and celebrating the holiday with Kelly.
Taylor confides in Reese that she did something terrible and that Brooke is using that information against her.
---
Monday 8 February 2021
Episode 7994
The Forresters, Logans, Avants and Spencers spend Christmas Eve together at the Forrester Estate.
The family celebrates baby Kelly's first Christmas; Hope and Liam announce the name they will give their daughter; the Logan sisters save Pam and Charlie's Christmas dinner; and at Ridge's request each person expresses their blessings to one another.
With hearts full of love and gratitude, Xander carries on a Forrester tradition and Eric reminds every one of the true meaning of Christmas.
Tuesday 9 February 2021
Episode 7995
Hope and Liam exchange Christmas presents. Ridge gives Steffy a present to give to Taylor before spending much needed father/daughter time together.
Zoe demands that Reese stop pretending that she was his motivation to move to Los Angeles. Reese vows to Zoe that his days of being irresponsible are behind him. Later, Zoe confesses to Xander that there are things about her father that not even she knows.
The thug finds Reese at Il Giardino and makes an astonishing demand. Hope sets up a "babymoon" for her and Liam.
Wednesday 10 February 2021
Episode 7996
Zoe explains part of Reese's history with women and money to Xander before explaining how his addictions affected her growing up. The thug threatens Reese to pay him or face the consequences.
As Hope and Liam are preparing to leave to Catalina Island, Steffy calls Liam to inform him that Kelly has a fever. Hope encourages Liam to take care of Kelly and meet her before departure.
At the airport Hope meets Matt and Kieran who congratulate her on her pregnancy. Liam makes Steffy a promise about the future of their family.
Thursday 11 February 2021
Episode 7997
Kieran and Matt fan-girl over Hope. Ridge surprises Brooke with a kiss at work. Steffy and Liam take their daughter Kelly to the doctor as Hope waits for Liam at the airport.
Hope and Liam wind up having to travel separately to Catalina Island. By the time Liam arrives at the airport a wind storm has approached, delaying all flights. Ridge shares his new year's resolution with Brooke.
Friday 12 February 2021
Episode 7998 
Hope goes into labour while waiting for Liam on Catalina Island. Liam desperately tries to get to Hope but is unable due to high winds and storm conditions. The hotel manager helps Hope get to the clinic on Catalina Island.
Liam reaches out to his father, Bill, in hopes he will come through with the Spencer helicopter. Dr. Buckingham, Hope's doctor, assures Hope everything will be okay when the power goes out at the clinic.
---
Monday 15 February 2021
Episode 7999 
In denial that she is in labour, Hope regrets leaving Los Angeles. Bill calls Brooke to tell her that Hope is in labour on Catalina Island and that Liam is on his way. The thug takes surveillance pictures of Zoe. Reese assures Hope that not only is he a licensed obstetrician, but also Zoe's dad.
As Reese assures Hope that her baby is okay, he receives a text message from the thug he owes money to, threatening Zoe's life.  Liam flies through the night, in a storm, to get to Hope before their baby is born.
Tuesday 16 February 2021
Episode 8000  
Episode 8,000 is classic Bold and Beautiful drama. The story arc centres around an event so profound, it sends shockwaves throughout the lives of the Forresters, Spencers, Avants, Spectras and Logans.
Wednesday 17 February 2021
Episode 8001
Ridge, Bill and Brooke arrive at the clinic on Catalina Island excited to meet their granddaughter. Alone, Brooke and Hope are overcome with emotion over Hope's baby girl. The Spencers, Logans and Forresters come together as a family.
Thursday 18 February 2021
Episode 8002
Taylor and Steffy wonder about Hope and her new baby, Beth. Steffy shares with her mother that she hopes that she and Hope can learn to be one big family.
Reese is on edge about the thug reaching out to him while he was on Catalina Island and threatening Zoe. Zoe is oblivious to her father's anxiety, attributing it to a lack of sleep. Reese suggests that Zoe ask Xander to move in.
Later, the thug surprises Reese in the Forrester parking lot, causing Reese to realize that Zoe's safety is at stake. Brooke gives Ridge advice on how to be a good step-parent when he returns home from visiting Steffy and Taylor.
Friday 19 February 2021
Episode 8003    
Eric and Quinn host a gathering of their family and friends. Zoe expresses her concern about Reese to Xander. Steffy feels guilty that Liam was delayed in getting to Catalina Island to be with Hope and Beth. Reese begins to unravel when he receives another threat via text.
---
Monday 22 February 2021
Episode 8004    
Steffy offers Hope advice and friendship. Reese reflects on the sweet moments he has shared with Taylor. Zoe tells Xander that she feels obligated to defend Reese. Maya, Wyatt and Sally visit Hope and Liam. Taylor offers Reese companionship and advice to help him through his difficult time.
Tuesday 23 February 2021
Episode 8005 
Ridge tells Bill that he thinks the two of them need to start being leaders for their families. The two discuss their tumultuous history. Ridge accuses Bill of playing nice only to win over Brooke. Brooke makes it clear to Bill and Ridge where her loyalty lies.
Reese tells Taylor he wants to show her how much he cares about her.
Wednesday 24 February 2021
Episode 8006
A woman from Reese's past, Florence, introduces herself to Taylor. Liam spends time with Steffy and baby Kelly, vowing to always be present for them.
Thursday 25 February 2021
Episode 8007
The history between Reese and Florence comes to light when he asks her for a considerable favour. Taylor presents Steffy with an opportunity that she's always wanted.
Friday 26 February 2021
Episode 8008
Will impresses Dollar Bill with his talent for turning a profit before turning their conversation to the status of their family. Steffy becomes convinced that Taylor's plan will change all of their lives for the better.
---
Premiere episodes of The Bold and the Beautiful air on Eva from Mondays to Fridays at 17h30. A rebroadcast of the previous day's episode airs at 17h00 and a Saturday omnibus airs weekly at 16h00.