Suidooster Teasers – April 2023 Latest Episodes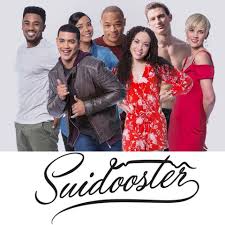 We (The Keportal Team) are excited to notify you about Suidooster Teasers – April 2023 Latest Episodes
Monday 3 April 2023
Episode 1769
Season 8 finale!
Chris seeks greener pastures, while Bridgette is confronted about Eric. Brendan isn't happy about having to stay at the pastor's house.
Tuesday 4 April 2023
Episode 1770
Season 9 Premiere!
Wade is finally invited to one of Lillian's social gatherings, while Siya and Danni are nervous about Brendan's stay with them. Bianca and Dirk make a decision that could have grave consequences.
Wednesday 5 April 2023
Episode 1771
Bianca and AB struggle to get along, while Dirk tries his best to make peace. Mrs J struggles with the fact that Wade is going away, and Angie gets upsetting news.
Thursday 6 April 2023
Episode 1772
Susan gets an unexpected surprise, while Angie has to make an impossible decision. There seems to be hope for Dirk en Bianca, but will it last?
Friday 7 April 2023
Episode 1773
Dirk decides it's time to leave. Mrs J encourages Lillian to be sensible and Danni gets a huge surprise when she walks into the pharmacy.
Monday 10 April 2023
Episode 1774
Bianca and Dirk struggle with all the opposition to their relationship, while the Thulis realises that they can't keep Brendan in the dark much longer. Nazeem is in possession of photos of Bridgette that could cause quite a stir.
Tuesday 11 April 2023
Episode 1775
Bianca introduces Dirk to Stella, while Bridgette has to weather a media storm. Siya is desperate to find Zenobia, and AB employs someone at the pharmacy.
Wednesday 12 April 2023
Episode 1776
Bridgette tries to make peace with Eric, while Aiden is looking for accommodation. Siya is optimistic about Zenobia, and Mymoena realises that she made a mistake with Bianca and Dirk.
Thursday 13 April 2023
Episode 1777
Siya and Danni butt heads about their responsibility regarding Brendan. Bridgette finally gives up on Eric, while Bianca faces new challenges regarding her relationship with Dirk.
Friday 14 April 2023
Episode 1778
Bianca and Dirk decide to reach out to their friends. Angie gives Mrs J a nail makeover, while Brendan isn't planning to go back to Hope Town.
Monday 17 April 2023
Episode 1779
Eric's day is full of surprises and revelations, while the search for Brendan takes an unexpected turn. Mrs J is at her wits' end, and Dirk has big news…
Tuesday 18 April 2023
Episode 1780
Bianca needs more time to make a decision but it's running out fast. Ty suspects that Carlo knows more than he's letting on, while someone does something behind Bridgette's back.
Wednesday 19 April 2023
Episode 1781
AB and Mymoena's plan to get rid of Dirk blows up in their faces. Danni isn't ready for motherhood and where can Eric be?
Thursday 20 April 2023
Episode 1782
The Samsodiens face a challenge, while Bridgette tries to get Eric back on his feet. Brendan is missing again and Angie puts Wade in a difficult situation.
Friday 21 April 2023
Episode 1783
Bridgette is summoned by the JPD board regarding her plans with Eric and the property. Wade fears he is being replaced with Aiden, while Dirk and Bianca make a big decision.
Monday 24 April 2023
Episode 1784
Danni and Siya have a big fight about Brendan, while Wade is jealous of Justin's new friendship. Bianca and Dirk's plans are gaining momentum, but will someone put a stop to it?
Tuesday 25 April 2023
Episode 1785
Aiden asks Wade for help, while Brendan causes more problems at the Thuli's home. Will Mymoena take decisive action?
Wednesday 26 April 2023
Episode 1786
Rhafiek gets a good taste of his own medicine, and Justin has a rough day. Lee-Ann puts her foot in her mouth, while Siya gets an unexpected phone call…
Thursday 27 April 2023
Episode 1787
Zoe and Tim encourage Danni to make her voice heard. Wade invites himself along to the gym with Aiden and Justin while Mymoena stresses about the future.
Friday 28 April 2023
Episode 1788
Aiden (played by Theodore Jantjies) gets the wrong impression about Wade and Justin when Angie reprimands him. Siya takes Brendan to task about his attitude and Danni tries to make amends. Dirk secretly goes off somewhere for the day…