Scandal! Teasers – November 2020 Full Episodes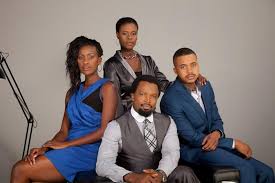 We Gladly Inform you about Scandal! Teasers – November 2020
Monday 2 November 2020
Episode 3684
Xolile makes a false start with recruitment and settles on an unlikely substitute. Tebello prepares for a new chapter in his life. Cee-Jay tries to right a wrong the old-fashioned way.
Tuesday 3 November 2020
Episode 3685
Boniswa makes an error that could cost her. Seipati's hard work pays off and her dream comes true. A new household loses a member but two other housemates find each other again.
Wednesday 4 November 2020
Episode 3686
Simo has to play dirty to manipulate his way into getting what he wants.  Seipati receives some information that makes her see an adverasry in a new light.  It seems Zinzile and Mlu are not quite on the same page when it comes to a new reality.
Thursday 5 November 2020
Episode 3687
Xolile is dismayed by a job hire and becomes fearful when an investigation is inconclusive.  Neo uses a child's party to make a point to an adult. Zinzile is not happy about leaving an old lady on her own.
Friday 6 November 2020
Episode 3688
Boniswa is almost caught out by an unexpected arrival. A challenging new chapter begins for Tebello.  Mlungisi's well laid plans are put on hold by an elder.
---
Monday 9 November 2020
Episode 3689
Mamba sees his domestic with new eyes when he catches sight of what is normally not revealed. Neo gives his son some advice he doesn't want to hear. Mlungisi's patience is tried by a lingering presence.
Tuesday 10 November 2020
Episode 3690
Xolile receives some disturbing information which points her suspicion in a new direction. Seipati comes up with a lucrative new idea, but swears Tebello to secrecy. Mlungisi starts to fear that his home may never be his sanctuary again.
Wednesday 11 November 2020
Episode 3691
Layla is thrown when she is asked to return a favour and Violetta becomes concerned about a domestic situation. Seipati launches an early morning enterprise. Mlungisi takes an uncomfortable issue into his own hands.
Thursday 12 November 2020
Episode 3692
Boniswa registers on the radar of someone who could blow her cover. Seipati drops one of the many balls she is juggling. Mlungisi and Zinzile receive the news they were not aware of their marriage.
Friday 13 November 2020
Episode 3693
Boniswa is told a matter has been addressed to her advantage and finds herself keeping a secret form a wife. Seipati struggles to loosen the apron strings. Mlungisi loses patience with alarming consequences.
---
Monday 16 November 2020
Episode 3694
Aya comes up with a plan to turn a maid into a madam. Stokkies agrees to allow a not ideal situation at Q's Lounge to continue. Mlungisi offers a favour which is accepted, albeit not gratefully.
Tuesday 17 November 2020
Episode 3695
Dintle stumbles upon the opportunity of a lifetime and pounces on it.  Seipati's determination to be a good mother might just be making her a bad one. A guest becomes manipulative and Mlungisi becomes suspicious.
Wednesday 18 November 2020
Episode 3696
Aya's seduction plan for two other people is set in motion and gets off to a promising start. Seipati hits a set-back and Lerumo is disturbed by a situation. Mlungisi takes something that doesn't belong to him and makes a worrying discovery.
Thursday 19 November 2020
Episode 3697
Following an intimate encounter, Boniswa is accidentally made privy to a secret. Seipati receives praise for her efforts with Tebello but she urges him to keep a secret. Zinzile struggles with the void left after MaMosia's departure.
Friday 20 November 2020
Episode 3698
Mamba's wife is blissfully unaware of the progress another woman is making with her husband. Lerumo issues a warning about an impending visit. Mlungisi has a plan to turn his wife's life around.
---
Monday 23 November 2020
Episode 3699
One employee of Mamba's uncovers the truth about another. Neo gets what is nowadays a rare treat. An unexpected return shocks a family.
Tuesday 24 November 2020
Episode 3700
Boniswa receives a warning which galvanises her into pre-emptive action. Lerumo's concerned when someone close to his heart falls victim to a crime. A young man's optimism is shattered by a a hurtful rejection.
Wednesday 25 November 2020
Episode 3701
Mamba takes unexpected action against an impostor and Xolile is disturbed by an unexpected video. Seipati is compelled to give a little ground and Neo to give a little payback. Mlungisi drops a bombshell on Lindiwe, who is fearful of what it might mean for her.
Thursday 26 November 2020
Episode 3702
Xolile decides to face a scary truth and Layla is frustrated by not knowing the identity of the person who will change her future. Neo is pleased but Lerumo is upset by some inappropriate behaviour. Ndumiso make it clear that he expects compensation for past wrongs.
Friday 27 November 2020
Episode 3703
Simo receives a warning which causes him to tread water and Chumani is shocked when Dintle demands her pound of flesh. Lerumo finally loses his patience with a woman's stubbornness but will she come to her senses? A young man comes up against a lot of brick walls but one does start to crack slightly.
---
Monday 30 November 2020
Episode 3704
Dintle gets where she wants to be but others are sceptical. Seipati finally manages to acknowledges what she needs. Timothy is impressed with a show of commitment.