Scandal! Teasers – March 2021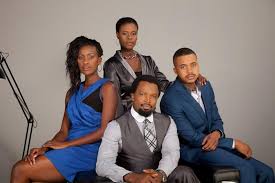 We (keportal Team) pleased to inform you about Scandal! Teasers – March 2021
Monday 1 March 2021
Episode 3769
Lerumo decides how best to proceed with the terrible cards he's been dealt. An unexpected and unorthodox breakfast causes tension amongst the housemates. Things get even more awkward for Dintle at work.
Tuesday 2 March 2021
Episode 3770
Lerumo's need for justice results in both turmoil and passion. Lindiwe is taken by a grand gesture which gives her the time she claimed not to have. Stokkies finds the answer to his problem has been at home all along.
Wednesday 3 March 2021
Episode 3771
Lerumo is forced to make the biggest decision of his life and a deaf stranger arrives to dredge up the buried past. Someone is head over heels and everyone around her is worried. Stokkies has an unexpected visitor and the vibe is strained between them.
Thursday 4 March 2021
Episode 3772
A surprise visitor arrives at the Mamba house with a shocking claim about his identity. Omphile decides to do some interrogation of Lindiwe's new friend. Chevonne makes enthusiastic arrangements that Stokkies is less keen on.
Friday 5 March 2021
Episode 3773
Mamba realizes that he has no other choice but to entertain an intrusion. The love bug has bitten Lindiwe hard but not everyone is celebrating. Stokkies looks for an out when a dreaded event draws closer.
---
Monday 8 March 2021
Episode 3774
The stranger's continued digging prompts Mamba to take action. Cee-Jay and Omphile are disturbed by a hot and heavy new romance. Stokkies and Chevonne host a potentially very awkward evening.
Tuesday 9 March 2021
Episode  3775
Aya is surprised to be confronted by an issue she thought had been resolved. Omphile thinks she may have found someone who could expose the truth. Stokkies receives a visitor who comes bearing bad news.
Wednesday 10 March 2021
Episode 3776
Boniswa is not happy to be turned down yet again and Aya's suspicions are triggered so she demands answers. Omphile and Cee-Jay are up to something but someone smells a rat. Joey makes a revelation which stuns Stokkies and his father.
Thursday 11 March 2021
Episode 3777
Simo attempts to manage a potential crisis but Aya is committed to a cause that could have disastrous consequences for her family. Cee-Jay and Omphile make a shocking discovery about a mysterious nemesis. Leonard makes an unfair demand of his son and Joey blind-sides Stokkies with a confession.
Friday 12 March 2021
Episode 3778
Aya goes all out to discover the truth but is caught out, with surprising results. Lindiwe finds that her perfect man comes with baggage. Stokkies and Chevonne struggle with issues that are not their own.
---
Monday 15 March 2021
Episode 3779
Mamba works to persuade Aya of his version of the story – but she still has to persuade someone else.  Cee- Jay and Omphile are confused by Nhlamulo who also leaves a big 'apology' for Lindiwe. Stokkies and Chevonne find their style becoming more and more cramped by their new flat mate.
Tuesday 16 March 2021
Episode 3780
Boniswa does some dodgy research and Aya believes she can pull the wool over her father's eyes. Cee-Jay reveals a secret that could leave him homeless. Chevonne's friendliness is not welcomed by all.
Wednesday 17 March 2021
Episode 3781
Mamba issues a fraudulent new assignment and a visit to a therapist inspires Lerumo to make an unbreakable vow. Nhlamulo doubts he's making the best first impression with a member of Lindiwe's family. Stokkies succumbs to his urges and Leonard succumbs to his emotions.
Thursday 18 March 2021
Episode 3782
Aya's act of kindness puts a life in danger. Lindiwe is confronted with an issue that stands in the way of her happiness. A husband makes boss moves that don't go down well with his wife.
Friday 19 March 2021
Episode 3783
Mamba decides to let go of the past but is blissfully unaware that his future is being plotted. Cee-Jay bad-mouths a friend, setting a negative change of events in motion. There is trouble in paradise when Stokkies is ganged up on.
---
Monday 22 March 2021
Episode 3784
Mamba does not receive the welcome he was expecting at Chillax. Lindiwe has a tough decision to make that could end a friendship. Stokkies plays agony aunt to his father.
Tuesday 23 March 2021
Episode 3785
Mamba makes a major decision but there are family secrets that could derail him. Nhlamulo's world becomes the one that Lindiwe aspires to. Chevonne feels bad that she is struggling with her new housemate.
Wednesday 24 March 2021
Episode 3786
When a prominent man enters politics, it's time to make sure there are no skeletons in his closet. Lindiwe, Omphile and Cee-Jay grab an unlikely networking opportunity. Stokkies ends up in a role he never wanted with his parents.
Thursday 25 March 2021
Episode 3787
Simo offers himself as an ally and Mamba is determined to go ahead despite the reservations that surround him. Lindiwe's new life doesn't include space for an old friend. Chevonne feels like an outsider in her own home.
Friday 26 March 2021
Episode 3788
A rival surfaces and threatens to expose the skeletons in Mamba's closet. Lindiwe loses it with a friend and her mother is keen to have a meeting. Stokkies break a parent's heart.
---
Monday 29 March 2021
Episode 3789
A cold war between father and son becomes full-blown after a call from Mamba. Even though Nhlamulo is street smart he is daunted by the thought of a certain meeting. Leonard is determined to prove that old dogs can learn new tricks.
Tuesday 30 March 2021
Episode 3790
A cathartic confession has a crippling effect on Mamba. Zinzile finally faces off with a new acquaintance, and Lindiwe starts to worry. Leonard goes all out to broker reconciliation but bites off more than he can chew.
Wednesday 31 March 2021
Episode 3791
Mamba's family secret creates havoc with his new plans. Kgosi sees someone he recognizes but can't quite place. Chevonne and Stokkies find that family issues are not always negative.