Scandal! Teasers – April 2023 Latest Episodes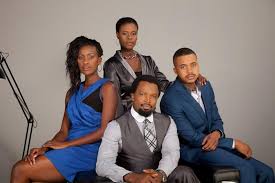 We (The Keportal Team) are excited to notify you about Scandal! Teasers – April 2023 Latest Episodes
Monday 3 April 2023
Episode 4314
Pablo delivers what Serwalo is after, but not in the way he expected. Tibi and Nqobile are thrown a curve ball and need to improvise.
Tuesday 4 April 2023
Episode 4315
Hlengiwe connects the dots and it's sure to turn up the heat. A brewing friendship raises eyebrows.
Wednesday 5 April 2023
Episode 4316
Pablo becomes hostile when he witnesses something he doesn't like. Taps finds yet another unsuspecting soul to take advantage of.
Thursday 6 April 2023
Episode 4317
Jojo and Nhlamulo are pushed into a corner. Tebello does something out of character in the name of love.
Friday 7 April 2023
Episode 4318
A secret meeting between co-conspirators is witnessed. Nqobile's jackpot discovery makes her think that she and Tibi are home free.
Monday 10 April 2023
Episode 4319
Mdala's violent side is revealed when his warning falls on deaf ears. Tebello and Nqobile's new plan has devastating consequences.
Tuesday 11 April 2023
Episode 4320
Mdala and Tlhogi learn that no good deed goes unpunished. Nqobile takes her relationship with Tibi to the next level.
Wednesday 12 April 2023
Episode 4321
Wezi plays a dangerous game of pitting one kingpin against another. Jojo sees something disturbing. Taps starts selling people dreams.
Thursday 13 April 2023
Episode 4322
A man is pressured into taking the fate of two people into his own hands. A jealous young man stands in the way of another young man's crush.
Friday 14 April 2023
Episode 4323
A potential threat leaves Hlengi fearing for her life. Jojo grapples with a moral struggle about a company crisis and Karabo refuses to be deterred by Cee-Jay.
Monday 17 April 2023
Episode 4324
Mdala is forced to make a choice when what he loves most is put in danger. A woman is shocked to learn what her sister went through in her absence.
Tuesday 18 April 2023
Episode 4325
The script is flipped on a man who thought he had the upper hand. Thabang's plan falls flat. A young man fears he may have competition going after the girl he likes.
Wednesday 19 April 2023
Episode 4326
Hlengiwe disappears. An upstanding man finds himself in an awkward position. Taps offers Karabo a dodgy solution to his problem.
Thursday 20 April 2023
Episode 4327
A feud between two boys almost takes an ugly turn. An unexpected house guest has a mother playing nanny to a stranger. Recent events have Tlhogi worried that more skeletons may creep out.
Friday 21 April 2023
Episode 4328
Dintle fears Karabo may be involved in something dangerous. A new relationship forms as two strangers grow closer.
Monday 24 April 2023
Episode 4329
A slap across the face leaves a hopeful lover with egg on his face. Jojo makes a surprising discovery while secretly tailing someone.
Tuesday 25 April 2023
Episode 4330
A woman has an enticing opportunity that could be great for her future. Thabang discovers an opportunity that may help him get closer to securing his bag.
Wednesday 26 April 2023
Episode 4331
Caiphus gets some shocking news about his medical test results. A man discovers something he shouldn't have, while keeping watch over a woman.
Thursday 27 April 2023
Episode 4332
Dintle is left terrified and shocked by the consequences of her actions. Tebello gets the best birthday gift ever.
Friday 28 April 2023
Episode 4333
Things go terribly wrong when a fight gets out of hand at the gym. Vuvu takes the first step towards independence, but the outcome isn't what she expected.