Rhythm City Teasers – November 2020 Full Episodes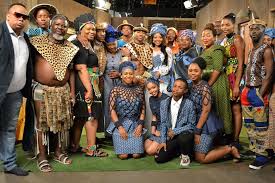 Read Below
Monday 2 November 2020
Epsode 3476
Suffocate and Puleng get intimate, but still, Suffocate won't let Puleng in on his plans. Puleng confesses to Mzi that she hopes Suffo's plans get foiled because she wants the 'old Suffo' back. Khulekani takes the internship away from Zak and bans Zinhle from seeing him.
Nandi confesses to Khulekani that Suffocate paid her a visit. Khulekani suspects Suffocate is up to something and consequently ensures tight security for Nandi's new jewellery store launch.
In DK, Kea flirts with Banele and Jamaica notices. Jamaica hints to Mapula that Banele and Kea are hitting it off, but Mapula doesn't want to believe him.
Tuesday 3 November 2020
Episode 3477
Preparations are going ahead for the launch of Nandi Jewels. Nandi is hiring staff and Khulekani is persuading Pearl to come on board as head of cyber-security. Meanwhile Khulekani receives a tip-off that Suffocate is planning a heist for the launch.
Khulekani gives Ziyanda a very clear warning that if Zak continues to bother him and his family, he will deal with him permanently. Mapula is on edge about Kea and Banele, but Kea convinces her that nothing is going on.
Wednesday 4 November 2020
Episode 3478
Suffocate starts putting plans in place for the heist on Nandi's jewellery store. Little does he know that Khulekani has plans of his own to catch him in the act. Puleng's uneasiness about Suffocate's mission leads her to discover a mole.
After Khulekani's threat, Ziyanda has to be cruel to Zak in order to be kind and save his life. By trying to send him away from Joburg, she risks damaging her new found relationship with her son forever. Meanwhile, Kea gets herself caught in the middle of the Banele/Mapula situationship.
Thursday 5 November 2020
Episode 3479
Puleng believes that Suffocate's accomplice is trying to sell him out and warns him, but will Suffo believe it? Meanwhile, Pearl oversees the cyber-security for the launch as Khulekani refines his plan to catch Suffocate in the act of stealing the Khazimula diamond.
Mandlakhe warns Ziyanda that she needs to get the kid out of town. Ziyanda fears for Zak's life so much that she is forced into doing something terrible that she really doesn't want to do. Kop and Blossom give Banele their blessing to go to the matric dance with Kea.
Friday 6 November 2020
Episode 3480
Suffocate assures Puleng that his guy is solid. Nandi pleads with Khulekani to stop the trap he is laying for Suffocate, but he won't have any of it. Nandi warns Suffocate about the set-up but he just wants to know why she chose Khulekani over him.
Ziyanda is broken after sending Zak away and sends Khulekani a scathing message. She then goes to let him know that he'll pay for what he made her do. Khulekani apologises to Zinhle about Zak and Ziyanda goes to cry on Mkhulu Khanya's shoulder.
Jamaica advises Mapula to tell Banele how she truly feels. Jamaica later warns Kea that breaking her sisterly bond with Mapula is not worth it.
---
Monday 9 November 2020
Episode 3481
Robert tells Khulekani that this is the day Suffocate will do a trial run to breach their security systems before the big launch. Puleng must decide whether to alert the police about Suffocate's plans. Khulekani watches Suffocate hack into the system with the aid of his accomplice and the trap is set.
Mapula and Kea are at each other's throats over Banele. Mampho is excited about applying for a new job at 9-Nine. When she gets home, Jafta tells Mampho she needs to find somewhere else to spend the evening.
Tuesday 10 November 2020
Episode 3482
Suffocate initiates his heist, despite Puleng's warnings that he's walking into a trap. Puleng discovers that the police know nothing about a sting operation. She is convinced Khulekani is setting Suffocate up to kill him and she tries to stop Suffocate from stealing the diamond at Nandi's jewellery launch.
Kea's schoolmate, Thapelo, asks her to go to the matric dance with him. But Kea is still stuck on going with Banele, even though it hurts Mapula. Mapula apologizes to Kea for taking her pain over Banele out on her. Mampho discovers Jafta's scandalous secret.
Wednesday 11 November 2020
Episode 3483
The diamond heist builds to an unexpected climax, and although Khulekani gets the jump on him, Suffocate pulls a rabbit out of his hat and reveals he was one step ahead of Khulekani the whole time.
Mapula discovers that Kea has been invited to the dance by Thapelo, but after a one-on-one blow up with Kea, the battle lines are again drawn between the sisters. Mampho is anxious about her new job and the new responsibilities. She is pleased to see her father so excited about his new situationship with Candy.
Thursday 12 November 2020
Episode 3484
In the aftermath of the jewellery heist, Suffocate explains to Mzi and Puleng how he pulled it off. Khulekani demands that Maponya arrest Suffocate who he is convinced is behind it. But without proof, Maponya's hands are tied and has to honour the reparation deal he made with Suffocate.
Still angry with Kea, Mapula confronts Banele and blurts out that Kea has a crush on him. He and Kea confirm that the dance is just a dance, that they're just friends, but it's clear they're both lying to each other. Mampho is starting to crack it at work, but has to deal with Jafta's complicated love life on the home-front.
Friday 13 November 2020
Episode 3485
Excitement builds towards Kea's matric dance as Mapula tries one last time to get Banele not to go. He denies having feelings for Kea when she confronts him. Kea and Banele look amazing in their outfits. Mapula seethes and sneaks into the matric dance venue to make sure the couple isn't getting too close.
Mampho tries unsuccessfully to work from home but Jafta is heartbroken. She begs Mzi for a place to work. Kea and Banele get home after the dance and as they look at each other in the eyes, they draw closer and kiss.
---
Monday 16 November 2020
Episode 3486
Khulekani and his men invade Kilowatt, looking for the missing jewels. However, they find Maponya there, saying that the police have already done a sweep and there is no evidence against Suffocate. Pearl is barely able to hide her disappointment in Khulekani.
Kea and Banele are rattled when Mapula asks to speak to both of them. But she only wants to bury the hatchet and start fresh. They feel relieved but also guilty. Kea is stung when Banele wants to pretend the kiss never happened.
Mzi offers Mampho the townhouse back but she still can't afford the rent. Ziyanda advises Mampho to quit her new gig and she is gutted.
Tuesday 17 November 2020
Episode 3487
Suffocate holds a press conference in an effort to start clearing his name. He acknowledges everyone who helped him except Puleng, who is sitting right in front of him. Ouch.
Mapula puts her insecurities aside to try and help Kea get up to speed with her exam studies. This results in her unwittingly throwing Kea and Banele back together.
Tension between Mampho and Jafta reaches a head and father and daughter come to blows when Jafta puts Mampho in her place, reminding her exactly whose roof she's under. Mampho sees the error of her ways but Jafta has already made a decision that impacts Mampho greatly.
Wednesday 18 November 2020
Episode 3488
Khulekani's interest is piqued by a new young man, and Mandlakhe can see quite clearly that the seeds for future trouble are being sown. Meanwhile, at the big re-opening of Kilowatt, Puleng is feeling slighted after being ignored at the press conference.
Blossom inadvertently makes things difficult for Banele by inviting him to eat with the family, and precipitates another kiss between him and Kea. Mampho is having terrible pressure at work and is on a final warning. At home, she is trying to be supportive to her father, but puts her foot in it with Candy.
Thursday 19 November 2020
Episode 3489
Suffocate and Mzi are delighted that Pule is back in town, but they are still unaware of his growing connection to Khulekani. Pule himself is unaware of how deep he is getting. Mzi gets a first inkling that there's something up with Pule.
Banele bites the bullet and tells Kea they should be together, but he can't be quite so decisive when it comes to telling Mapula, and ends up making the situation worse. Jafta and Mampho have a fight about Candy, and Mampho invites Jamaica to move in with her and be her housemate.
Friday 20 November 2020
Episode 3490
Pule gets a dinner meeting with Khulekani and Mzi's suspicions about his new brother grow. Fats advises Mzi about brotherly jealousy. Mapula is desperate to rekindle things with Banele, much to Kea's horror. Despite this, Kea wants Banele to keep their secret just a little bit longer.
Mampho finds out that Jafta's girlfriend's son is also moving in and this is the straw that breaks the camel's back. Mampho tells Jafta she is moving out and is disappointed when he doesn't seem very upset.
---
Monday 23 November 2020
Episode 3491
Awkwardness erupts between Khulekani and Pule. Mzi finds more holes in Pule's story and two unsavoury characters come looking for Pule at Kilowatt. Kea and Banele can't stay away from each other and plan a romantic night together while the rest of the family goes out for the evening.
Jamaica is disappointed when Mampho's excitement about moving in together is nothing to write home about.
Tuesday 24 November 2020
Episode 3492
Pule tries to flee when two thugs follow him into Kilowatt, but they end up cornering him at the backstairs and beating him up. Mzi is there to witness it all. Mapula tells Banele how she really feels about him, but Banele rejects her and reveals that he's dating Kea.
Fats advises Jamaica to woo Mampho if he wants to impress her.
Wednesday 25 November 2020
Episode 3493
Mzi struggles to get Suffocate to see that there's something that Pule is not telling them. But Suffocate is too determined to get the bonded family he desires to listen. Meanwhile, Pule makes his move on Khulekani and gets his full attention.
Kea learns that Mapula knows about her affair with Banele but Mapula doesn't confront her. Instead, she puts her through the torture of not knowing when the blow out will come. And in what form it will come. Mampho has reason to celebrate when she is called in by Ziyanda.
Thursday 26 November 2020
Episode 3494
Suffocate is desperate to give Pule a reason to stay in Joburg and offers him a position at RedHub. Mzi finds it increasingly difficult to make Suffocate accept that something suspicious is going on. Pule; meanwhile, enters the lion's den in a bid to secure protection.
Mapula continues to torture Kea by not confronting her about the truth of her relationship with Banele. She tells Jamaica she wants to make Kea pay. Banele offers to talk to Mapula, but Kea tells him that they need to give Mapula time.
Mampho finds out she is doing her first big feature on RedHub, but ends up embarrassing herself in front of Nathi, Pearl's new star.
Friday 27 November 2020
Episode 3495
A desperate Pule narrowly escapes being caught by thugs, and is forced to promise himself to Khulekani. Mapula sets Kea up to try get to the bottom of what's going on, and Kea falls into the trap, getting caught with Banele in the backroom.
Mampho faces down her fear by interviewing Nathi, but it turns out much better than she could have anticipated.
---
Monday 30 November 2020
Episode 3496
Suffocate realises that he doesn't have a choice but to figure out how to work with Pearl. Meanwhile, Mzi's suspicions of Pule are re-ignited.
Banele tries to apologise after being bust by Blossom, but Kop is furious and will have none of it. He fires Banele and asks for the car keys back. He then gathers together the girls, and puts his foot down.
Mampho is a little bit taken by Nathi, especially when flowers arrive for her at the office. Sindiswa notices and advises her to be careful.
---
Rhythm City is on e.tv from Mondays to Fridays at 19h00.