Rhythm City Teasers – Episodes for December 2020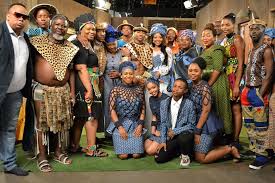 Tuesday 1 December 2020
Episode 3497
Suffocate warns Pearl against getting into bed with a man like Khulekani, not realising that Pule is setting himself up for just such a predicament. Mzi decides to take action of his own.
Kea blames Mapula for getting Banele fired and the argument escalates into a slap. Against his better judgement, Banele agrees to let Kea stay by him. However, when she finally returns to the Khuse home, Kop appears to have reached his limits with her.
Mampho makes an effort with her appearance and Jamaica learns she's going to see Nathi at a photo shoot. Later, when Nathi appears unexpectedly at the yard, Jamaica saves him from a crowd of adoring fans.
Wednesday 2 December 2020
Episode 3498
Pule asks Suffocate if he can move into Kilowatt. Mzi's still suspicious of Pule and tracks him. His suspicions are proved correct. Even though Pule tries to sneak away, Khulekani comes looking for his payback.
Kea and Mapula are still at each other's throats. Blossom tries to hold a kind of peace conference, but it doesn't work, and Kea's determined to leave. Kop has to step in and stop her at the last minute.
Jamaica and Mampho fail to connect and don't get a chance to talk about Nathi. They both have encounters with him during the day, and they are both definitely interested.
Thursday 3 December 2020
Episode 3499
Khulekani is shocked to learn that Pule is Suffocate's son. Mzi thinks Pule and Khulekani are working together to bring Suffocate down. Khulekani blames Mandlakhe for not doing a background check on Pule. Meanwhile, Pule comes clean to Suffocate about why he's really back in Jo'burg.
Kop and Blossom decide to let Banele and Kea date but set ground rules for them. The couple goes on their first official date and it's a bitter pill for Mapula to swallow.
Mampho tells Sindiswa about Nathi but swears her to secrecy. Jamaica gets an invitation to date from a secret admirer. Mampho tells Sindiswa she has no intentions of telling Jamaica about Nathi yet. Jamaica is shaken to discover that the secret admirer is Nathi.
Friday 4 December 2020
Episode 3500
Khulekani makes a move to erase Pule and Mzi to ensure that no one else ever finds out about his dual sexuality. But… Pule is one step ahead of him.
Mapula's struggles to come to terms with the reality that Kea and Banele are officially a couple now. She kicks Kea out of their shared backroom.
Mampho and Jamaica find themselves in a secret entanglement that they can't share with each other, but little do they know that they have even more in common than a secret.
---
Monday 7 December 2020
Episode 3501
Pule offers his silence to Khulekani in exchange for a truce. Khulekani tells Mandlakhe that they have to bide their time. After Pule's confession, Suffocate wants to turn him onto the straight and narrow but Pule won't have it. Cuba gives Puleng some harsh advice about Suffocate.
Kea tries to be unapologetic about her relationship with Banele but Jamaica gives her food for thought. The situations between Mapula and Kea becomes completely untenable.
Nathi makes both Jamaica and Mampho feel incredibly special, but the friends are unaware that they're dating the same man.
Tuesday 8 December 2020
Episode 3502
Puleng feels left out as Suffocate plans the move into his new home with Mzi and hopefully, Pule. Pule continues to resist Suffocate's warnings that a life of hustling is only going to end in tears. Then, two policemen arrive at Kilowatt to arrest Pule.
Kop and Blossom are at a loss as to what to do about the growing tension in the household. Blossom tries to give Kea advice, reminding her of everything that Mapula has done for her. But Kea doesn't listen, instead taking her relationship with Banele to the next level. Mapula discovers them in bed together.
Jamaica almost reveals to Fats that he's dating Nathi. Fats warns Jamaica that an absent lover is usually a suspicious one. Meanwhile, Mampho and Nathi have a great time in each other's company.
Wednesday 9 December 2020
Episode 3503
Suffocate drags his feet about bailing Pule out of prison. He gives Pule an ultimatum to follow the straight and narrow. Pule figures out that Suffocate paid for him to be arrested. He proposes to his dad that instead of forcing him to be clean, Suffocate needs someone like him.
Mapula and Kea brawl, creating a spectacle in the yard. Mapula is convinced Kea is a rebound relationship but Banele breaks her heart and sets her straight.
Jamaica forgives Nathi for ghosting him and they set up a hot date. Mampho leaves her girl's night out with Sindiswa early and to her horror, she walks in on Jamaica about to get it on with Nathi. Mampho and Jamaica realize they've both been dating Nathi.
Thursday 10 December 2020
Episode 3504
Suffocate is getting messed around by the moving company and so Pule takes action. He shows Suffocate what he can do and Suffocate is impressed. Puleng feels left out of the whole new Ndlovu house move but later, Suffocate comes to Puleng and smoothly asks her to move in with them.
Kop reads Banele the riot act about messing with his daughters. Mapula apologises deeply to Banele.
Jamaica and Mampho want answers from Nathi. Nathi suggests the three of them carry on seeing each other and just be a "throuple".
Friday 11 December 2020
Episode 3505
Against the backdrop of the Ndlovu family all moving in to the new home, and making a new beginning, there is a real softening of the tension between Pule and Mzi, but how long will it last?
Mapula informs Kea that she doesn't want to fight any more, but that they will never be friends again. And to Kea's dismay, Banele is rethinking the situation as regards his anger at Mapula. He is thinking that perhaps human happiness isn't served by blame and finger-pointing.
Mampho and Jamaica spend the day considering Nathi's proposal. Sindiswa makes her stance very clear.
---
Monday 14 December 2020
Episode 3506
Pule is revving to restore the Ndlovu name. Suffocate gives him a tour of RedHub and he meets Pearl. She puts him in his place quick and fast, leaving the new Ndlovu intrigued, prompting Pule to propose a massive idea.
Now that Banele's forgiven her, Mapula feels a weight lifted off her shoulders. The good feeling is short-lived when Kea humiliates Mapula in front of Banele. He and Kea have a fight as his patience for the sister-sister drama grows thin.
Sindiswa questions Mampho's motives for even considering Nathi's proposal. Jamaica, Mampho and Nathi go on a date together as the flat mates try out polyamory. But, when things get hot and heavy they can't go through with it.
Tuesday 15 December 2020
Episode 3507
Mzi is the voice of reason for Suffocate when he shoots down Pule's idea to host another concert. But Pule is unrelenting and will not stop until Suffocate sees the same light that Pule does. He is cunning when he uses Pearl to get Suffocate's back up and on board.
After their fight, Kea can't get hold of Banele. Her worry and insecurity grows. Blossom cautions Mapula to forgive Kea, but Mapula struggles with her own hurt.
Meanwhile, Sabelo's jig is up and he must answer to Sindiswa for why he has not been going to work.
Wednesday 16 December 2020
Episode 3508
Mzi wants Puleng to help convince Suffocate to drop the concert. Puleng tries not to intervene but questions Suffocate's readiness. Pule sets up a meeting for Suffocate with a sponsor but Khulekani sabotages it. Pule is even more determined to push ahead with the concert.
Banele breaks up with Kea and Kea blames Mapula for it. Mapula comforts a devastated Kea and the sisters make peace. Meanwhile, Blossom gets the surprise of her life when a  young man claiming to be her son shows up on her doorstep.
Sindiswa tells Sabelo to get his job back at Kilowatt, but Sabelo refuses. A fed up Machiliza gives Sabelo an ultimatum to get a job, or leave her house.
Thursday 17 December 2020
Episode 3509
Pule refuses to lay low after Khulekani has scared away the first sponsor for his concert. He reaches out to an unlikely partner but things don't go quite as planned.
Blossom is excited about having her long lost son back in her fold and is willing to do anything to keep him there. But Kop is worried that she's moving without caution and this causes friction between them.
Sabelo reaches the end of his tether as his manhood and ability to provide continue to come into question. He seizes a very questionable job opportunity.
Friday 18 December 2020
Episode 3510
Pule is desperate to find a way to get Pastor Makoro onside with Suffocate. Cuba unwittingly gives him the idea that he's been looking for. Pule speaks to a Mashonisa about borrowing a large sum of money!
Mose's arrival continues to cause friction in the Khuse household. Blossom lays it on the line for Kop; if you want to support me then you support Mose.
Sabelo goes to a very strange job interview and is stunned when he finds out what the job entails. He lies to Sindiswa about his day.
---
Monday 21 December 2020
Episode 3511
Cuba's tiny crush on Pule leads her to hand over her life's savings to him and Pule risks it all as he puts his very dangerous plan into operation.
Kop's doubts are dissolved when Mkhushulwa vouches for Blossom's son. But a devastating truth is revealed – Mkhushulwa and Mose are a pair of fraudsters, in it together to scam Blossom out of her land.
Sabelo has a moment of triumph when he tells MaChiliza and Sindiswa that he has landed the job.
Tuesday 22 December 2020
Episode 3512
Fats tells Mzi that Pule was looking for a loan. Cuba panics about her money but Pule manages to allay her fears. The mashonisa tells Mzi that Pule is looking for a huge sum of money. Mzi learns from Cuba about her deal with Pule and he confronts Pule.
Blossom is deeply moved when Mose tells her he isn't angry at her for abandoning him. She reels when Kop objects to her wanting to introduce Mose to everyone and suggests a DNA test, but she vehemently refuses. Mose makes Kea feel uncomfortable.
Sabelo turns down Katarina's job when he learns he needs to make his lady clients feel 'special'. He is torn when Machiliza says him getting a job was proof that he can be trusted, and goes to ask for the job back.
Wednesday 23 December 2020
Episode 3513
Suffocate is furious with Pule for taking Cuba's money, and demands that he gives it back. But Pule finds ways to further manipulate Cuba. Later, he tries to break into the stadium, but is caught red-handed.
Kop is livid when Mose takes his kombi without his permission but Mose plays Blossom like a fiddle. Kea tells Mapula about Mose's upsetting remarks the day before.
Sabelo starts work at Katarina's massage parlour, and discovers just how intimate he needs to get with his clients.
Thursday 24 December 2020
Episode 3514
Puleng worries that Pule shouldn't be brought into the family, but Suffocate insists that Pule is like a son to him and refuses to throw him out. Pule tries to make things right with Puleng, but she remains wary. Pule asks Khulekani for a favour, telling him that then following this, they're quits.
Mose apologises to Kop, and Kop accepts his apology. But when Kop sees Mkhushulwa handing money over to Mose, his suspicious are aroused all over again, and Mkhushulwa and Mose have to think on their feet, making up the excuse that an uncle is allowed to give his nephew pocket money.
Sabelo spoils Sindiswa and MaChilliza with a hearty breakfast now that he's earning cash again, but feels guilty when he lies to them. When Sabelo tells Mapula about his new job, Mapula warns him he's looking for trouble.
Friday 25 December 2020
Episode 3515
Khulekani is forced to help Pule sabotage Pastor Makoro's Joy of Joys festival. The Ndlovus spend a merry Christmas together and get a chance to further welcome Pule into their fold. Suffocate is surprised when Pastor Makoro turns up at his home and to learn there is a stadium booked in his name.
Kop and Mose are wary of each other but manage to keep things friendly for Blossom's sake. Mose hits the bottle hard at the Khuses' Christmas party and makes an inappropriate move on Kea, tapping her bum. The party comes to an abrupt and awkward end.
Dumi returns to spend Christmas with the family and Sabelo surprises him with a gift he's always wanted. Dumi is proud of the man that Sabelo has become.
---
Monday 28 December 2020
Episode 3516
Pule's plan comes to fruition and culminates in the big Joy of Joys concert, where Pastor Makoro endorses him before the world. Pule has piqued the interest of Pearl.
Mose tries his very best to make right his blunder at the Christmas party, but Kop is determined to protect Kea, and makes the decision to throw him out of the house.
Sabelo's new-found prosperity is making him very popular in MaChiliza's house. Sindiswa is very proud of him.
Tuesday 29 December 2020
Episode 3517
Pule pays Cuba back the money he owes her and a little extra. Suffocate gives all the praise about the concert to Pule, much to Mzi's chagrin. Khulekani suggests Pearl get close to Pule, and she might just be considering that…
Blossom is very upset when she finds Mose packing his bags to leave. She begs Kop to change his mind about kicking Mose out but he stands firm. Later, she doesn't come home and Kop worries.
Sabelo finds out that there is still no electricity at the massage parlour. He has to dodge the romantic advances of his amorous client.
Wednesday 30 December 2020
Episode 3518
Puleng worries that Suffocate is starting to neglect Mzi for Pule. Pearl is unimpressed when Pule mentions to Bongani her intentions to sign 2-Ironz, a competing rapper. Pule invites 2-Ironz out for drinks to convince him to sign with RedHub. Pule lies to 2Irons, saying Bongani dissed him.
Kea blames herself for the tension between Kop and Blossom but Mapula says that's all Mose's fault. Mose tells Mkhushulwa he has Blossom right where he wants her. The Khuses are stunned when Blossom announces that she's leaving with Mose.
Sabelo is thrown when Katarina suggests that they start massaging clients from their homes. She says Sabelo won't be paid if he can't work. Sabelo worries that he's going to be unemployed again.
Thursday 31 December 2020
Episode 3519
It's New Year's Eve, but there's trouble afoot. For Pearl, because Pule's hustling every way he can. Starting with gun games with 2-Ironz, to stoking a new rivalry at RedHub, to daring Pearl to run off to Durban with him for the night.
For the Khuses. Blossom and Kop can't find common ground, and she's determined to leave with Mose – playing right into Mkhushulwa's hands. And the kids are caught in the middle.
For Sabelo, who's still lying to Sindiswa about his new massage parlour job, even when she spends big on their New Year's plans.
---
Rhythm City is on e.tv from Mondays to Fridays at 19h00.