Queen Teasers – February 2021 Episodes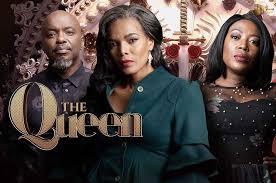 Monday 1 February 2021
Episode 136
A snitch and a thief
Harriet and Shaka are on the hunt. Siyanda is desperate to pay back the money.
Tuesday 2 February 2021
Episode 137
We haves wolves to feed
Brutus and Kagiso panic when they can't find Harriet or Shaka. Schumacher's plan for saving Siyanda makes Thato very uncomfortable
Wednesday 3 February 2021
Episode 138
Merchant
Charles is in a race against time as his plan starts to fall apart. Georgina has to choose between her friends and her duty.
Thursday 4 February 2021
Episode 139
The wrong rat
Hector has some news for Harriet that sends her world spinning again. Thato tries to clean up Siyanda's mess but could he be making things worse?
Friday 5 February 2021
Episode 140
Man down
Harriet and Shaka are reeling after Hector's bad news. Siyanda is terrified when she realises she may have picked another fight with Skhumbuzo.
---
Monday 8 February 2021
Episode 141
Stimela
The Khozas come up with a plan to get their enemies off their tail. Vuyiswa struggles to come to terms with her loss.
Tuesday 9 February 2021
Episode 142
Death & rebirth
The Khozas pull out all stops to welcome the newest addition to the clan. Vuyiswa falls apart at the thought that her life has changed irrevocably.
Wednesday 10 February 2021
Episode 143
The vanishing
A celebration ends in tears. Vuyiswa and Hector connect.
Thursday 11 February 2021
Episode 144
Into thin air
Kagiso is losing his mind with worry as an unseen enemy attacks his family. Hector struggles to live with everything he has had to do to get to the top.
Friday 12 February 2021
Episode 145
Letting go
Kagiso takes matters in his hands in a bid to put his family back together again. Vuyiswa and Hector make a startling realisation.
---
Monday 15 February 2021
Episode 146
Lost
Sparks continue to fly between Vuyiswa and a potential new love interest. Goodness' gangster side reappears as she starts to get desperate.
Tuesday 16 February 2021
Episode 147
I warned you
The Khozas are in such a tight corner they might do the unthinkable. Everyone notices the change in Hector and tries to guess what caused it.
Wednesday 17 February 2021
Episode 148
Fak'Imali uzobona
Just when the Khozas think there is a light at the end of the tunnel, the kidnappers pull the rug from under them. Vuyiswa is afraid that her need to move on may be a betrayal of the past.
Thursday 18 February 2021
Episode 149
Runaway love
Goodness has a worrying coping strategy to deal with her loss. Vuyiswa struggles to come to terms with her fear of judgement.
Friday 19 February 2021
Episode 150
Losing it
Hector takes a leap of faith. Mvelo's disappearance takes a toll on the Khoza family.
---
Monday 22 February 2021
Episode 151
Decision time
There's new information from the kidnappers and it rattles everyone. Mpho feels like her family is keeping a big secret from her and Schumacher is torn about whether to tell her what it is.
Tuesday 23 February 2021
Episode 152
Mascarade
Shaka is surprised to learn who is behind Mvelo's disappearance. Vuyiswa struggles to overcome her feelings of guilt around her decision to move on.
Wednesday 24 February 2021
Episode 153
They started it, we'll finish it
Shaka allows his temper to get away from him, threatening to expose himself and everyone else to great danger. Patronella has a new way of helping Vuyiswa to move on, but is it a good idea?
Thursday 25 February 2021
Episode 154
Sithengisa amapentshisi
The kidnappers make a life changing demand of the Khozas. Vuyiswa has a surprising admission for Patronella.
Friday 26 February 2021
Episode 155
Confession
Gertrude's desire to see the Khozas suffer leaves Kop worried they will get caught. Vuyiswa battles with her conscience.