Operation Pacific Teasers – November 2020 Full Episodes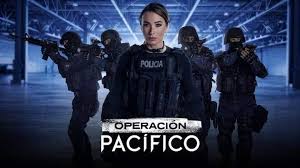 Sunday 1 November 2020 
While Freddy manages to escape, Ángel is not so lucky. Paula and Díaz discover the microphone that Vargas put in López's office.
---
Monday 2 November 2020 
Guerrero shoots Lupe, mistaking her for Amalia. Vargas manages to ally himself with Sebastián. Amalia and Jones are taken for questioning.
Tuesday 3 November 2020 
Pedraza follows Alexis to his meeting place with Freddy. Helena tells Amalia that her husband hits her, and Amalia offers her refuge at her house.
Wednesday 4 November 2020 
Vargas is informed of Freddy and Lina's meeting place, and shows up there. Meanwhile, Amalia and Paula are hiding in Mariana's apartment.
Thursday 5 November 2020 
Jones gives Amalia and Paula secure phones to communicate with. Meanwhile, Vargas kidnaps and interrogates Guerrero.
Friday 6 November 2020 
Jones manages to save López's life, and Amalia and her team plan to get López out of the hospital. Meanwhile, Vargas is questioned by El Guapo.
Saturday 7 November 2020 
Jones and Solano find incriminating evidence in Vargas's house. Meanwhile, Pedraza is transferred to the same prison as Guerrero.
Sunday 8 November 2020 
López is released and cleared of all charges. Meanwhile, in prison, Guerrero enters Pedraza's cell with the intention of killing him.
---
Monday 9 November 2020 
Mariana makes the decision to have her baby. Jones tells Amalia about Pedraza's kidnapping, and they set off to rescue him.
Tuesday 10 November 2020 
Díaz dies at the hands of López. René is rejected when she kisses Jones. Guapo asks his lawyer to release Fabiola.
Wednesday 11 November 2020 
Amalia and Jones find out that Fabiola has been kidnapped by Pedraza. Meanwhile, Paula manages to find Salvador's location, and arrests him.
Thursday 12 November 2020 
Series finale!
What will happen with Amalia and her children? And can justice overpower corruption?
---
Operation Pacific will be replaced by a rebroadcast of Decisions: Some Win Others Lose for three episodes: from Friday, 13 November to Sunday, 15 November.
A rebroadcast of False Identity begins on the Monday (16 November) at 21h00.
Here's a link to the teasers as published during its first run: False Identity Teasers