My Identity Teasers – May 2021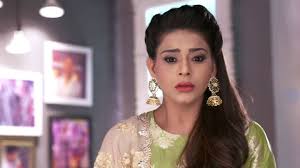 We (keportal Team) pleased to inform you about My Identity Teasers – May 2021
Thursday 1 April 2021
Episode 214
Ali tells Neela that he will help Avni break up her marriage. Later, Avni is in trouble as she is unable to prepare food!
Episode 215
Ali meets Avni with a plan to escape from Neil's reach. He asks Madhavi to help them. How will she react?
Friday 2 April 2021
Episode 216
Neil creates a romantic setting to celebrate his first night with Avni. When Avni spikes the milk, Neil drinks some of it and makes her drink the rest.
Episode 217
Neil and Avni visit Neela's house. Neela asks Madhavi not to reveal that Neil knows the truth. Meanwhile, Ali shares his plan with Avni.
Saturday 3 April 2021
Episode 218
Aman tells Ketan about his involvement in kidnapping Neela. As Avni discloses her secret, Neil assures her of arresting Dayawanti.
Sunday 4 April 2021
Episode 219
Neil informs Avni that they have to pretend to be married till they succeed in their motive. Avni apologises to Neela. Dayawanti apologises to Neil on Diksha's behalf.
Episode 220
Harleen tells Avni to observe fast in order to test her. Later, Neil teases Avni.
---
Monday 5 April 2021
Episode 221
Shweta gets Avni in trouble by misleading Harleen. Avni gets emotional seeing Ashish's photograph in Neil's house.
Episode 222
Avni tells Neil that someone is tracking Ananya Verma. Neil arrests the real Ananya in a dance bar!
Tuesday 6 April 2021
Episode 223
Neil handcuffs Avni when she insists on accompanying him to the police station. Dayawanti overhears Neela and Ananya Verma's conversation.
Episode 224
Dayawanti meets Avni and holds her at gunpoint. Aman kidnaps Ananya. Neil assures Avni saying that everything is going as planned!
Wednesday 7 April 2021
Episode 225
Harleen organises a treasure hunt in the house. Dayawanti reaches the Khanna House to expose Avni. Will she?
Episode 226
Neil and Harleen expose Ananya Verma and humiliate Dayawanti. Later, Neil visits the Mehtas and tricks them.
Thursday 8 April 2021
Episode 227
Dayawanti succeeds in making Riya hate Avni. Avni gets furious when Neil reads out Ashish's letter!
Episode 228
Riya sets out to keep Avni away from Diksha and misleads Shweta. Ali and Mitali are on a mission to find out Diksha's secret.
Friday 9 April 2021
Episode 229
Avni and Neil panic as Ali informs them that Dayawanti caught Mitali. Neil vows to rescue Mitali and sends Neela to expose Diksha.
Episode 230
Learning that Ashish died in a confrontation with Dayawanti, an angry Avni runs out to kill Dayawanti. Will anyone stop her?
Saturday 10 April 2021
Episode 231
Neil worries about Avni's whereabouts. Dayawanti accuses Avni of killing Ashish and plans to kidnap her. Neela mourns Ashish's death.
Episode 232
Dayawanti hides Avni and misleads Aman about Neil, Avni and Neela. A furious Aman tries to stab Neil!
Sunday 11 April 2021
Episode 233
Avni escapes from Dayawanti's trap. Dayawanti is arrested after Aman learns the truth about her!
Episode 234
Avni performs Ashish's post-death rituals. Neil panics on learning that his aunt, Maddy is in trouble. He asks Avni to leave!
---
Monday 12 April 2021
Episode 235
Neil is elated to know that Avni rescued Maddy and Kareena from danger and wants to celebrate her birthday!
Episode 236
Neela, Ali and Fatima arrive at Avni's surprise birthday party organised by Neil but Shweta plans to ruin it!
Tuesday 13 April 2021
Episode 237
Riya reveals Avni's true identity to Shweta. When Shweta questions Neela, Harleen reveals a truth about Shweta to shut her up!
Episode 238
Out of frustration, Aman attempts suicide. Avni learns about it and rushes him to the hospital. Will he survive?
Wednesday 14 April 2021
Episode 239
Neil brings Aman and Riya to the Khanna house. Riya and Shweta plot against Avni. What is their plan?
Episode 240
Avni and Neil have a romantic dance, on realising that Harleen is watching them. Riya and Shweta come up with a plan to trouble Avni.
Thursday 15 April 2021
Episode 241
Riya spikes Avni's soup and later, Shweta executes another crooked plan. Is Avni in trouble?
Episode 242
Avni tries to tell Neil that everyone thinks she is pregnant. Riya and Shweta try to trap her! Who will come to her rescue?
Friday 16 April 2021
Episode 243
Harleen supports Avni when Shweta accuses her of cheating on Neil. Avni wants to prove her innocence to Neil. Can she?
Episode 244
Avni confirms Shweta's involvement in shaming her and decides to leave the house. Will she?
Saturday 17 April 2021
Episode 245
Avni misses Neil. Harleen and Shweta find out about Riya and Neil's affair. Do Riya and Neil have an answer?
Episode 246
Neil exposes Riya in front his family and condemns them for ill treating Avni. He is worried about Avni's whereabouts and goes in search of her.
Sunday 18 April 2021
Episode 247
Harleen apologises to Avni for hurting her, while Shweta has other plans for Avni. Neil and Avni spend quality time together.
Episode 248
Avni assures Neil about mending her relationship with Shweta. Neil spends quality time with Avni but grows suspicious of her and Ali's bond. Is Avni in love with Ali?
---
Monday 19 April 2021
Episode 249
Shweta provokes Ali to spill Avni's truth. Prakash gets Aman enrolled in Kareena's college. Neela meets the Khannas.
Episode 250
As Neil and Avni refuse to go on a honeymoon, Shweta and Prakash try to convince them. Will they change their mind?
Tuesday 20 April 2021
Episode 251
Avni goes to Neil's office and persuades him to go on a honeymoon to Coorg. Misled by Riya, Ali also decides to go to Coorg!
Episode 252
Under Shweta's guidance, Riya spies on Neil and Avni. Riya tries to make Ali realise that Neil and Avni are not in love.
Wednesday 21 April 2021
Episode 253
Ali plans for a date to propose to Avni, but his plan fails. Avni reaches the spot and meets Neil. But the two get into a tiff, why?
Episode 254
Ali is shattered when he sees Neil putting a mangalsutra around Avni's neck. Later, AvNeil share their feelings for each other.
Thursday 22 April 2021
Episode 255
Avni plans to celebrate Prakash and Shweta's marriage anniversary, while Shweta aims to throw her out of the house.
Episode 256
Everyone's ready to celebrate Prakash and Shweta's marriage anniversary. However, Riya and Shweta plan to expose Avni on the occasion.
Friday 23 April 2021
Episode 257
Dayawanti provokes Riya to expose Avni. Everyone celebrates Prakash and Shweta's wedding anniversary and makes them exchange the varmala.
Episode 258
Dayawanti gets furious on recalling Ashish. Riya exposes Avni, while Avni discloses her parents' identity to Harleen. How will Harleen react?
Saturday 24 April 2021
Episode 259
Shweta and Harleen humiliate Avni on learning that she is Ayesha and Ashish's illegitimate daughter. Aman and Ali protest against Shweta. What is Neil's mission?
Episode 260
As Avni tries to prove her innocence, Shweta and Harleen throw her out of the house. Prakash condemns them and tries to console Avni.
Sunday 25 April 2021
Episode 261
Unaware of Aman's intentions, Avni ties him a rakhi. Dayawanti vents out her anger on Neil. What is Aman planning with Dayawanti?
Episode 262
Neil is furious at Shweta for humiliating Avni, while Avni grows suspicious of Aman. Will Neil find out Riya's ploy against Avni?
---
Monday 26 April 2021
Episode 263
Neil is disappointed with Avni while she strives to pacify him. Neela aims to mend their relationship. Meanwhile, what is Aman up to?
Episode 264
Neil and Avni perform the Janmashtami puja. Dayawanti and Aman plot to kill Neil and Avni in a bomb blast.
Tuesday 27 April 2021
Episode 265
Neela and Avni figure out something fishy at the Dahi Handi celebration and try to stop Neil from performing the rituals. Will Neil survive the blast?
Episode 266
Avni and Neela panic on seeing Neil's critical condition. Aman tries to kill Neil.
Wednesday 28 April 2021
Episode 267
Dayawanti reaches the hospital, in disguise, while Aman and Riya distract Avni and Ali. Neela grows suspicious. Will she recognise Dayawanti?
Episode 268
Neil needs an immediate liver transplant and Avni will do anything to save him. But, Dayawanti and Gurumaa are planning to create more trouble for Avni.
Thursday 29 April 2021
Episode 269
Avni rejects Neil's request to return home when he gets discharged from the hospital. Neil stuns everyone with an important announcement!
Episode 270
Avni and Neil move to their new house. Aman panics on learning about the fingerprint report and attacks the cop.
Friday 30 April 2021
Episode 271
Shweta seeks Dayawanti's help to ruin Avni's life. She wins Avni's trust and fakes concern for her. Will Avni discover her motive?
Episode 272
Avni helps a girl who resembles Neil's ex-girlfriend Juhi and confronts her husband for misbehaving with her. Will Neil see her?