My Identity Teasers 2021 Latest Episodes (February)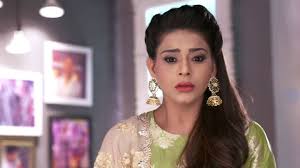 Monday 1 February 2021
Episode 96
Avni takes care of her baby brother. Neela stops Ashish from committing suicide. Dayawanti takes Avni's brother away from her.
Episode 97
Avni goes to the Mehta House with reporters, asking Dayawanti to accept her. Will Avni's plea's melt Dayawanti's heart? Will Avni get to live with her baby brother, Aman?
Tuesday 2 February 2021
Episode 98
Hasmukh suggests that Neela break all her ties with the Mehtas. Meanwhile, Ali enters the storeroom through the window.
Episode 99
Dayawanti panics when she receives Asha's death report. Later, Neela hands over Avni's brother to her.
Wednesday 3 February 2021
Episode 100
Ali secretly goes to the Mehta House to rescue Avni from the storeroom. Later, Ali and Avni stick Asha's photographs all over the house!
Episode 101
Dayawanti allows Avni to hang Asha's photograph in her room. Later, she asks Hari and Bhima not to give food to Avni. Will anyone oppose Dayawanti?
Thursday 4 February 2021
Episode 102
Neela frees Avni from the store room and tells the inspector that Dayawanti had locked her up. However, Avni lies to the inspector that Dayawanti takes good care of her.
Episode 103
Fatima, along with Tiku and Ali, come to check on Avni when she doesn't answer their calls. Dayawanti asks Avni to oust Fatima and then locks Avni inside her room.
Friday 5 February 2021
Episode 104
Diksha sees Asha's death report. Neela allows Avni to visit the hospital to collect the report. Later, Avni gets the report but something is amiss!
Episode 105
Avni complains to the police about the fake e-mail and asks them to arrest Dayawanti. Dayawanti learns that Avni has reached the police station.
Saturday 6 February 2021
Episode 106
Avni fails to escape from the goons. Neela is shocked to learn that Dayawanti has lodged a complaint against her. She is taken into custody for interrogation! Will she be able to rescue Avni?
Episode 107
Avni falls while she tries to run away from the goons. Meanwhile, a naming ceremony takes place at her home. Will she be able to reach home in time?
Sunday 7 February 2021
Episode 108
Dayawanti refuses to name Asha's son as Aman. The inspector tells Avni that someone has destroyed the proof of Asha's death from the hospital. Later, Neela takes Avni to her new room.
Episode 109
Riya overhears Dayawanti's plan to break Neela and Avni's friendship. Later, Avni searches for Aman and finds him with Riya, who has certain plans for Aman!
---
Monday 8 February 2021
Episode 110
Avni's rat helps Ali to enter Avni's room to give her a new phone. Later, Aladdin walks in as Inspector Pappy Singh! Is Dayawanti in trouble?
Episode 111
Aladdin asks Dayawanti to change Avni's room, while Neela is happy to recognise Aladdin. Meanwhile, Ali is surprised to find Aladdin in Avni's room.
Tuesday 9 February 2021
Episode 112
The Mehtas have a new business rival, while Avni and Aladdin celebrate Aman's birthday. Later, Avni gets a call from Inspector Joshi. Why?
Episode 113
Avni thanks Aladdin for supporting her to start her company. Later, Avni believes that Asha's accident was planned.
Wednesday 10 February 2021
Episode 114
Dayawanti finds Pappy Singh and Aladdin's picture similar and learns that she is being deceived. Meanwhile, Aladdin and Avni lay a trap for Diksha. Will she fall in the trap?
Episode 115
Dayawanti's men drug Aladdin. Will Avni and Ali find out Aladdin's whereabouts?
Thursday 11 February 2021
Episode 116
Avni takes Ali's help to rescue Aladdin. Later, Avni is delighted when the inspector informs her that he has gathered an evidence against Dayawanti.
Episode 117
The doctor lies to Avni and the inspector that Dayawanti visited the hospital only for her checkup. Meanwhile, Aladdin regains consciousness and shares the details of the consignment with Avni.
Friday 12 February 2021
Episode 118
Avni, Ali and Akash succeed in escaping with the consignment. Meanwhile, the inspector tells Avni that Asha's case has been closed based on the medical report.
Episode 119
Avni is shocked that Asha's case is closed. Neela fails to comfort Avni. Meanwhile, Avni reveals about Dayawanti's misdeeds to Ashish and decides to file a case against her.
Saturday 13 February 2021
Episode 120
Avni and Alladin meet the driver who was driving Asha's vehicle when the accident happened. The driver confesses the truth but will he testify against Dayawanti?
Episode 121
Avni and Ali look for evidence in Dayawanti's bedroom. Jamla locks them up! Will they be able to get out?
Sunday 14 February 2021
Episode 122
Avni tells the inspector that she has found the evidence against Dayawanti. But, she is shocked when the inspector arrests Neela instead!
Episode 123
Dayawanti shares her plan against Avni and Aladdin with Diksha. Later, Neela informs Dayawanti that she has indirectly helped them to reopen Asha's case.
---
Monday 15 February 2021
Episode 124
Hemant bails Neela out. Avni is happy knowing that the CBI reopened Asha's murder case.
Episode 125
Diksha kills Hemant! Meanwhile, a spy demands 5 crores from Dayawanti for the CCTV footage that he has recovered.
Tuesday 16 February 2021
Episode 126
Dayawanti slaps Diksha for neglecting her work. Meanwhile, Akash informs Avni about his plan to make Dayawanti confess to her crimes. Will the plan work?
Episode 127
Avni and Ali are delighted to see Dayawanti eating the spiked khichdi. Later, a lawyer informs Neela about Hemant's will.
Wednesday 17 February 2021
Episode 128
Dayawanti sees Asha's spirit in her room! Avni and Ali rejoice as their plan has worked. Meanwhile, Avni wants to know what else is Dayawanti seeing.
Episode 129
Avni learns that Dayawanti is seeing her mother, Asha and asks her to appear before her. Meanwhile, Asha's spirit continues to haunt Dayawanti.
Thursday 18 February 2021
Episode 130
Ali asks Avni to concentrate on the plan to make Dayawanti confess her crime. Meanwhile, Dayawanti asks Jamla to keep an eye on Avni.
Episode 131
Ali gets worried as Avni consumes the food mixed with medicine. Later, Dayawanti panics on seeing Asha carrying Aman!
Friday 19 February 2021
Episode 132
Avni and Ali record Dayawanti's confession. Later, the inspector tells Avni that Dayawanti has preponed the hearing of the case.
Episode 133
Avni, Neela, Dayawanti and the others reach the court for the hearing. Later, Ashish arrives at the court. Whose side would he take?
Saturday 20 February 2021
Episode 134
Avni feels cheated by Inspector Joshi and the judge convicts Neela of Asha's murder. With all the proof destroyed, how will Avni expose Dayawanti?
Episode 135
Avni, Ali, Aladdin and Neela celebrate their success against Dayawanti. Meanwhile, Jamla meets Dayawanti in the jail. Why?
Sunday 21 February 2021
Episode 136
Dayawanti lies to Ashish about Avni. Meanwhile, Avni returns to Asha's house with her little brother, Aman.
Episode 137
Ashish not only accuses Avni of killing Asha but also provides evidence against her to the police. Can Avni prove herself innocent?
---
Monday 22 February 2021
Episode 138
Avni hides with her baby brother, Aman in a truck. Later, she panics when the truck driver leaves with Aman. What will she do?
Episode 139
The inspector arrests Tiku and asks him about Avni. Meanwhile, Dayawanti's associate helps Avni to find Aman!
Tuesday 23 February 2021
Episode 140
Aladdin rescues Avni and Aman from Dayawanti's goons. Meanwhile, Dayawanti has a plan against Avni.
Episode 141
Neela scolds Dayawanti for her misdeed against Avni. Meanwhile, Ashish shoots Aladdin when he tries to escape from him and the police!
Wednesday 24 February 2021
Episode 142
The police arrest Avni when Ashish takes Aman away from her. Meanwhile, Neela asks Ashish to sign the divorce papers. Will Ashish consider her request?
Episode 143
Inspector Rathore motivates Avni to fight against injustice while Dayawanti hires a shooter to kill Avni. Meanwhile, Diksha suspects Dayawanti. Will she find out Dayawanti's secret?
Thursday 25 February 2021
Episode 144
Dayawanti orders the shooter that she wants to see Avni dying in front of her. Meanwhile, can Neela save Avni?
Episode 145
Inspector Rathore rescues Avni from the goons but gets shot by one of them. Neela takes Avni to a safe place. But is Avni out of danger now?
Friday 26 February 2021
Episode 146
While Neela and Avni plan to move to the US, Dayawanti and Diksha learn about their trip. What will Dayawanti do now?
Episode 147
Dayawanti and Diksha decide to kill Neela and Avni as their secret is out. But, will they succeed?
Saturday 27 February 2021
Episode 148
Dayawanti shoots Avni before she drowns in the river. The story takes a leap. Neil is in search of a generous thief. Meanwhile, Avni and Neil cross paths at the hospital!
Episode 149
Neil saves Avni from drowning. Meanwhile, Ali is worried about Neil and tries to contact him. Where are Neil and Avni?
Sunday 28 February 2021
Episode 150
Neil saves Avni from a stranger and attends to her wound. Later, she learns that Neil is a policeman.
Episode 151
While Neil gets more involved in Avni's case, Neela trains Avni to face Dayawanti. Will Avni muster enough courage to face her tragic past?
---
Premiere episodes of My Identity air on Star Life from Mondays to Sundays at 20h00 and 20h30