Muvhango Teasers – May/June 2023 Latest Episodes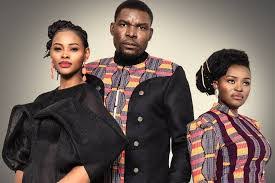 We (The Keportal Team) are excited to notify you about Muvhango Teasers – May/June 2023 Latest Episodes
Monday 3 April 2023
Episode 4307
James gets fired from MMC. Linde refuses to go home with Azwindini. Mpho kicks Tshifhiwa out of her house.
Tuesday 4 April 2023
Episode 4308
Susan fears for her son's life but she will do whatever it takes to protect him. Imani swallows her pride and apologizes to Mpho but Mpho is not having it. Vhutshilo's graduation preps are underway.
Wednesday 5 April 2023
Episode 4309
Mpho confronts Tuwani and he asks her to give him 48 hours and promises to unmask the person framing him by then. Neshehe reveals the number couldn't have called Susan. Everybody else is worried about Vhutshilo and the threat from Tenda but Vhutshilo doesn't believe Tenda would harm him.
Thursday 6 April 2023
Episode 4310
Susan tells Azwindini where to get off. Tuwani and Mpho catch Tshifhiwa on a lie. Vhutshilo attends his graduation ceremony.
Friday 7 April 2023
Episode 4311
Susan misses her son's graduation. Khumo is exposed for her lies. Tuwani gives Bubbles an ultimatum or she could lose her job.
Monday 10 April 2023
Episode 4312
Vhutshilo is gutted because Susan is a no-show at his grad party. Khumo pays back James all she owes him. Tenda tells Susan exactly how he'll kill her and her family.
Tuesday 11 April 2023
Episode 4313
Khumo is caught in a compromising position with Paballo. Azwindini is questioned in relation to Susan's disappearance. Susan learns of how she helped Tenda plot a perfect revenge against her and the Mukwevhos.
Wednesday 12 April 2023
Episode 4314
Khumo and Paballo try to cover up Tshifhiwa's death but are horrified to discover that his body is missing from the grave. Tuwani offers Imani a position on the board of MMC. The police struggle to track Susan down.
Thursday 13 April 2023
Episode 4315
Tenda shows Susan as his plan to bring Azwindini starts to unfold.
Khumo makes plans to go back to work and her return seem to be on course to clash with Kgosi's desire to prove to Bubbles that he can make a good COO. Bubbles unwittingly get Kgosi fired up and ready to prove to her that he is COO material and can successfully replace Khumo.
Friday 14 April 2023
Episode 4316
Vho-Makhadzi scolds Azwindini for exploding at his mother and implores him to rather prove his innocence instead of exploding at people doubting him. Tuwani demands a turnaround strategy from Gugu for her department and failure to do so, she will be fired.
Kgosi worries when he learns that Khumo is not prepared to step down as COO.
Monday 17 April 2023
Episode 4317
Azwindini infiltrates Susan's mind via Mulimisi. Susan wakes up to a way out. Kgosi's put in his place – future COO, but it won't be easy.
Tuesday 18 April 2023
EpisodeS 4318
Azwindini passes the lie detector test. Susan's car is found. Imani is voted in as a board member.
Wednesday 19 April 2023
EpisodeS 4319
Susan's car has been found but Azwindini is still a person of interest. Imani and Gugu have a fallout after the voting at MMC. Paballo is jealous when he sees Tuwani and Khumo together.
Thursday 20 April 2023
Episode 4320
Vhutshilo learns Azwindini won't help the police and threatens to turn over to the Motsamai camp. Following a fist fight with Tuwani, Paballo ends it with Khumo. Kgosi loses hope of becoming COO.
Friday 21 April 2023
Episode 4321
Khumo and Paballo struggle to hide that they are lovers. The police suspect Azwindini is responsible for Susan's disappearance, and force him to give them a DNA sample. Bubbles and the MMC staff accept Tuwani after he seemingly rescued Khumo from Paballo.
Monday 24 April 2023
Episode 4322
Azwindini is arrested but Neshehe is shocked when he learns about it as there is no warrant of his arrest. Gugu learns horrifying news about her unborn baby. Khumo agrees to take a leap of faith with Paballo.
Tuesday 25 April 2023
Episode 4323
Azwindini meets his fate and it's ugly. Imani oversteps and sticks her nose where it doesn't belong. Mulimisi has a cryptic message for the Mukwevhos.
Wednesday 26 April 2023
Episode 4324
Tenda sets Azwindini on fire. James and Gugu are in denial about their situation. Vhutshilo tries to his retrace his mother's footsteps.
Thursday 27 April 2023
Episode 4325
Azwindini Mukwevho is dead. Imani throws in the towel on James and Gugu. Vhutshilo is spiralling out of control.
Friday 28 April 2023
EpisodeS 4326
Vho-Masindi takes poison. James kicks Hangwani out of his house. Vhutshilo hosts a party at Susan's house.