Muvhango Teasers – February 2021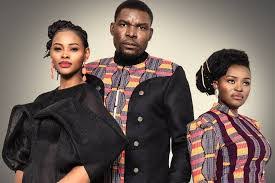 Monday 1 February 2021
Episode 3742 
James cannot commit to a life built on lies. Pfuluwani promises to get back everything her husband lost. Gizara puts both Teboho and Masindi in their place.
Tuesday 2 February 2021
Episode 3743
Susan wants to know what the hell Pfuluwani is up to. KK begs Kgosi to untie him, but is it wise? Hangwani offers Vhutshilo a job but Vhutshilo doesn't think his fans would like seeing him doing a menial job.
Wednesday 3 February 2021
Episode 3744 
Hangwani interviews Vhutshilo for a job at Dukathole. Imani wants James to fix things with Marang. KK tries to sacrifice Kgosi to amaboys.
Thursday 4 February 2021
Episode 3745
KK has found the ultimate sacrifice for amaboys. James reveals to Marang why he couldn't go through with wedding. Vhutshilo goes head on with a customer at Dukathole due to not paying attention.
Friday 5 February 2021
Episode 3746
KK is angry when he finds Mudi playing with the artefacts/amaboys. Pfuluwani has a condition before she gives Azwindini the money. Vhutshilo asks Shaz for a loan to buy some used DJ equipment.
---
Monday 8 February 2021
Episode 3747
KK is guilt-ridden when he learns why his son is being bullied at school. Imani's dirty little secret is revealed when something unexpected turns up in the laundry basket. Azwindini is forced to make a difficult choice when Pfuluwani gives him an ultimatum.
Tuesday 9 February 2021
Episode 3748 
Marang confronts James and KK wants Marang back. Mpho wants to finalize things between her and Azwindini. Hangwani has a surprise for Vhutshilo.
Wednesday 10 February 2021
Episode 3749
James loses the woman he loves. Mpho refuses to be controlled by Azwindini or Tenda. Shaz helps Vhutshilo get his love back for DJaying.
Thursday 11 February 2021
Episode 3750 
Vho-Masindi has some questions for KK about Mudi's death. KK's PI uncovers a piece of evidence that might lead to KK. Mpho visits a lawyer behind Tendamudzimu's back. Tendamudzimu has a surprise in store for Mpho.
Friday 12 February 2021
Episode 3751
An apology is not enough for Marang, she wants revenge. Mpho makes a shocking discovery. Kgosi offers a reward for anyone with information about KK.
---
Monday 15 February 2021
Episode 3752
Marang is arrested for malicious damage to property. Tenda doesn't understand why Mpho is devastated. Kgosi encourages Vhutshilo to not give up on producing.
Tuesday 16 February 2021
Episode 3753
Mpho has to choose between forgiveness and revenge when she learns the full extent of Azwindini's deceit. Kgosi has to man up when Vho-Masindi makes executive decisions about his brother's funeral. Shaz gets her hands dirty when she secretly helps Vhutshilo achieve success with his music.
Wednesday 17 February 2021
Episode 3754
The Vhakwevho are dismayed when they discover that Kgosi went clubbing and posted it on social media. Azwindini and Susan get served. Shaz twists Teboho's arm into letting her perform instead of DJ Zash. Kgosi breaks down.
Thursday 18 February 2021
Episode 3755
KK causes havoc when he comes back and stops the funeral. He sees Mudi and Tshianeo. They force him to confess his sins. Azwindini refuses to leave the apartment. Mpho starts planning her revenge on Susan and Azwindini.
Friday 19 February 2021
Episode 3756
Mpho serves Azwindini and Susan with legal documents that's about to change their lives. Kgosi and Vho-Masindi deal with the aftermath of KK's confession. Vhutshilo discovers another DJ who has his music. KK pulls another surprise on Kgosi and family.
---
Monday 22 February 2021
Episode 3757
Marang catches Imani and James. Azwindini learns he could end up in jail. Shaz is caught with her hand in the cookie jar.
Tuesday 23 February 2021
Episode 3758
Vhutshilo's online success as DJ Zash seems to go to his head when he insists on doing a live gig. Imani feels threatened from all sides as Marang and Vuyo inhabit her orbit. Mpho discovers the reason why Teboho is the unlikely champion for Susan's cause.
Wednesday 24 February 2021
Episode 3759
Shaz fails to find a venue for Vhutshilo's party. Mpho makes her reasons for suing Azwindini public. Imani's attempts to get Vuyo fired backfires.
Thursday 25 February 2021
Episode 3760
James and Imani cross the line. Azwindini swallows his pride and faces a foe. Vho-Masindi and Teboho have a go at each other.
Friday 26 February 2021
Episode 3761
Vuyo continues to torment Imani. Azwindini and Susan's marriage has reached breaking point. Vhutshilo and Shaz plan an event at Dukathole behind Hangwani's back.
---
Muvhango airs on SABC2 from Mondays to Fridays at 21h00