Muvhango Teasers – December 2020 Episodes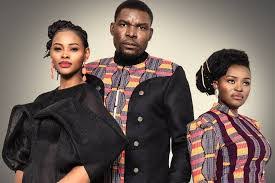 Tuesday 1 December 2020
Episode 3698
Susan and Vho-Masindi are on the warpath making demands about Mpho that will ruffle feathers. Hulisani is invited to a high stakes gambling night and he finds out Rendani has been keeping something major from him. Shaz wants a million Rand from her father for a bright idea she has come up with.
Wednesday 2 December 2020
Episode 3699
Humiliated by her betrayal, Azwindini humiliates Mpho in turn. But she finds the courage to fight back. Rendani's relationship with Hulisani is spinning out of control as his struggle with his addiction deepens. A day of spring-cleaning inspires Shaz to think of a novel way of making a buck.
Thursday 3 December 2020
Episode 3700
Azwindini tells Masindi all is not lost. Hulisani loses. Hangwani turns Shaz down.
Friday 4 December 2020
Episode 3701
Sharon registers the cottage on Air B&B without Hangwani's knowledge. Hulisani puts everything on the line. Azwindini kidnaps Tenda.
---
Monday 7 December 2020
Episode 3702
Azwindini gets his revenge. Rendani is shattered when she finds out what Hulisani has been up to. Shaz finds herself in a sticky mess.
Tuesday 8 December 2020
Episode 3703
Shaz struggles to hide her secret from Hangwani. Rendani considers an indecent proposal from Mbhiza. Mpho breaks a promise to get Azwindini out of jail.
Wednesday 9 December 2020
Episode 3704
Tenda and Azwindini have a tense stand-off. Rendani has to make a decision about her marriage. Shaz lies about being the one who left the gate open.
Thursday 10 December 2020
Episode 3705
Azwindini won't entertain talks of divorce from Mpho but there is a new threat lurking outside that is set to destroy them completely. Shaz's new business is over taking her and she is in danger of being caught out, especially when some unusual guests arrive.
A distraught Hulisani wants to win Rendani back but even he could not predict what she asks of him.
Friday 11 December 2020
Episode 3706
The impact of Mpho and Tendamudzimu's affair makes itself felt on an ever widening circle. Rendani has to face the daunting prospect of being a singleton again. Shaz discovers keeping her entrepreneurial venture a secret from Hangwani comes at a steep price.
---
Monday 14 December 2020
Episode 3707
The royal house puts Mpho in a tight corner. Rendani makes a life changing decision. Dee asks Shaz to choose her.
Tuesday 15 December 2020
Episode 3708
Rendani is struggling to forgive Hulisani. Hangwani almost busts Dee in the cottage. Mpho is missing from the hospital.
Wednesday 16 December 2020
Episode 3709
The royal family searches for one of their own. Rendani is seduced by an unlikely person. How long can Shaz keep up her charade?
Thursday 17 December 2020
Episode 3710
Shaz wants Didi to find Dee other accommodation. Muzi is back with a very big surprise for Gugu. The police find a body and Azwindini is under suspicion.
Friday 18 December 2020
Episode 3711
Mpho's family arrive at the Vhakwevho's house, breathing fire. Muzi feels used by Gugu. Shaz wants to throw Dee out.
---
Monday 21 December 2020
Episode 3712
Mpho is spotted in an unlikely place. Shaz is paying the price for her deceptions. Gugu and Muzi chat about their future and the baby and Gugu has a change of heart with regards to Muzi.
Tuesday 22 December 2020
Episode 3713
Mpho makes a decision that brings the old conflict between Azwindini and Tendamudzimu to a head. Hangwani is at wit's end when her house 'demon' refuses to be flushed out. The stakes are high as James enters the first day of trial for murder.
Wednesday 23 December 2020
Episode 3714
Azwindini gets a taste of his own medicine. KK threatens Marang. Shaz is exposed.
Thursday 24 December 2020
Episode 3715
Shaz finds out too late that Gizara was planning to buy her a car. James loses his temper on the stand. Azwindini feels humiliated after Mpho left him.
Friday 25 December 2020
Episode 3716
Phusuphusu is back to his old ways. KK receives some shocking news. Shaz gets her happy ending.
---
Monday 28 December 2020
Episode 3717
Vhutshilo is struggling with his event logistics for his big New Year's Eve bash. KK is unhappy to learn that James and Kgosi are bonding. The Raveles find out about what Mpho's been up to and they are not happy.
Tuesday 29 December 2020
Episode 3718
Azwindini resolves to question Phusuphusu about the missing money. Kgosi finds out what KK did. Vhutshilo plans to leave for Jo'burg and save his New Year's Eve bash.
Wednesday 30 December 2020
Episode 3719
Kgosi becomes a prisoner in his home when he finds out the truth about KK. Vhutshilo is in Joburg planning the event of the year but it is about to be ruined and he only has himself to blame.
There is trouble in paradise in the Motsamai household when he chooses Imani over Marang for an important aspect of his life.
Thursday 31 December 2020
Episode 3720
Vhutshilo's plans for a New Year's bash are almost derailed. Mulalo finds the tables turned on him when he tries to  distance himself from Phusuphusu's treachery. James regains hope for the future when he discovers an anonymous letter on his desk.
---
Muvhango airs on SABC2 from Mondays to Fridays at 21h00.