Legacy Teasers – October 2020 Full Episodes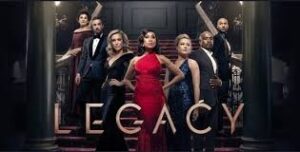 Read Below

Thursday 1 October 2020
Episode 8
Flip-Flopping
Nirvana delivers a devastating blow to both Felicity and Msizi. Badenhorst makes an explosive arrest.
---
Monday 5 October 2020
Episode 9
Backstabber!
A cornered Dineo refuses to reveal a secret that could save her. Felicity is stabbed in the back by someone she trusts.
Tuesday 6 October 2020
Episode 010
Dam Truth!
Felicity fights a hostile takeover at Legacy as Detective Badenhorst makes a startling discovery. Dineo reveals the secret motive behind her midnight rendezvous.
Wednesday 7 October 2020
Episode 11
My Own Flesh
The walls are closing in on Dineo, while SJ learns something about his siblings that breaks his heart. Angelique has a few bombs to drop that leave everyone shocked.
Thursday 8 October 2020
Episode 12
Lasting Impressions
Dineo's battle with the law leaves the Price family divided while Detective Badenhorst makes an interesting discovery on his case. Cupid strikes unexpectedly when a certain new Legacy employee forms a love attraction to another.
---
Monday 12 October 2020
Episode 13
Person of Interest
Felicity's liaison with Stefan grows ever more dangerous as the truth catches up with them. SJ rebels against family and finds friendship in a hopeless place.
Tuesday 13 October 2020
Episode 14
Bonnie and Clyde
Felicity manages to worm her way out of a sticky situation. Msizi unearths Dineo's dirtiest laundry yet! SJ and Petra meet a nasty surprise on their Soweto hunt for someone important.
Wednesday 14 October 2020
Episode 15
Unusual Suspect
An unexpected affair ensues between two Legacy employees. Msizi makes moves to ensure his position as CEO becomes permanent
Thursday 15 October 2020
Episode 16
The Truth!
An ambitious Dineo comes up trumps while someone else falls from grace. Felicity's number is finally up, or is it?
---
Monday 19 October 2020
Episode 17
Show Face
Stefan and Felicity are bombarded with information which could lead to their destruction. SJ tries to discover more about a family member. Felicity finally gets her wish, but was it worth it?
Tuesday 20 October 2020
Episode 18
Call Me By My Name
SJ and Petra grow closer together as he shares his feelings about his father's disappearance. Stefan makes a confusing discovery about a trusted Price family employee.
Wednesday 21 October 2020
Episode 19
Red Herring
Felicity and Stefan's search for who's been a thorn in their lives proves more dangerous than they thought, while Petra's meeting with SJ takes an unexpected turn.
Thursday 22 October 2020
Episode 20
SJ finally sees Petra for what she is. Angelique finds a way to get back at Dineo. An unwelcome guest shows up at the Price house.
---
Monday 26 October 2020
Episode 21
What the Butler Saw
Two lovers have their backs against the wall when a blackmailer asks for something they loathe to give. Petra does her best to lie about her feelings.
Tuesday 27 October 2020
Episode 22
Fighting Temptations 
New couple second-guess themselves as they each try to figure out how to play a game of life. Felicity finds herself going deeper down a path she doesn't want to take.
Wednesday 28 October 2020
Episode 23
'Like Catching a Fish'
Petra realises that it's not all black and white when it comes to the game of love. John has Felicity incensed when he derails her plan. Stefan comes across startling information about an enemy.
Thursday 29 October 2020
Episode 24
Suprises Galore
Felicity and Stefan are shocked to learn the real surprise John has in store for them. A blast from the past seems to threaten a budding love affair.