Legacy Teasers – Full Episodes for December 2020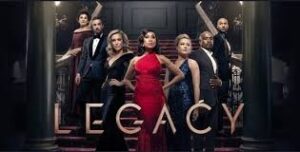 Tuesday 1 December 2020
Episode 42
We did a bad thing
Felicity tries to clean up the loose ends from a night of horror. Petra is worried about Andy's bad influence on her father. Angelique brings an irresistible opportunity to the board.
Wednesday 2 December 2020
Episode 43
My dear Lady Disdain
Msizi bursts Angelique's bubble by reveailing information about the man in her life. Stefan has shocking news for Felicity.
Thursday 3 December 2020
Episode 44
Old habits
Unable to recover important evidence, a powerful woman immediately goes into crisis mode. Petra's worst fears are realised about uncle Andy, and his bad influence on Willem.
---
Monday 7 December 2020
Episode 45
Sold shares amd shared lies
After a something terrible happens, Felicity cooks up a lie that protects her siblings. With Petra threatening to do something drastic, Willem comes clean about a secret he's been keeping.
Tuesday 8 December 2020
Episode 46
Secrets and lies
Stefan and Petra must reassess their opinion on Andy after finding out the truth. Angelique and Msizi are under investigation for insider trading.
Wednesday 9 December 2020
Episode 47
Without honesty, you're nothing
When Andy's plans are derailed, Stefan steps up and presents a new opportunity for both of them. One of the Price sisters is questioned by the police, but the lies and guilt are about to overwhelm her.
Thursday 10 December 2020
Episode 48
Wasted and wounded
Willem is hopeful Andy has turned a corner in his new endeavour, but not everyone is as confident. Sefako shares news that leave everyone stunned.
---
Monday 14 December 2020
Episode 49
Endless battles 
Felicity scrambles to find out why things are not going according to plan. Just as Petra warms up to the idea of Andy's new business venture, another curveball comes flying in.
Tuesday 15 December 2020
Episode 50
No more lies
Defying her sisters, Lexi decides she can no longer live a lie. Angelique prepares to put the knife into Msizi's back once and for all.
Wednesday 16 December 2020
Episode 51
One small doubt
Angelique lays a trap for Msizi that someone discovers. A celebratory supper at the Potgieters is interrupted by shocking news.
Thursday 17 December 2020
Episode 52
Betrayed

Lexi is desperate to undo the damage that has occurred at her expense but things get complicated. Stefan and Petra are left to second-guess their conclusions about Andy.
---
Monday 21 December 2020
Episode 53
Family ties
After Dineo's betrayal, the three sisters finally face the consequences of their secrets. As pressure mounts, the sisters' relationship starts to fracture. Petra's distrust of Andy mounts, and she sets out in search of evidence to show Willem the truth about his friend.
Tuesday 22 December 2020
Episode 54
Unceremonious exits
Dineo resolves to let the three sisters pay for their sins, but they have friends in high place. The Potgieters find themselves saddled with even more trouble.
Wednesday 23 December 2020
Episode 55
The mourning has broken
The Potgieters reel in the wake of the tragedy, and as blame and acrimony begin to swirl, Petra comes to a realisation. Gordon puts his pride on the line to broker the peace between his family.
Thursday 24 December 2020
Episode 56
Pathology
As Felicity prepares for a life-changing experience, she gets a phone-call that changes everything. Angelique enlists someone to be her eyes and ears.
---
Monday 28 December 2020
Episode 57
A tangled web
Kedibone's sixth sense causes Dineo to doubt that the new girl in SJ's life is telling the truth. Despite an intervention by Stefan, Willem's guilt and despair drive him deeper into a dark place.
Tuesday 29 December 2020
Episode 58
A tale of two imposters
Dineo pulls out all the stops to expose someone's lie. Willem's older sister arrives to offer some tough love to Willem.
Wednesday 30 December 2020
Episode 59
The jig is up
Dineo has no choice but to read SJ the riot act, while things fall apart at the Potgieter house.
Thursday 31 December 2020
Episode 60
Last chance saloon  
Dineo hammers the last nails into a new enemy's coffin. Willem faces a life or death choice.
---
Legacy airs on M-Net from Mondays to Thursdays at 19h00.