Law of the Heart Teasers – March 2021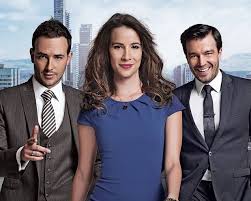 We (keportal Team) gladly inform you about Law of the Heart Teasers – March 2021
Monday 1 March 2021
Rosa and Jimena join forces to get Julia away from Pablo and the law firm. Meanwhile, Isabel receives a recording of Elias and Milena together.
Tuesday 2 March 2021
Isabel asks Maria del Pilar to be her lawyer for her divorce with Elias. Pablo asks Julia to dinner with him; she nervously rejects the invitation.
Wednesday 3 March 2021
Maria del Pilar suggests to Elias that Julia should represent Isabel in the divorce proceedings. Mariela tells Luz that she plans to have an abortion.
Thursday 4 March 2021
Pascual manages to get evidence of his wife trying to poison him, and takes it to Pablo. Alejandro behaves irresponsibly and suffers the consequences.
Friday 5 March 2021
Manuela asks Pablo out and he accepts, while a jealous Julia watches them. Meanwhile, Catalina visits Mariela at the hospital.
Saturday 6 March 2021
Catalina asks Alfredo for help with Mariela's case. Elvira wins the lottery. Nicolas tells Duperly that Camilo's lies are suspicious.
Sunday 7 March 2021
Elias decides to sue Milena for manipulation and violation of his privacy. Julia learns that Pablo is divorced, and regrets rejecting him.
---
Monday 8 March 2021
Rosa hides her jealousy and welcomes Julia to her new office. Gustavo is convicted of murdering Victoria and sent to prison.
Tuesday 9 March 2021
Julia presents her letter of resignation to Pablo, who rejects it and rips it up. Meanwhile, Maria Cristina decides to face her problems.
Wednesday 10 March 2021
Alberto tells Pablo that his family is pressuring him to separate from Carolina. Mariela wins her case, and thanks Alberto for his help.
Thursday 11 March 2021
Nicolas remembers the events at Alejandro's house and deduces that Santiago's death was not an accident. Meanwhile, Julia apologises to Pablo.
Friday 12 March 2021
Nicolas accuses Alejandro of lying to him and using him to cover up his crime. A drunk Mauro hits Mariela after finding out about the abortion.
Saturday 13 March 2021
Rogelio decides to turn himself in. Milena is found guilty of slander and privacy violation, and a new hearing is set for her sentencing.
Sunday 14 March 2021
Pablo and Julia share their first kiss. Meanwhile, Nicolas and Elias search for evidence in the hotel where Patricia was murdered.
---
Monday 15 March 2021
Aurora gives Nicolas the name of a judge who specialises in intentional homicide, and advises that he obtains evidence against Alejandro.
Tuesday 16 March 2021
Pablo tells Carmen that he went on a date with Julia. Nicolas tries to convince Laura that Santiago's death was not an accident.
Wednesday 17 March 2021
Elias gives Irma his professional advice when she tells him she wants to divorce her husband. Meanwhile, Nicolas offers Marcos a job at the firm.
Thursday 18 March 2021
Julia and Pablo talk about Camilo's release from prison. Meanwhile, Marcos and Alfredo plan to find the woman responsible for Camacho's death.
Friday 19 March 2021
Julia stays the night at Pablo's apartment. Leonardo ties up Catalina and robs her. Later, Alfredo finds her and offers her support.
Saturday 20 March 2021
A worried Catalina tells her colleagues at the firm about the robbery. A hearing takes place for Angelica and Eduardo's domestic violence case.
Sunday 21 March 2021
Camilo is released and celebrates at home. At the funeral home, Pablo argues with Alberto's son, who does not want his father's body to be cremated.
---
Monday 22 March 2021
Roberto tells Camilo that he suspects Pablo and Julia are having an affair. Meanwhile, Eloisa is arrested as a suspect in Camacho's murder case.
Tuesday 23 March 2021
Julia confesses to Alvaro and Miguel that she is confused and doesn't know whether to choose Pablo or Camilo. Samuel asks Astrid on a date.
Wednesday 24 March 2021
Nicolas tries to comfort his dad after a tragedy at the nursing home. Meanwhile, Jimena begs Pablo for a second chance, but he rejects her.
Thursday 25 March 2021
Camilo is determined to fight for Julia's love. Meanwhile, Catalina asks Nicolas to be a sperm donor, much to Nicolas's puzzlement.
Friday 26 March 2021
Julia feels jealous when Manuela flirts with Pablo. Salvador and Ricardo confess to Ivan that Salvador has terminal cancer.
Saturday 27 March 2021
Pablo warns Encinales and Viviana to stay away from Orlando because he is an abuser. Meanwhile, Catalina is upset that she can't find a sperm donor.
Sunday 28 March 2021
Manuela and Dario cause a scene when they argue in the boardroom. Camilo interrogates Eloisa, who accepts responsibility for Camacho's death.
---
Monday 29 March 2021
Camilo asks for Hernando's permission for Julia to collaborate with him on Eloisa's case; Hernando agrees, but tells him he must also work with Pablo.
Tuesday 30 March 2021
Catalina confesses to Pilar that she suffers from anxiety attacks and paranoia. Jimena continues to drink in excess and neglect her children.
Wednesday 31 March 2021
Jimena argues with Pablo on the phone. Meanwhile, Maria del Pilar tricks Leonardo and then confronts him for robbing Catalina.
---
Premiere episodes of Law of the Heart air on Telemundo from Mondays to Sundays at 21h00.