Law of the Heart Teasers – February 2021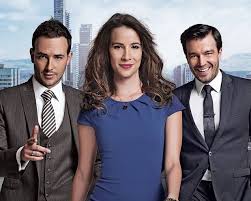 Monday 15 February 2021
Julia wins a case against Ines in which her client Oscar demands a monthly monetary allowance. Meanwhile, Pablo and Jimena sign their divorce papers.
Tuesday 16 February 2021
Prosecutor Marin decides to leave Camilo in jail until the hearing with a judge. Meanwhile, Julia is grateful when Pablo offers to take her home.
Wednesday 17 February 2021
Julia visits Camilo, who tries unsuccessfully to ingratiate himself with her. Benitez and Ivan get into a fight, and Duperly intervenes.
Thursday 18 February 2021
Nicolas meets Ana Maria, Alfredo's girlfriend, who pretends to be single. Nicolas asks her out on a date. Meanwhile, Alfredo is still hospitalised.
Friday 19 February 2021
Pablo and Julia defend their respective clients in the custody trial. Meanwhile, Nicolas picks up Duperly from the hospital.
Saturday 20 February 2021
Alfredo asks Ana Maria to move in with him and tells her that she is the love of his life. Maria del Pilar congratulates Pablo for his hard work.
Sunday 21 February 2021
Romulo is informed that he must give money to his grandson. Nicolas is shocked and outraged to discover that Ana Maria is Alfredo's girlfriend.
---
Monday 22 February 2021
Catalina decides to try online dating at Carmen's suggestion. Gustavo begs Victoria for forgiveness. Nicolas is afraid of losing Alfredo's friendship.
Tuesday 23 February 2021
At the hearing against Benitez, the judge sentences him to six years in jail for attempted murder. Nicolas decides to tell Alfredo the truth.
Wednesday 24 February 2021
Alfredo reads a note from ex-girlfriend Ana Maria. Maria Cristina asks Pablo to keep her night at the police station a secret.
Thursday 25 February 2021
Catalina has a date with Armando, a man she met online. Meanwhile, Elias makes it clear to Milena that he will not end his marriage for her.
Friday 26 February 2021
Elias breaks things off with Milena, who decides to send a video to Elias's wife, Isabel, out of spite. Nicolas asks Silvia for help in a case.
---
Saturday 27 February 2021
Elias confesses his affair to Isabel, who ends their marriage. Hernando informs the attorneys that he has chosen Julia to work with them at the firm.
Sunday 28 February 2021
Jimena is jealous when Rosa tells her that Julia was hired at the firm. Nicolas and Maria de Pilar are furious to learn that Marin released Gustavo.
---
Premiere episodes of Law of the Heart air on Telemundo from Mondays to Sundays at 21h00.