Getroud met Rugby Teasers – January 2021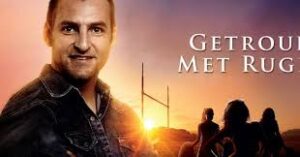 Friday 1 January 2021
Episode 120
Reitz meets Amanda's ex-husband. Simon and Renate are worried about Lulu. Wynand finds out Sasha knew about the bet.
---
Monday 4 January 2021
Episode 121
Lulu has second thoughts about the pregnancy. Thinus receives an unexpected invitation. Blitz is unhappy about Amanda spending time with her ex-husband.
Tuesday 5 January 2021
Episode 122
Yvonne causes tension when she pushes Lulu. Amanda invites Sasha over. Bart struggles to manage with the women in his life.
Wednesday 6 January 2021
Episode 123
Pine and Kristien discover who is behind Bart's shooting. Reitz and Amanda go on a date with their exes. Yvonne and Maggie are worried about Lulu.
Thursday 7 January 2021
Episode 124
Lulu is still unsure about her plans for the future. Joepie makes a big confession to Mia. Reitz meets Sasha's new flame.
Friday 8 January 2021
Episode 125
Simon and Renate are worried about Lulu's baby. Schalk sees Jana. Thinus' dad comes to visit.
---
Monday 11 January 2021
Episode 126
Renate is worried about her and Simon's relationship. Candice's mom is discharged from the rehab centre. Schalk receives strange calls.
Tuesday 12 January 2021
Episode 127
Lulu is cross with Simon. Candice is worried about her mother. Schalk believes he's on Jana's track.
Wednesday 13 January 2021
Episode 128
Lienkie still refuses to undergo chemo therapy. Thinus' mom comes to visit. Candice is manipulated by her mother again.
Thursday 14 January 2021
Episode 129
Renate makes a big decision. Thinus has his hands full with his parents. Priscilla causes trouble between Liam and Candice.
Friday 15 January 2021
Episode 130
Thinus and his dad bumble on. Amanda and Renate find out about Kristien's new lover. Sasha performs in Pottie's.
---
Monday 18 January 2021
Episode 131
Bart is jealous over Kristien's new lover. Yvonne fights to reunite Simon and Renate. Liam has to keep the peace with his mother-in-law.
Tuesday 19 January 2021
Episode 132
Kristien confronts Bart over his childishness. Blitz makes a drastic decision. Ryno and Thinus take Hendrik and Desiré to Pottie's.
Wednesday 20 January 2021
Episode 133
Priscilla sows discord in the Willemse household again. Magda tells Maryke about JJ's request. Fafa is worried about Schalk.
Thursday 21 January 2021
Episode 134
Maryke meets JJ. Bart gives Kristien upsetting news about her business. Schalk loses the plot.
Friday 22 January 2021
Episode 135
Wynand and Sasha still have feelings for each other. Schalk's search for Jana leaves him bankrupt. The Stryders get a new captain.
---
Monday 25 January 2021
Episode 136
JJ has another request for Maryke. Priscilla drives the wedge deeper between Liam and Candice. Mieke visits Schalk.
Tuesday 26 January 2021
Episode 137
Liam sees red because of his mother-in-law. Wynand receives shocking news. Fafa investigates JJ.
Wednesday 27 January 2021
Episode 138
Candice and Liam catch Priscilla out. Mieke is worried about Schalk. Magda finds out about JJ's contract.
Thursday 28 January 2021
Episode 139
Bart makes Renate an interesting offer. Lulu is confronted by Yvonne. JJ visits the Beltrame house.
Friday 29 January 2021
Episode 140
A strange man follows Thinus. Schalk realises he must go on with his life. Renate tells Kristien and Amanda about her offer.
---
Getroud met Rugby is on kykNET Mondays to Fridays at 18h00.