Getroud met Rugby Teasers – February 2021 Episodes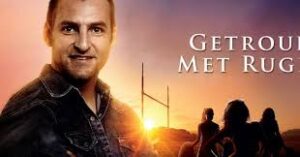 Monday 1 February 2021
Episode 141
Renate's first day as head of the Stryders' marketing arrives. Wynand makes a big life decision. Someone vandalises Ryno's car.
Tuesday 2 February 2021
Episode 142
The baby's gender is revealed to Simon. Bart surprises Schalk with a special offer. JJ insists Magda must choose between her children.
Wednesday 3 February 2021
Episode 143
Lulu still refuses to let Simon get more involved with the baby. Magda tries to get through to JJ. Bart asks Fafa's help to convince Schalk.
Thursday 4 February 2021
Episode 144
JJ confronts Maryke. Schalk accepts Bart's help. Thinus receives a disturbing message from his stalker.
Friday 5 February 2021
Episode 145
Bart confesses his deeds. Sasha must choose between Wynand and Germany. Simon fights to be a part of his child's life.
---
Monday 8 February 2021
Episode 146
Ryno is confronted by Thinus' stalker. Festus gets a hearing aid. Pine, Bart and Kristien join forces to find Jana.
Tuesday 9 February 2021
Episode 147
Thinus and Ryno try to catch Thinus' stalker. The pompoms are heartbroken over Wynand… Bart finds an important lead.
Wednesday 10 February 2021
Episode 148
The mystery about Jana's disappearance is solved. Candice receives bad news. Lulu and Nesie share recipes.
Thursday 11 February 2021
Episode 149
Ryno's drink gets spiked. Nesie and Lulu plan a menu. Maryke and Bibi involve Kristien in their bet.
Friday 12 February 2021
Episode 150
Thinus is upset about Ryno's disappearance. Buks has a surprise for Nesie. Festus' hearing problems hinder the Beltrame household.
---
Monday 15 February 2021
Episode 151
Fafa, Jordan, Maryke and Bibi compete in the bet. Lienkie agrees to the article. Festus' hearing aid drives Koekie up the walls.
Tuesday 16 February 2021
Episode 152
Kristien and Pine have a clash of interests. Festus' hearing worries Koekie. Nesie and Lulu's snack-and-drink menu is a hit.
Wednesday 17 February 2021
Episode 153
Eric wants to have Thinus disbarred. Kristien is put in a difficult position. The friction between Renate and Amanda continues.
Thursday 18 February 2021
Episode 154
Eric approaches Pine with a story about Thinus. Magda, Lulu and Nesie get caught out. Renate's bossiness drives Amanda to a turning point.
Friday 19 February 2021
Episode 155
Festus is fed up with Koekie's nonstop chatter. Kristien's business hits a speed wobble. Magda plans something special for Maryke.
---
Monday 22 February 2021
Episode 156
Festus makes a drastic decision about his hearing. The article about Lienkie is a success. Bart has bad news for Thinus.
Tuesday 23 February 2021
Episode 157
Amanda and Renate argue about the article. Magda and Maryke celebrate their first birthday together. Someone breaks into Thinus and Ryno's house again.
Wednesday 24 February 2021
Episode 158
An uninvited guest shows up at Reitz's house. Lienkie is upset about the article's negative comments. Renate and Amanda make peace.
Thursday 25 February 2021
Episode 159
Everyone is shocked about the attack in Reitz's house. Renate is jealous of Amanda and Lulu's friendship. Kristien discovers a skeleton in Jordan's closet.
Friday 26 February 2021
Episode 160
Candice invites Markus to Liam's birthday party. Bibi finds out about Jordan's secret. Lienkie makes a brave decision.