Getroud met Rugby Teasers – April 2021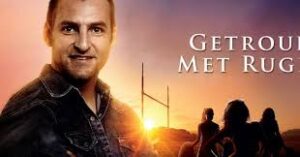 We (keportal Team) pleased to inform you about Getroud met Rugby Teasers – April 2021
Monday 1 March 2021
Episode 161
Bibi has doubts about her and Jordan's relationship. Reitz takes a few fans on a tour around the stadium. Candice releases her latest episodes.
Tuesday 2 March 2021
Episode 162
Liam is unhappy about Candice's kissing scene. Buks writes a poem. Renate invites Lulu for a braai.
Wednesday 3 March 2021
Episode 163
Maryke tries to save Bibi and Jordan's relationship. Buks recites his poem to Nesie. Things are unpleasant between Lulu and the Greeffs.
Thursday 4 March 2021
Episode 164
Reitz has an uncomfortable request for Amanda. Liam still feels threatened by Markus. Renate and Lulu bury the hatchet.
Friday 5 March 2021
Episode 165
Renate shares big news with Simon. Bibi still struggles to forgive Jordan. Amanda comes to Reitz' rescue.
---
Monday 8 March 2021
Episode 166
Renate and Simon must go for a test. Buks knocks Nesie's feet out from under her. Jana might have been found.
Tuesday 9 March 2021
Episode 167
Blitz and Lienkie are worried about Johan. Virginia finds out about Renate's secret. Bart is suspicious about Reitz's incident.
Wednesday 10 March 2021
Episode 168
Buks calls Zappa's help in again. Blitz and Lienkie find out why Johan doesn't want to be with them. Amanda receives shocking news.
Thursday 11 March 2021
Episode 169
Buks and Zappa prepare for their next poem. Renate and Simon receive the test results. Reitz is punished.
Friday 12 March 2021
Episode 170
Everyone finds out about Jana. Renate is anxious to run the office alone. Buks tries to get Nesie to forgive him.
---
Monday 15 March 2021
Episode 171
Jana is back! Renate is still despondent about the office. Nesie confronts Candice about the poems.
Tuesday 16 March 2021
Episode 172
Schalk helps Jana to recover her memory. Reitz makes a drastic decision. Jordan receives an unexpected call.
Wednesday 17 March 2021
Episode 173
Renate appoints someone in Amanda's place. Bart forces Reitz to reconsider his resignation. Jana still struggles with her memory.
Thursday 18 March 2021
Episode 174
Bibi tries to find Jordan. Kristien organises a get-together with Jana and the girls. Fafa puts Reitz in his place.
Friday 19 March 2021
Episode 175
Lulu finds out about Renate's secret. Bibi helps Kristien. Schalk and Jana relive the first time they met.
---
Monday 22 March 2021
Episode 176
Jana's return is leaked on social media. Candice loses her lead actor. Jordan returns from Thailand.
Tuesday 23 March 2021
Episode 177
Jana experiences flashbacks of her past. Lulu and Nesie look for a 'pair of legs'. Liam tries to fix things between him and Candice.
Wednesday 24 March 2021
Episode 178
Jana investigates Pottie's rental agreement. Lulu and Nesie try to convince Reitz to participate in the competition. Bibi is heartbroken about Jordan.
Thursday 25 March 2021
Episode 179
Everyone puts their best foot forward for 'Legs for Africa'. Jana is anxious to regain her memory. Lulu receives an uncomfortable request.
Friday 26 March 2021
Episode 180
Lulu worries that Simon will neglect their baby. Jana's past haunts her. Johan and Blitz prepare themselves for 'Burning Man'.
---
Monday 29 March 2021
Episode 181
Jana's kidnappers corner her, again. Liam is on set with Candice and Markus. Simon puts Lulu's mind at ease.
Tuesday 30 March 2021
Episode 182
Simon and Renate's hosts a party. TJ visits. Liam shoots himself in the foot.
Wednesday 31 March 2021
Episode 183
Renate and Lienkie's workload puts pressure on their health. The men put Blitz in a difficult position. TJ is worried about Jana.
---
Getroud met Rugby is on kykNET Mondays to Fridays at 18h00.