Gangaa 2 Teasers – Full Episodes for October 2020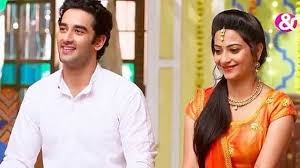 Read Below
Thursday 1 October 2020
Episode 17
Jhanvi somehow manages to dodge the bullet about the fake horoscope, but Gangaa still tries to find new ways to expose her. Pulkit tells Supriya the truth about why he got married to her.
Friday 2 October 2020
Episode 18
Jhanvi does something to Gangaa's clothes that makes her break out with a rash and pass out. Sagar comes to Gangaa's rescue.
Saturday 3 October 2020
Episode 19
Sagar tries his utmost best to convince Supriya to give Pulkit and their marriage a chance. Jhanvi somehow ruins the offering Gangaa, Sudha and Amma arranged for the Brahmins.
Sunday 4 October 2020
Episode 20
Seems like a bond is starting to form between Pulkit and Supriya. Jhanvi tries her best to turn Sagar against Gangaa.
---
Monday 5 October 2020
Episode 21
Jhanvi fakes having stomach pain just so she can stay at home to trouble Gangaa. Sagar takes it upon himself to bring Supriya and Pulkit closer. It becomes clear that Jhanvi is planning something big, question is what could it be?
Tuesday 6 October 2020
Episode 22
Gangaa figures out that Jhanvi made herself sick on purpose and confronts her. Pulkit gets his first big contract and his excited to tell Niranjan, unfortunately things don't go according to plan.
Wednesday 7 October 2020
Episode 23
Jhanvi plans to frame Gangaa in order for her to get thrown out the house. Pulkit nearly gets into a fatal accident.
Thursday 8 October 2020
Episode 24
Yash takes Jhanvi's original plan to whole new level as he somehow creates a immoral video of Gangaa.
Friday 9 October 2020
Episode 25
Some men try to trouble Gangaa and Sagar sees this along with Pulkit. Amma personally throws Gangaa out the house. Sagar tries his best to convince her to come back, but Gangaa refuses. How will Niranjan react to Gangaa being thrown out?
Saturday 10 October 2020
Episode 26
Eventhough Gangaa is gone, Jhanvi still isn't satisfied as she wants to make sure Gangaa never returns. Gangaa ends up at the widows home and Sudha welcomes her with open arms.
Sunday 11 October 2020
Episode 27
Gangaa prepares to leave the city, when suddenly Yash appears with a few of his friends. Sagar comes to Gangaa's rescue and he makes sure he takes Gangaa back home. Sagar makes a decision that stuns everyone.
---
Monday 12 October 2020
Episode 28
Sagar lies to the hotel manager just so he and Gangaa can have a place to stay. Niranjan returns and demands answers from Amma and Madhvi. Sagar has to choose whether to fight Gangaa's case or whether to go to London.
Tuesday 13 October 2020
Episode 29
Pulkit finds the loophole which proves the video of Gangaa is fake. Sagar agrees infront of the whole family to fight Gangaa's case. Looks like the tables are turning as Gangaa files a case against Yash.
Wednesday 14 October 2020
Episode 30
Sagar prepares to fight his first case in court, unfortunately things don't go according to his plan. Instead of destroying the camera, Yash decides to sell it to a tourist. Sagar somehow gets hold of the camera. Could this be the beginning of the end for Yash?
Thursday 15 October 2020
Episode 31
Sagar keeps the promise he made to Gangaa as he wins the case and gets Yash punished. Sagar and Gangaa return home not knowing a huge surprise is awaiting them. Looks like the Chaturvedi's have a new enemy.
Friday 16 October 2020
Episode 32
Amma somehow prevents the scorpions poison from spreading. Prabha figures out that both Gangaa and Sagar are in love with each other. Prabha conjures up a new plan to bring Gangaa and Sagar even more closer than ever before.
Saturday 17 October 2020
Episode 33
Sagar finally attempts to put both anklets on for Gangaa, but Gangaa refuses. Prabha provokes Sagar not only to stand up for Gangaa infront of all the woman of the house, but also to give their relationship a new meaning.
Sunday 18 October 2020
Episode 34
Madhvi threatens to end her own life if Sagar doesn't let go of Gangaa. Yash informs Jhanvi about what happened. Sagar and Gangaa both believe that when Niranjan is back, he will understand and accept their love. Could they be right?
---
Monday 19 October 2020
Episode 35
The one person both Gangaa and Sagar thought would be on their side, turns against them. Niranjan's words hurt Gangaa more severely then all she's been through in her life.
Tuesday 20 October 2020
Episode 36
Prabha pretends to care for Sagar and Gangaa as part of her plan to ruin the Chaturvedi family even more. Meanwhile Ratan instigates Pulkit against his father.  Looks like Prabha and Ratan's plans are becoming success, but will they stop here?
Wednesday 21 October 2020
Episode 37
Sagar makes a statement when he applies colour on Gangaa infront of the whole family. Pulkit threatens to take Niranjan to court if he doesn't split the property.
Thursday 22 October 2020
Episode 38
Pulkit and Sagar's decisions  leads to Niranjan's health getting worse. For the first time in years, Gangaa wears a colourful saree. Niranjan begs Gangaa to bring Sagar back.
Friday 23 October 2020
Episode 39
A rift is created between Gangaa and Sagar as Sagar feels Gangaa was only toying with him to get revenge. Sagar makes a hasty decision that he might regret for the rest of his life.
Saturday 24 October 2020
Episode 40
Sagar regrets getting married to Jhanvi, but it's already too late. Gangaa prepares to leave the house, when sudden Pulkit invites her to stay on his side of the house. Will she accept Pulkit's generous offer?
Sunday 25 October 2020
Episode 41
Gangaa comes to Santoshi's aid in the nick of time. Gangaa spots Sagar in between the riot about to pass out.
---
Monday 26 October 2020
Episode 42
Sagar saves Gangaa from the chandelier that gets cut down by the thugs. One of the hired thugs attempts to shoot Santoshi. Jhanvi gets more and more frustrated when finds out Sagar still loves Gangaa.
Tuesday 27 October 2020
Episode 43
Sagar tells the priest that although he is married to Jhanvi, he will never love her like a wife. Niranjan begs and pleads with Sagar to stop destroying his own life.
Wednesday 28 October 2020
Episode 44
Sagar gets ready to go see clients, meanwhile Gangaa gets ready to write her LLB Exams. Prabha attempts to create chaos in the Chaturvedi household again.
Thursday 29 October 2020
Episode 45
Madhvi asks Gangaa to repay all the favours they have done for her all these years. Yash makes an appearance and he tries to manipulate Jhanvi into taking unknown tablets. Gangaa's LLB results are out, will she pass or will she fail?
Friday 30 October 2020
Episode 46
Sagar let's his ego get the best of him. Gangaa is persistent on her quest to fight for the rights of women.
Saturday 31 October 2020
Episode 47
Teaser unavailable.
---
Premiere episodes of Gangaa air on Zee World from Mondays to Sundays 22h00.