Game of Love Teasers – Full Episodes for December 2020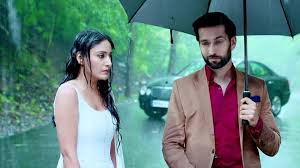 Tuesday 1 December 2020
Episode 431
Anika and Shivaay try to save a school bus from being carjacked. But the carjacker holds Anika hostage and speeds away!
Episode 432
Shivaay saves the children as the bus oscillates at the edge of a cliff. Anika jumps off the bus, while Shivaay stays inside as it falls off the cliff!
Wednesday 2 December 2020
Episode 433
Shivaay and Anika reach their house in Goa. Om reveals something shocking to the Oberois and confronts them for letting Shivaay and Anika go.
Episode 434
Shivaay meets the estate officer for his new business. Omkara and Rudra chat with Shivaay on a video call and promise to stay together.
Thursday 3 December 2020
Episode 435
The Oberoi Mansion is divided into two when Omkara spends his first day at work. What happened?
Episode 436
Someone sneaks in and scares Anika while she is alone. Shivaay croons a song with Anika to lift her mood!
Friday 4 December 2020
Episode 437
Tej breaks all the things related to Shivaay, leaving Omkara and Rudra emotional. Meanwhile, Shivaay gets hit on the head while fighting the goons. Is he okay?
Episode 438
Omkara reminds Tej that he, Shivaay and Rudra are inseparable. Anika gets trapped while chasing a strange woman!
Saturday 5 December 2020
Episode 439
Gauri crosses the partition line in-between the house. Elsewhere, Anika falls unconscious.
Episode 440
Dr. Veer helps Anika regain consciousness and tells Shivaay that he is their neighbour. Gauri doubts Tia's intentions.
Sunday 6 December 2020
Episode 441
Gauri is doubtful about Tia being blind. Anika sees a woman and is shattered to find her in the kitchen!
Episode 442
Gauri tries to expose Tia, while Omkara, Rudra and Gauri visit Shivaay and Anika for a feast!
---
Monday 7 December 2020
Episode 443
Gauri gets the mysterious lady arrested at night. The Oberois plan a carnival for their new year bash. Will Anika be safe?
Episode 444
Shivaay introduces Dr. Veer Pratap to Rudra, Omkara and Gauri. Later, Veer talks to an unconscious Anika. What happened?
Tuesday 8 December 2020
Episode 445
Everyone is shocked to find Anika unconscious. Later, she tells them about the mysterious lady. But, the CCTV footage reveals something different.
Episode 446
The mysterious lady troubles Anika again. Only this time, Shivaay sets out to investigate it. Will he crack the case?
Wednesday 9 December 2020
Episode 447
Shivaay figures out that someone is conspiring to prove Anika mad. Veer vows to implement his plan against Anika. How will Shivaay save Anika?
Episode 448
Shivaay feels helpless as Anika starts believing that she is going mad and asks him to send her to a mental asylum!
Thursday 10 December 2020
Episode 449
Shivaay and Anika plan to trap their anonymous enemy. They create a scene where Shivaay pretends to leave the house. Will Veer fall for this?
Episode 450
Shivaay tries to catch Komal. But Veer abducts Anika while Komal decides to do something horrible to end the chaos.
Friday 11 December 2020
Episode 451
Veer stops Komal from revealing the truth to Shivaay. Anika is paralysed after Veer injects a chemical into her body. Meanwhile, Gauri commits a costly blunder!
Episode 452
Rudra stops Bhavya from leaving the country and proposes to her. Shivaay receives an anonymous parcel. What is in it?
Saturday 12 December 2020
Episode 453
Shivaay decides to enjoy being with his brothers and their wives. Little does he know about the risk his life is in!
Episode 454
Shivaay feels dizzy and collapses to the ground. Later, Veer checks his condition and declares him dead, leaving everyone in shock.
Sunday 13 December 2020
Episode 455
Teaser unavailable.
Episode 456
Shivaay and Anika plan Rudra and Bhavya's engagement ceremony. The brothers and their partners play a game of role reversal while Veer plans to kill Shivaay.
---
Monday 14 December 2020
Episode 457
Shivika get emotional during Rudra's engagement. They start the ceremony when Anika and Gauri reveal about a treasure hunt.
Episode 458
Shivaay does a video chat with Dadi for Rudra and Bhavya's engagement. Later, Shivaay makes arrangements for the Lohri celebration, leaving Anika stunned.
Tuesday 15 December 2020
Episode 459
Svetlana teams up with Veer to destroy Shivaay. While everyone enjoys lohri, Anika remembers the man who cursed her during their last lohri.
Episode 460
Shivaay, Rudra, Bhavya, Anika and Gauri enjoy Dadi's Lohri song while Veer and Svetlana hide Komal's body. The celebration brings Anika and Shivaay closer.
Wednesday 16 December 2020
Episode 461
Rudra is shocked finding the corpse of a woman in Veer's outhouse. Veer informs Svetlana that they are in trouble. Will they get exposed?
Episode 462
Veer is shocked as Shivaay secretly calls the police. The police arrive with their sniffer dogs, but will they find the dead body?
Thursday 17 December 2020
Episode 463
As ShiOmRu struggle to fly the kite on the occasion of Sankranti, their wives team up and support them. Meanwhile, Tej joins hands with Veer to kill Shivaay.
Episode 464
Omkara rips into Tej and ousts him when he tries to reunite with Shivaay. Shivaay is unaware of Tej's evil intentions and convinces Omkara to let him stay.
Friday 18 December 2020
Episode 465
Shivaay learns that Tej was taking medication to fake a heart attack. Meanwhile, Tej apologises to Om and Rudra and asks them to return home.
Episode 466
ShiOmRu throw Tej out of the house after his heart-attack drama. Veer decides to destroy Shivaay and gets ready to burn his wealth to dust. Meanwhile, Shivaay receives a shocking phone call.
Saturday 19 December 2020
Episode 467
Shivaay is heartbroken seeing his office burn down. Later, Veer and Tej send Lili to steal Shivaay's diary which contains his banking credentials.
Episode 468
Tej is shocked on witnessing Veer's new accomplice from Shivaay's family! Later, Shivaay is dumbstruck on seeing his bank statement.
Sunday 20 December 2020
Episode 469
Shivaay grows restless to see zero balance is his account while Anika doubts Shivaay of hiding something. Will he be able to find a solution?
Episode 470
Anika plans to know about Shivaay's enemy. While the Oberois celebrate Bhavya's 'Chunni' function, Anika in disguise attends the party to implement her plan.
---
Monday 21 December 2020
Episode 471
To identify their enemy, Anika pretends to leave the function, while Shivaay comes to see her off. Veer wears a mask and follows her. Will it all go as per the plan?
Episode 472
Shivaay sends OmRu, Bhavya, Anika and Gauri back to the Oberoi Mansion but Anika returns to him. Soon, Shivika learn a shocking detail about Veer while the latter tricks Tej into signing a legal document.
Tuesday 22 December 2020
Episode 473
Shivaay and Anika learn more about Veer. The Oberois are shocked as their mansion is set to be auctioned. Who's behind this?
Episode 474
The Oberois get emotional as each of their memorable things get auctioned. Shivaay awaits the fund transfer while Veer's aide starts bidding for the auctioned possessions.
Wednesday 23 December 2020
Episode 475
Shivaay manages to buy the Oberoi Mansion. Later, he proves Svetlana wrong when she reveals the Kalyani Mill's secret. How?
Episode 476
ShiOmRu get rid of the partition and unite the family. Shivaay finds Veer across the street and speeds his car towards him. Will Shivaay run him over?
Thursday 24 December 2020
Episode 477
Shivaay dislikes the idea of celebrating Valentine's Day and expresses his disinterest. Anika tries to track Veer and gets caught in a vexed situation.
Episode 478
Veer corners Anika and instills fear in her. Anika manages to escape from Veer and comes across Shivaay. Will Shivaay rescue Anika?
Friday 25 December 2020
Episode 479
On Valentine's day, an intoxicated Shivaay murders Anika! Later, the media assembles in his house to inquire about Anika's whereabouts.
Episode 480
A police officer brings Anika to the house just when Shivaay is about to be arrested for her murder. Later, Shivaay decides to expose her, believing that the lady is a fraudster.
Saturday 26 December 2020
Episode 481
After Anika's look-alike passes all of Shivaay's tests, he and Veer decide to dig up Anika's grave to clear their doubts.
Episode 482
Anika gains consciousness and tells Om and Rudra how she and Shivaay misled Veer about her death.
Sunday 27 December 2020
Episode 483
ShiOmRu rejoice when Anika successfully tricks Veer into joining hands with her. Later, Veer assigns Anika a dangerous task.
Episode 484
The Sangeet Ceremony starts with ShiOmRu's performance during which, Veer signals Anika to loosen the screws of the stage's backdrop. Later, ShiOmRu get high as Veer spikes their drinks with bhaang.
---
Monday 28 December 2020
Episode 485
Anika is shocked when Veer reveals that Soumya is his aide. ShiOmRu, Bhavya and Gauri are shattered when Anika informs them the same.
Episode 486
ShiOmRu and their partners are shocked to learn that Soumya, Tia and Svetlana are sisters. Later, Anika teaches Gauri and Bhavya how to walk like her, while Jahnvi misses Tej during the wedding rituals.
Tuesday 29 December 2020
Episode 487
The police barge in and ruin Shivaay's party. Later, he loses his temper as the police try to arrest his mother, Pinky Singh Oberoi!
Episode 488
Soumya is annoyed as Shivaay reunites Roop with the Oberois. Later, Veer makes a shocking revelation!
Wednesday 30 December 2020
Episode 489
ShiOmRu, Shakti and Tej are left wide-eyed as they see the Oberoi women showing their sexy moves on the tunes of 'Laila Main Laila'. Will they stop them?
Episode 490
Things don't go as planned after Veer sets a deadly trap for Shivaay. Later, Roop misleads Pinki and Jahnvi about Tia.
Thursday 31 December 2020
Episode 491
Veer learns that Shivaay has kept Tia at a secret place. He asks Anika to convince Shivaay to take Tia out of the house. Later, Shivaay and Anika are stunned as Tia gets kidnapped!
Episode 492
Shivaay and Anika rejoice after successfully fooling Svetlana. Tia gains consciousness and Shivaay questions her about the purpose of visiting him. Will she reveal the truth?
---
Premiere episodes of Game of Love air on Star Life from Mondays to Sundays at 21h00 and 21h30.