Game of Love Teasers – April 2021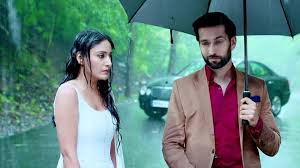 We (keportal Team) pleased to inform you about Game of Love Teasers – April 2021
Monday 1 March 2021
Episode 611
Shivaay helps Anika overcome her aquaphobia. The couple is blissfully happy in romance in the pool. Anika is in a fix about marrying Nikhil. Omkara advises Anika to save her and Shivaay's marriage.
Episode 612
Anika tells Nikhil to call off their wedding and conveys her decision to Shivaay. Anika and Shivaay seek Jahnvi and Tej's blessings. Anika challenges a reluctant Shivaay to apply haldi on her.
Tuesday 2 March 2021
Episode 613
Omkara and Gauri come up with a plan to bring Anika and Shivaay closer. Later, Anika gets locked inside a safe.
Episode 614
Anika burns her hands just to ensure that Shivaay performs the haldi ceremony with her. She accompanies Shivaay as he decides to sleep on the floor. Shivaay wakes up with a shrill after having a nightmare.
Wednesday 3 March 2021
Episode 615
With Nikhil's help, Daksh traps Anika in his evil plan. Anika strives to escape when Daksh sets out to kill her. Shivaay tries to reach out to Anika. Can he save her?
Episode 616
Daksh assaults Anika, knocking her unconscious. He demands Shivaay jump off from a tall building if he wants him to spare Anika's life. Shivaay obliges Daksh!
Thursday 4 March 2021
Episode 617
Anika's condition deteriorates when her oxygen supply gets disturbed due to a power cut. Shivaay gets electrocuted while rectifying the power connection. Daadi asks Anika to leave the mansion!
Episode 618
Shivaay brings Anika back to his mansion after Daadi sends her away. Daadi criticises him for defying her. Tej is also displeased with Shivaay. Meanwhile, Anika asks Shivaay if he will accept her as his wife.
Friday 5 March 2021
Episode 619
Shivaay is excited to meet his friend Mohit, a renowned magician. Mohit leaves him awestruck with his tricks when he visits him with his wife, Nancy. Anika learns that Mohit had once saved Shivaay's life.
Episode 620
Mohit and Nancy spend some romantic time with each other. Later at night, Nancy accidentally falls into the swimming pool.
Saturday 6 March 2021
Episode 621
A burglar breaks into Shivaay's mansion and breaches the security system. Shivaay is annoyed as Anika calls Mohit's magic to be fake. Later, Anika herself tries to learn magic.
Episode 622
Anika is amused to witness Mohit's magic tricks. Shivaay feels disgusted as Nancy tries to get intimate with him during Mohit's absence. Anika visits Shivaay at the same time. Will she understand the situation?
Sunday 7 March 2021
Episode 623
Nancy tries to portray Shivaay in a bad light by getting intimate with him. Disgusted, Mohit leaves the house
Episode 624
Shivaay teaches Anika to fold a sari and later, wardrobe management. Jahnvi tells Shivaay that she has gifted a gown to Anika. Later, Anika charms Shivaay, wearing the gown.
---
Monday 8 March 2021
Episode 625
Shivaay hosts a masquerade ball to honor Mohit and Nancy. Shivaay and Anika have a romantic dance. But, she is mighty upset at the party.
Episode 626
After Mohit clarifies Anika's doubts, she apologizes to Shivaay. The couple is blissfully happy in romance. Shivaay decides to tell something important Anika.
Tuesday 9 March 2021
Episode 627
All hell breaks loose as Shivaay wakes up to find Nancy's dead body next to him while the others are aghast witnessing the same.
Episode 628
Mohit accuses Shivaay of Nancy's murder. Post her investigation of the case, Bhavya makes a shocking declaration. Will the Oberois stand by him?
Wednesday 10 March 2021
Episode 629
Shivaay is shocked as he watches the CCTV footage in an attempt to find Nancy's killer. Bhavya tells the Oberois about the forensic test results.
Episode 630
The police come in search of Shivaay in order to arrest him for committing Nancy's murder. Will Shivaay surrender himself?
Thursday 11 March 2021
Episode 631
Mohit announces huge prize money for information regarding Shivaay's whereabouts. Meanwhile, Shivaay finds clues about Nancy's murderer.
Episode 632
Shivaay sneaks into a room to find more clues but gets hit on his head. The police catch hold of Shivaay and arrest him, while his family members are left surprised. Why?
Friday 12 March 2021
Episode 633
Shivaay disguises as Majnu Singh Awara and brings Lord Ganesh's idol to the Oberoi mansion. He cheers up an upset Anika in a unique way.
Episode 634
Shivaay searches the crime scene for clues about Nancy's killer. He uses Anika's phone to know more about Nancy.
Saturday 13 March 2021
Episode 635
Anika learns that Majnu Singh is Shivaay. Bhavya questions Anika regarding her calls to Morocco. Later, Shivaay lands in deep trouble.
Episode 636
Anika and Shivaay share a romantic moment. Tej makes a shocking announcement regarding Shivaay to the media. Omkara and Rudra learn Majnu's identity.
Sunday 14 March 2021
Episode 637
Shivaay decides to speak to Mohit about transferring his wife's property to his name. Later, Shivaay learns a shocking truth about Nancy!
Episode 638
Mohit tries to mislead Bhavya regarding Shivaay's motives of killing Nancy. Meanwhile, Anika sings and dances with Majnu aka Shivaay.
---
Monday 15 March 2021
Episode 639
Mohit assaults Anika after she threatens to expose his misdeed to Bhavya. Shivaay wants to prove himself innocent. Can he find Nancy?
Episode 640
Mohit is determined to trick Shivaay and escape. However, Shivaay brings Nancy in front of everyone and tries to expose Mohit's misdeed.
Tuesday 16 March 2021
Episode 641
Shivaay exposes Mohit before the media and gets him arrested. Later, Shivaay is tensed as Mohit plays with Anika's life.
Episode 642
Anika is overwhelmed as Shivaay accepts her as his wife and makes her wear the mangalsutra. Further, Shivaay learns his enemy's identity!
Wednesday 17 March 2021
Episode 643
Anika receives gifts from the family members at her Mooh Dikhai ceremony. Tej plots against Shivaay and later makes a disturbing revelation to him.
Episode 644
Shivaay's family members feel suspicious as Shivaay and Tej try to hide something from them. Later, Shivaay fires Tej from his company.
Thursday 18 March 2021
Episode 645
In a bid to stop Tej from telling his aides to kill Omkara and Rudra, Shivaay takes a drastic step. What will be the consequences of his move?
Episode 646
Omkara and Rudra get Shivaay arrested. Five years later, when Anika visits the prison to bring Shivaay back home, she receives a rude shock.
Friday 19 March 2021
Episode 647
Anika talks Shivaay out of his grief and convinces him to come with her to the Oberoi mansion. Will Omkara and Rudra accept Shivaay?
Episode 648
Anika prevents Shivaay from leaving the mansion. Omkara and Rudra part the house and forbid Shivaay from trespassing into their territory!
Saturday 20 March 2021
Episode 649
The bitter memories of the past haunt Shivaay. He is shocked to see Priyanka's behavior. A sympathetic Anika supports Shivaay unconditionally.
Episode 650
Enduring Om and Rudra's pinching taunts, Shivaay goes through a shock. The situation gets grimmer when Anika fails to find Shivaay anywhere in the house.
Sunday 21 March 2021
Episode 651
While Anika tries to convince Shivaay to write a speech for the conference, Rudra and Omkara decide to hire a professional writer for the same.
Episode 652
Anika persuades Shivaay to attend the press meet. At the meet, Shivaay offers to give a speech instead of Rudra. Will OmRu allow him?
---
Monday 22 March 2021
Episode 653
Despite Rudra stealing his speech, Shivaay congratulates him for delivering a good speech. Later, Shivaay tries to strangle Anika!
Episode 654
Anika compels Shivaay to go to the office. There he faces a hostile environment and gets upset.
Tuesday 23 March 2021
Episode 655
Fearing that he may harm Anika again, Shivaay determines to stay away from her. Later, Rudra insults Shivaay.
Episode 656
Rudra and Omkara are unhappy with Shivaay as he refuses to sign the documents. Later, Rudra condemns Shivaay and demands that he sign the documents.
Wednesday 24 March 2021
Episode 657
At the press meet, Rudra tries to prove that Shivaay is mentally unstable. The situation soon gets out of control after Shivaay slaps Rudra.
Episode 658
Anika witnesses the bonding between the brothers. She determines to reunite ShiOmRu with Gauri and Bhavya's help. Later, Anika meets in a car accideThursday 1 April 2021
Episode 673
Shivaay and Anika confess their love to each other. Shivaay decides to remarry her and informs the same to his family members.
Episode 674
Rudra apologises to Anika and warns Roop not to instigate him against Shivaay. Roop implements her plan to target Shivaay.
Friday 2 April 2021
Episode 675
A series of bad omens upset Anika. Roop tries to convince Shivaay to postpone his wedding and plots against Rudra.
Episode 676
Rudra defends himself when Anika accuses him of trying to kill Shivaay. Later, Roop again sets out to victimize Rudra and Shivaay.
Saturday 3 April 2021
Episode 677
Shivaay confronts Roop for trying to kill him. ShiOmRu share some emotional moments after Om and Rudra learn why Shivaay killed Tej.
Episode 678
Anika and Shivaay defy Aruna, sneak out of the house and meet secretly. Shivaay expresses his unconditional love to Anika and gets romantic with her.
Sunday 4 April 2021
Episode 679
Anika and Shivaay get locked inside the guest house. Gauri and Rudra are hassled as they are unable to find Shivaay and Anika in the house.
Episode 680
At the venue, Om tries to manage the situation in Shivaay and Anika's absence. He feels relieved as Shivaay and Anika arrive and get married.
---
Monday 5 April 2021
Episode 681
On the wedding night, Shivaay is unwell after Omkara makes him drink Kalyani's medicine, assuming it to be an energy drink! Later, Shivaay and Anika get romantic.
Episode 682
The Oberois are shocked when Priyanka decides to marry Rajiv. Dadi slaps Priyanka for misbehaving with Omkara and Rudra.
Tuesday 6 April 2021
Episode 683
Shivaay asks Sanket to gather information about Rajiv. He is shocked when Rudra tells him that Priyanka has eloped from the house.
Episode 684
Shivaay seeks Jai's help to stop Priyanka from marrying Rajiv. Later, Jai offers to marry Priyanka when Rajiv runs away from the wedding!
Wednesday 7 April 2021
Episode 685
The Oberois gear up for Priyanka's post-marriage rituals. Jai tells Priyanka that he has sold his house and they will be relocating to the USA.
Episode 686
Priyanka misleads Shivaay about Jai. Sahil gets rebuked for tampering with the accounts. Later, Shivaay brings Jai and Priyanka to the Oberoi mansion.
Thursday 8 April 2021
Episode 687
Shivaay and family have a gala time at the Qawali night. Jai plots to snatch a business deal from Shivaay. Kalyani misleads Omkara about her meeting with Suryakant.
Episode 688
Jai is frustrated as Shivaay bags the deal whereas the Oberois are happy about their success. Later, Shivaay, Omkara and Rudra face an unexpected situation.
Friday 9 April 2021
Episode 689
Sahil is miffed with Shivaay for not helping him with the police. Later, Shivaay has a special gift for Anika when they spend some romantic moments together.
Episode 690
Some strangers abduct Shivaay. Later, Anika goes missing while the Oberois play a fun game!
Saturday 10 April 2021
Episode 691
While Shivaay desperately tracks Anika's whereabouts, Priyanka and Aruna face another crisis at home.
Episode 692
A new development leaves Shivaay extremely worried about Anika, while Bhavya and Rudra try to find out about Anika's abductor.
Sunday 11 April 2021
Episode 693
Jai is determined to separate Shivaay from Anika. A horrific incident occurs when Shivaay and Rudra try to rescue Anika!
Episode 694
Shivaay and Anika's son, Shivaansh becomes a famous actor and celebrates the launch of his movie, Dhinchak Ishq Tera Mera.
---
Monday 12 April 2021
Episode 695
Shivaansh talks about his parent's love story while ACP Aditi Deshmukh recalls her shocking past. Later, a nightmare leaves both of them traumatized.
Episode 696
Shivaansh shares an emotional moment with his grandmothers. Later, Aditi is handed over the responsibility of his safety during an inauguration ceremony.
Tuesday 13 April 2021
Episode 697
Shivaansh is upset on learning about the reviews of his film. His associates and ACP Aditi are shocked when he gets kidnapped.
Episode 698
Shivaansh decides to come out of his fake kidnapping idea when Aditi taps his phone call. He pretends to faint when Aditi questions him about his kidnapping.
Wednesday 14 April 2021
Episode 699
Aditi resolves to arrest Shivaansh. After a failed attempt, she forcibly enters his vanity van in order to put him behind bars.
Episode 700
While Aditi prepares to expose Shivaansh in front of the media, he comes up with an ingenious strategy to tackle her.
Thursday 15 April 2021
Episode 701
Aditi meets a reporter who wants to help her expose Shivaansh. Later, she is shocked when the reporter does something highly unexpected.
Episode 702
Shivaansh loses his temper and assaults his arch-rival, Pankaj Kohli. Later, his bodyguard reveals a shocking truth about Shivaansh's health condition.
Friday 16 April 2021
Episode 703
Pankaj tries to garner Aditi's support to plot against Shivaansh. Later, Shivaansh visits the police station and asks Aditi for a favour.
Episode 704
Shivaansh and Aditi share a special moment. Later, things go awry when Shivaansh interrogates a criminal.
Saturday 17 April 2021
Episode 705
Aditi complains to her senior about Shivaansh. A worried Aruna compels Shivaansh to leave the police station. Later, Shivaansh is happy to meet Radhika and Dhruv.
Episode 706
Khanna becomes worried as Shivaansh hides his illness from his family. Later, Shivaansh helps Aditi to get access to a five-star hotel.
Sunday 18 April 2021
Episode 707
Aditi and Shivaansh attend the New Year party as a couple. Later, Shivaansh is shattered, witnessing the unthinkable during the celebration.
Episode 708
The Oberois receive some exciting news. Aditi confronts Shivaansh about Honey and wants to check his mobile phone.
---
Monday 19 April 2021
Episode 709
Shivaansh holds Aditi responsible for ruining Shivani's engagement. Later, he forcibly enters her house and holds her at gunpoint.
Episode 710
Aditi is suspended after the Anti Corruption Bureau finds her guilty of bribery. Later, Shivaansh offers a shocking proposition to her.
Tuesday 20 April 2021
Episode 711
Shivaansh delivers a pen drive to Aditi to prove her innocence. Later, on seeing the video, Aditi realises that Shivaansh has deceived her.
Episode 712
Aditi secretly records Shivaansh's confession and presents it before her supervising officer. Later, Shivaansh executes his ingenious plan to outsmart her.
Wednesday 21 April 2021
Episode 713
Aditi's boss asks her to safeguard Shivaansh. Later, Shivaansh faces a problem when Angad's aunt, Sudha meets Shivani.
Episode 714
Shivaansh takes a stand when Sudha humiliates Radhika for her defective eye. Later, Aditi finds a clue and starts searching for a stranger.
Thursday 22 April 2021
Episode 715
Shivaansh tries to make Sudha realise her folly. Owing to the circumstances, Angad takes a stern decision regarding his and Shivani's wedding.
Episode 716
Shivaansh takes a decision to ensure Radhika's well being. Aditi feels something is amiss after she spots an intruder escaping from the mansion, while Asiya goes missing.
Friday 23 April 2021
Episode 717
The Oberois worry about Shraddha. Shivaansh rebukes Aditi for her negligence. Later, he frets when Aruna shows his horoscope to a pundit! But, why?
Episode 718
Aashiya bids an emotional farewell to Shivaansh and his family. Elsewhere, a new girl is all set to enter Shivaansh's life.
Saturday 24 April 2021
Episode 719
While Mannat assaults Shivaansh in the hospital, her aunt comes up with a devious strategy to loot Shivaansh's family.
Episode 720
Mannat secures a job at Shivaansh's house after she wins his grandmother's heart. Later, she gets scared, overhearing a shocking conversation.
Sunday 25 April 2021
Episode 721
Shivaansh carries Mannat in his arms after she unexpectedly falls unconscious. Later, an infuriated Shivaansh accuses her of theft.
Episode 722
Shivaansh shows a shocking video of Mannat to his grandmother. Unaware of Varun's intentions, Shivaansh's family welcomes him to the house.
---
Monday 26 April 2021
Episode 723
Varun tries to steal the microchip containing the evidence against him from Mannat's bag. Later, Shivaansh accuses Mannat of leaking his photos to the media.
Episode 724
Varun plans to steal a precious document from Shivaansh's locker. Meanwhile, Sudha gets suspicious on finding something odd in Shivaansh's room.
Tuesday 27 April 2021
Episode 725
Shivaansh loses consciousness while dancing. Later, on finding the locker empty, he accuses Mannat of a serious crime.
Episode 726
A guilt-ridden Shivaansh asks Khanna to take food and ice-cream for Mannat after wrongly accusing her. Later, he tells Varun about the location of the new will.
Wednesday 28 April 2021
Episode 727
Sudha confronts Shivaansh on his health. However, he stands firm when she repeatedly tests him. Later, Varun escapes with the locker.
Thursday 29 April 2021
Episode 728
Aditi instigates Shivaansh against Mannat, while Radhika gets abducted. Later, a miffed Shivaansh confronts Mannat.
Episode 729
Shivaansh rescues Radhika. Later, the doctor has some bad news for Shivaansh when Mannat takes him to the hospital.
Friday 30 April 2021
Episode 730
Sudha cancels Shivaansh's sister and Angad's marriage. Later, Mannat confronts Shivaansh when she mistakes him to be responsible for Munni's disappearance.
Episode 731
Varun wants to blackmail Mannat into doing his evil bidding and plans to get her married to Shivaansh. Later, the Oberois witness some shocking news on the television.