Enakhe Teasers – January 2021 Episodes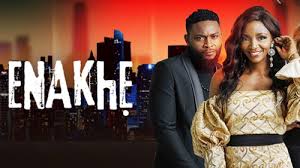 Nigerian novela Enakhe premieres on Novela Magic on Friday 22 January at 20h00, pushing Battleground to one episode a day at 21h30.
It's set in modern-day Benin City and tells the story of Enakhe, a rebellious daughter who, after the sudden death of her father, is forced by circumstances to grow in every way possible.
She becomes the leader of her extended family and the family's criminal empire, while contending with antagonists, both physically and otherwise.
These are the first teasers:
Friday 22 January 2021
Episode 1
Latifah goes against Epa's mistress. Archie proposes and a body drops. Welcome to Benin City.
Saturday 23 January 2021
Episode 2
Cali investigates Chief Sir. Archie is a scum lord. Onanefe arrives. Enakhe is blindsided by news about herself.
Sunday 24 January 2021
Episode 3
Enakhe confronts Epa about the wedding announcement. Cali finds out there is a snake in his camp.
---
Monday 25 January 2021
Episode 4
The Iwinosas mete out punishment. Onanefe offers Cali a solution. Enakhe has had enough of Archie.
Tuesday 26 January 2021
Episode 5
Margaret thwarts Chief Sir's attempts to end the business. Cali's rash actions lead to new fires for Epa to put out.
Wednesday 27 January 2021
Episode 6
Cali lets his anger lead him. Archie tries to win Enakhe back. Commando tries to figure out his next move.
Thursday 28 January 2021
Episode 7
Archie sets his plan into motion. Latifah enters into a stark new reality and the past comes calling again for Epa.
Friday 29 January 2021
Episode 8
Ivie is traumatized. Archie becomes increasingly insecure. Cali further disappoints his father and the Osagies plot their revenge.
Saturday 30 January 2021
Episode 9
Ivie spills the beans. Cali goes looking for answers and revenge. Epa brings his mistress home.
Sunday 31 January 2021
Episode 10
Cali confronts Ivie and Archie. Archie almost gets caught in the act. The Osagies swear revenge.