Elif Teasers – March 2021 Episodes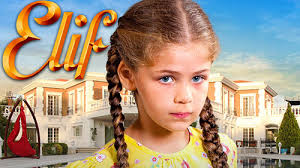 We (keportal Team) pleased to inform you about Elif Teasers – April 2021
Monday 1 March 2021
Episode 121
Everything is chaotic after Selim's accident. Will Selim still be able to give Zeynep her surprise?
Tuesday 2 March 2021
Episode 122
Arzu confronts Erkut, but has she met her match in him? Melih makes more surprising discoveries about both Melek and Zeynep. Gonca starts suspecting and distrusting Arzu. Arzu's behaviour towards Burcu causes great unhappiness in the home.
Wednesday 3 March 2021
Episode 123
Will the kids plan work to bring Burcu back? Can Seyda convince Murat to move? Has Melek lost all hope and will Melih find away to solve all her problems?
Thursday 4 March 2021
Episode 124
Erkut throws a spanner in the works for Seyda and Murat's plans. Arzu finds a new babysitter for the girls. Melek finally stands up for herself and is yet to face the consequences.
Friday 5 March 2021
Episode 125
It's a race against time for Melih to find a strong enough witness to get Melek out of jail. Arzu is up to her usual devious ways to prevent Kenan from attending the hearing and Elif is very excited to see her mother again.
---
Monday 8 March 2021
Episode 126
Emotions run high once again after Melek's trial is over. Arzu is increasingly worried when she believes that Kenan knows everything. Selim tries to convince Melek to tell Kenan about Elif.
Tuesday 9 March 2021
Episode 127
Arzu intercepts and forges the report of Selim's car accident. Gonca is not impressed. Elif is very happy to be reunited with her mother, but Melek's release from prison causes many ripples.
Wednesday 10 March 2021
Episode 128
Will Arzu's sins finally catch up with her and will she pay the price, has Gonca found a new partner in crime to fight her battles. Have Melek, Zeynep and Elif found their happy ever after at last?
Thursday 11 March 2021
Episode 129
Selim's life is in grave danger, will Gonca and Veysel succeed in saving him? WhileTugce is driving the family crazy in Arzu's absence, Arzu shows her capturers exactly how tough she is.
Friday 12 March 2021
Episode 130
Will Arzu's sins be the end of her and give Gonca and Veysel the power they want. Zeynep shares her happy news with Melek and will Seyda pay the price for Erkut's obsession with Zeynep?
---
Monday 15 March 2021
Episode 131
Erkut tries to convince Arzu that he's not going to hurt her. Aliye gets grumpy because Arzu is not at home. Gonca tries to mess with Veysel but he has a plan. Will Melih tell Melek that he thinks she is his sister?
Tuesday 16 March 2021
Episode 132
Arzu and Erkut realise that they may have the same enemy. As Melih tries to tell Melek that she is his sister, he makes a surprizing discovery.
Wednesday 17 March 2021
Episode 133
Melih realises that Elif is the same child as on the farm. Erkut and Arzu are trying to fish out the culprit hiding the CD. Selim decides it is time for Zeynep to meet the family and big preparations are being made as Aliye expects another guest.
Thursday 18 March 2021
Episode 134
A family dinner goes haywire as Arzu creates major havoc as far as Selim and Zeynep's wedding plans are concerned, but Arzu and Aliye are clearly on the same page. Erkut is livid when he sees Zeynep at the farm and a hapless Seyda bears the brunt.
Friday 19 March 2021
Episode 135
Zeynep breaks off the engagement and runs away. Everybody is looking for the CD. Gonca is scared that Arzu maybe knows about her involvement. Who has the CD?
---
Monday 22 March 2021
Episode 136
Gonca panics as she forms conclusions about the missing disk. Pelin finds further leverage to aid in Aliye's quest to separate Selim and Zeynep. Seyda is yet to find out more secrets.
Tuesday 23 March 2021
Episode 137
Aliye and Arzu do their utmost to matchmake Selim and Pelin. Seyda makes a happy discovery regarding the CD and Arzu finds herself in trouble again.
Wednesday 24 March 2021
Episode 138
History repeats itself with the similarities between Zeynep and Melek's ties to the Emiroglu's. The ever scheming Pelin finds a comfortable ally in Aliye and Seyda has a nasty surprise about the ever-elusive CD.
Thursday 25 March 2021
Episode 139
Seyda makes a drastic change of plan when she realizes that the CD is gone. Who will be the one that has the CD next? Disaster strikes as it is put in the wrong hands.
Friday 26 March 2021
Episode 140
After a major confrontation between Melih and Arzu, Arzu falls apart. Tension in the Emiroglu home also runs high when a furious Kenan confronts Aliye. Erkut threatens Seyda, while Murat keeps searching for her.
---
Monday 29 March 2021
Episode 141
Is Arzu at the end of her road and will Melih reveal the truth to Kenan? Murat refuses to believe that Seyda left him and goes to the police. Erkut is on the hunt for the CD, will he find it in time?
Tuesday 30 March 2021
Episode 142
The Emiroglu family is worried sick as Arzu is fighting for her life. Sadik and Erkut are both searching for Melih's ring, who will find it first? Tugce is out of control, as no one wants to tell her where her mom is.
Wednesday 31 March 2021
Episode 143
Arzu struggle with memory loss but Kenan and Melih don't believe her. Erkut's talk with Seyda has a few implications. What will Arzu with what she finds in Kenan's wallet?