Elif 3 Teasers  January 2023 Episodes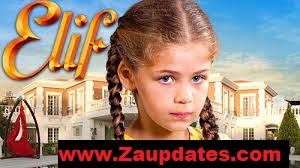 We (The Keportal Team) are excited to notify you about Elif 3 Teasers  January 2023 Episodes
Thursday 1 December 2022
Episode 164 (577)
Cevahir and Arzu discuss upgrades at the workshop and agree that Yusuf has become a problem. As Umit's suspicions grow about Arzu, Gonca discovers something that will help her take Arzu down.
Friday 2 December 2022
Episode 165 (578)
Umit confronts Arzu about her hostility towards Gonca. Melek and Arzu get into an argument at the workshop. Yusuf is unaware of the two men staking out his bookshop.
Monday 5 December 2022
Episode 166 (579)
Elif finds Yusuf unconscious, and Melek calls an ambulance. Sitare thinks of all the times Selim has rescued her.
Tuesday 6 December 2022
Episode 167 (580)
Arzu tries to finish the job of killing Yusuf but is interrupted. Sitare has to think on her feet when Erkut shows up. Arzu plans to make Melek pay for resigning.
Wednesday 7 December 2022
Episode 168 (581)
Yusuf is ready to be discharged. Leyla isn't very happy about Yusuf staying with Melek. Erkut wants to stir up things between Selim and Zeynep. Arzu receives a warning.
Thursday 8 December 2022
Episode 169 (582)
Sitare is on a mission to impress Selim. Arzu walks into a dangerous situation. Leyla's heart is broken over Yusuf.
Friday 9 December 2022
Episode 170 (583)
Cevahir discovers something that makes him fear for his life. Umit doesn't believe Arzu's version of the shooting.
Monday 12 December 2022
Episode 171 (584)
Umit wants to know the truth from Arzu. Cevahir is nervous to have Arzu as his business partner. Gonca is getting closer and closer to achieving her goal.
Tuesday 13 December 2022
Episode 172 (585)
Gonca tries get Umit to be her ally against Arzu. Erkut plans to frame Selim, but will he succeeds? Hulya once again tries to intervene in Leyla's love life.
Wednesday 14 December 2022
Episode 173 (586)
Gonca warns Umit about an attempt on his life. Erkut plans on telling Zeynep about Selim and Sitare, but will he succeed?
Thursday 15 December 2022
Episode 174 (587)
Sitare has an accident and needs to see a doctor. Asuman starts her first day at her new job. Everybody attends the kermis at Elif's school.
Friday 16 December 2022
Episode 175 (588)
Zeynep and Selim plan to go out for dinner and Sitare decides to ruin their plans. Yusuf is preparing for the court case. Arzu is nervous about Umit's cold behaviour towards her.
Monday 19 December 2022
Episode 176 (589)
Zeynep imagines the worst when Selim doesn't come home one night. Arzu is convinced she will win the court case, but Melek has an unexpected ace up her sleeve. Cevahir is certain he will lose his shop.
Tuesday 20 December 2022
Episode 177 (590)
Elif and Inci plan a surprise for Zeynep and Selim, in hopes of helping them reconcile. Melek finds out about the fate of her friends, whilst Gonca presents Erkut with an ultimatum.
Wednesday 21 December 2022
Episode 178 (591)
Cevahir has had it with Arzu. Asuman and Erkut are officially divorced, but then she discovers something interesting. Melek and Yusuf try to help Aysel and Suna.
Thursday 22 December 2022
Episode 179 (592)
Cevahir is suspicious about who falsely tipped the police off about drugs in his office. Arzu prepares a romantic dinner for her and Umit in the hopes of fixing things between them.
Friday 23 December 2022
Episode 180 (593)
Arzu receives exciting news while Gonca is still trying to play her games. Asuman finds herself in a difficult situation. Cevahir is not going to sell the factory without a fight.
Monday 26 December 2022
Episode 181 (594)
Arzu has no evidence to prove her pregnancy. Elif is traumatized after a terrifying event at home. Asuman gets into an accident.
Tuesday 27 December 2022
Episode 182 (595)
Yusuf, Melek and Elif go fishing. Cevahir has had enough and confronts Umit. Gonca overhears something that will help her get rid of Arzu.
Wednesday 28 December 2022
Episode 183 (596)
Does Gonca finally have a trump card to use against Arzu? Will Sitare be found out by Veysel? Can Yusuf contain his emotions around Melek?
Thursday 29 December 2022
Episode 184 (597)
Arzu is arrested for attempted murder on Yusuf. Umit desperately tries to locate the envelope with evidence. Selim comes clean to Veysel regarding his involvement with Sitare.
Friday 30 December 2022
Episode 185 (598)
Arzu receives an unexpected visitor. Selim has a difficult conversation with Sitare while Zeynep's suspicion grows. Fevziye makes an important decision about Leyla's future.