Durban Gen Teasers – May/June 2023 Latest Episodes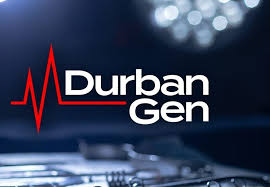 We (The Keportal Team) are excited to notify you about Durban Gen Teasers – May/June 2023 Latest Episodes
Monday 3 April 2023
Episode 636
Skhumbuzo plans to kill again. Calvin and Jack struggle with their new reality. Bafana tries his luck at love again.
Tuesday 4 April 2023
Episode 637
The grieving lover puts on a convincing show for friends and colleagues. Calvin hopes he's not the father. Phumeza asks Shweni to find out if the new guard is lusting after her man.
Wednesday 5 April 2023
Episode 638
Celisiwe experiences pains just as Calvin is about to send her away. Skhumbuzo vows to continue killing "bad women" in honor of Zandile, and Phumeza's insecurities get the better of her.
Thursday 6 April 2023
Episode 639
Skhumbuzo's sinister urges get the best of him. Jack agrees to an unsettling living arrangement. Amahle discloses her sexuality.
Friday 7 April 2023
Episode 640
Mbali struggles to understand the meaning of her dreams, Celisiwe continues to cause havoc at the Gumede household and Sibiya vows he won't rest until the Ashtray Killer is found.
Monday 10 April 2023
Episode 641
Mbali asks Skhumbuzo's permission to perform a ritual for Zandile. Celiswe offends Jack with hurtful words. Sne is on cloud nine after being nominated.
Tuesday 11 April 2023
Episode 642
Skhumbuzo is happy to know that Zandile's spirit is finally at peace. Jack struggles to see the light. Sne notices that Phumeza and Amahle are spending a lot of time together.
Wednesday 12 April 2023
Episode 643
Mbali is haunted by another dream. Celisiwe plants a seed of isithembu in Calvin's head, while Sne is jealous of the idea of Amahle growing closer to her bestie.
Thursday 13 April 2023
Episode 644
Is Sibiya getting close to uncovering the identity of the Ashtray Killer? Calvin and Jack's first day of marriage counseling gets off to a rocky start. Sne tries to make Phumeza envious.
Friday 14 April 2023
Episode 645
Sibiya learns the identity of the Ashtray Killer. Jack puts an end to a painful chapter. Sne gets a surprise that brings her to tears.
Monday 17 April 2023
Episode 646
The hospital is worried about Sibiya's disappearance. Jack breaks things off with Calvin and Amahle finds an unsuspecting Thembi irresistible.
Tuesday 18 April 2023
Episode 647
The underground gang makes a crucial revelation. Calvin is still stuck between a rock and a hard place. While Thembi's heart wants what it wants.
Wednesday 19 April 2023
Episode 648
Lindelani saves Mbali in the nick of time, Mhlongo is more than happy to be Acting Matron and Zondo develops a soft spot for Little Thabo.
Thursday 20 April 2023
Episode 649
An old flame is re-ignited. Phumeza mourns Sibiya and becomes an instant millionaire. While two unlikely people are brought together by grief.
Friday 21 April 2023
Episode 650
Seris finale!
Zondo and Thabo are ready for parenthood. Sparks fly between Thembi and Bafana. Durban General staff close one chapter while looking forward to the next.