Durban Gen Teasers – March 2021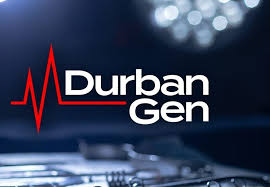 We (keportal Team) pleased to inform you about Durban Gen Teasers – March 2021
Monday 1 March 2021
Episode 106
Mbali wants nothing to do with Sibusiso's liver anymore and Ngcobo is the new sheriff in town.
Tuesday 2 March 2021
Episode 107
Sne's investment is making her thrive as she finds more customers, and MacGyver is keen to see himself get to her level quickly. Meanwhile, Mbali is re-admitted into the hospital when she shows signs of mental instability due to kidney failure, sending Sibusiso into a desperate fit.
Wednesday 3 March 2021
Episode 108
Lindelani contemplates on making a huge sacrifice to save Mbali's life. Lwandle's presence at the hospital triggers Luthuli. Sne's sudden wealth raises eyebrows at the hospital while others want to share in the riches.
Thursday 4 March 2021
Episode 109
Mbali's situation continues to deteriorate. Luthuli is admitted into a psychiatric ward and Sne recruits one of her seniors in her investment scheme.
Friday 5 March 2021
Episode 110
Mbali is hopeful that Sibusiso is her match and ticket out of hospital, Sne is running from everyone while Ngcobo gets a visit from the law enforcers.
---
Monday 8 March 2021
Episode 111
Mbali loses hope about everything. Ngcobo realises that he has nowhere to go. Things take an unexpected turn in Sne's get rich quick scheme.
Tuesday 9 March 2021
Episode 112
Mbali naively welcomes Precious taking care of Sibusiso and is shocked by the person who is a match for her kidney transplant.
Wednesday 10 March 2021
Episode 113
Sibusiso is all-fired about who could save Mbali's life. Zondo and Ngcobo have a big blow. Sne is forced to find other means to raise the money she owes people.
Thursday 11 March 2021
Episode 114
Luthuli's victory leaves Zondo and Ngcobo eating dust as she gets a high and most unexpected reward. Meanwhile luck has run out on Sne, and her fake life has finally caught up with her, leading to an embarrassing exposé at the hospital.
Friday 12 March 2021
Episode 115
Lindelani makes a hard decision that will affect the lives of many. The obnoxious Ngcobo is cut down to size and finally put in his place. MacGyver catches on to Sne's new hustle and also wants in on the action.
---
Monday 15 March 2021
Episode 116
Agatha goes behind Sibusiso's back to convince Lindelani to give Mbali his kidney. Precious and Sibusiso get into their first lover's tiff over Mbali.
Tuesday 16 March 2021
Episode 117
Mbali and Sibusiso rekindle their romance. Nandi lies to her father and accepts her inevitable fate. Nkabinde puts more pressure on Sne to pay out.
Wednesday 17 March 2021
Episode 118
Ngcobo makes a grave mistake that could cost a patient's life. Mbali's health becomes an issue again. Sne and MacGyver have their hands full as their operation may be exposed.
Thursday 18 March 2021
Episode 119
Will Sibusiso's desperate and extreme act to get Mbali a donor pays off? Is Ngcobo cut out for Durban General or does he spiral too out of control? Sne and MacGyver's business thrive but are the superiors on to Sne?
Friday 19 March 2021
Episode 120
Thabo takes the law into his own hands when he comes face to face with his hijacker. Lindelani changes his mind about donating his kidney to Mbali but it seems he is a little too late.
Sne finally manages to pay off Nkabinde's outstanding ROI and feels a huge weight lifted off her shoulders but it seems another problem is brewing with her new side hustle.
---
Monday 22 March 2021
Episode 121
Spirits are high as Mbali and Sibusiso prepare for the kidney transplant operation. Meanwhile, a life hangs in the balance and emotions need to be put aside in order to save him. Sne feels like the walls are closing in on their Doctor's note syndicate.
Tuesday 23 March 2021
Episode 122
The Dlamini family prepares for the worst, while Thabo learns to forgive. Sne and MacGyver are taught lessons about crime.
Wednesday 24 March 2021
Episode 123
Ndlovu picks up on a discrepancy in the organ donation process. A patient's hand goes missing in Durban Gen. MacGyver almost saves the day.
Thursday 25 March 2021
Episode 124
A miracle happens for more than one of the doctors at Durban Gen. Everyone is tense as the first transplant at Durban Gen takes place. A donor is conflicted about an organ he gets.
Friday 26 March 2021
Episode 125
A white man wakes up with a black man's hand. The interns have a hard time with Lindelani. Ndlovu and Lindelani are at odds.
---
Monday 29 March 2021
Episode 126
The Dlamini's celebrate Mbali and Sibusiso's upcoming wedding. Zondo does some digging into Luthuli's background. Mr. Smith's new hand gets tongues wagging at Durban General.
Tuesday 30 March 2021
Episode 127
Mrs Smith discovers her husband's secret. Precious get a surprise of her life. Ngcobo and Luthuli get hot and heavy.
Wednesday 31 March 2021
Episode 128
Is it finally happily ever after for the Dlamini's as they leave to prepare for the big day? Can Mr Smith overcome his racism or will his irrationality prevail?
---
Premiere episodes of Durban Gen air on e.tv from Mondays to Fridays at 18h30. Episodes repeat on e.tv and eExtra the following day at 13h30 and 11h15 respectively. The omnibus airs on e.tv on Sundays at 10h20.