Durban Gen Teasers – February 2021 Full Episodes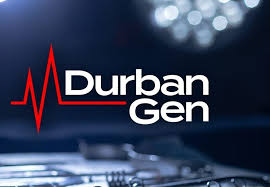 Monday 1 February 2021
Episode 86
Mbali chooses to spend the night with someone else instead Sibusiso. Precious and Sibusiso continue trying to get Precious pregnant behind Thabo's back. MacGyver realizes that he took the wrong sperm.
Tuesday 2 February 2021
Episode 87
Mbali promises to fight to be with Lindelani. MacGyver plots escape routes from his impending future, while Precious delivers a non-responsive baby.
Wednesday 3 February 2021
Episode 88
Mbali comes up with a plan to send Sibusiso back home in Ngwelezana, while Phumeza's plan will change the life of one family forever. MacGyver's nightmares still haunt him.
Thursday 4 February 2021
Episode 89
Zanele realises that what the hospital is saying about her baby is not true. Precious and Sibusiso are lmost caught during their rendezvous. Lindelani asks Mbali a life changing question. MacGyver tries to retrieve his sperm again, in vain.
Friday 5 February 2021
Episode 90
Sbusiso involves Mbali is his plans to redecorate the commune and she is not interested and Phumeza is struggling to come to terms with her decisions. MacGyver is back to being jolly after he escapes from the police.
---
Monday 8 February 2021
Episode 91
The hospital is filled with guilt as Mbali tries to figure out her romantic situation, Phumeza has her guilt of cloud which Calvin notices and MaCele gets a gift from a secret admirer.
Tuesday 9 February 2021
Episode 92
The case of the dead baby escalates. Lindelani and Mbali are excited about their decision to marry. Bab'Gumede learns someone else has an eye on MaCele.
Wednesday 10 February 2021
Episode 93
Will Mbali's plan to hook up Sibusiso with someone else so she could secretly get married with Lindelani succeed? Phumeza blacks out and Bab' Gumede loses his mind.
Thursday 11 February 2021
Episode 94
Mbali gets ready for the day of her life while Lindelani ships Lwandle off to Gogo's house for the weekend. Back at the hospital, Phumeza's day gets progressively worse when Zanele comes seeking help in finding her child.
Bab Gumede and MacGyver hatch a misguided plan that leads to an unexpected and disastrous outcome.
Friday 12 February 2021
Episode 95
Will Mbali ever make it back to Lindelani as the Dlaminis nurse her back to health? Everything is on the line for Phumeza as Sibiya finds the truth. A jealous Bab' Gumede goes looking for trouble.
---
Monday 15 February 2021
Episode 96 
Nkabinde cleans Phumeza's mess. Mbali finds out what's wrong with her. Bab'Gumede messes up again and MacGyver refuses to help him.
Tuesday 16 February 2021
Episode 97
Mbali collapses as she tries to escape the hospital while Luthuli makes a mistake that might put her life in jeopardy. Nkabinde cooks for Ndlovu.
Wednesday 17 February 2021
Episode 98
An illness brings lovers closer while breaking another's heart. Luthuli makes a huge blunder that costs her a patient. Qwabe learns of Nkabinde's true feelings for Ndlovu.
Thursday 18 February 2021
Episode 99
Mbali struggles to come to terms with her condition. Nkabinde almost makes an inroad with Ndlovu. Sne plays matchmaker between her colleagues.
Friday 19 February 2021
Episode 100
Is Mbali's decision to leave the hospital and push Lindelani away to her own detriment and can Thabo overlook his past failures in order to tackle one of his toughest cases yet?
---
Monday 22 February 2021
Episode 101
Things are tense at Durban Gen when Zondo and Luthuli are at odds with each other over a juicy case. Sister Nkabinde has found a new product to sell and has one Dr. Ndlovu in mind to test the products on. Meanwhile Mbali's health is at an all-time low and the spat between the two men in her life intensifies.
Tuesday 23 February 2021
Episode 102
Lindelani feels Mbali is slipping further and further away from him. A nervous Thabo operates on Mduduzi, he has a lot riding on this surgery being a success. Ndlovu is now at his wits end with Nkabinde pursuing him.
Wednesday 24 February 2021
Episode 103
Mbali has to come to terms with her sickness as she is about to start treatment while a mother confronts a son's death. Nkabinde finds something that angers her.
Thursday 25 February 2021
Episode 104
A miracle occurs when a strange doctor resurrects the dead. Mbali rejects a grand gesture that could save her life. Qwabe and Ndlovu try to play match maker for Nkabinde.
Friday 26 February 2021
Episode 105
Sibusiso tries to fast track the kidney donation process, in vain. Luthuli struggles to deal with yet another death. Sne has a new thing going in and tries plugging the squad in.