Durban Gen Teasers – April 2021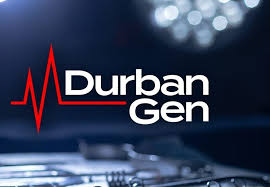 We (keportal Team) pleased to inform you about Durban Gen Teasers – April 2021
Thursday 1 April 2021
Episode 129
Pressure mounts as Mbali prepares herself for virginity testing ahead of Umemulo while back at the hospital everyone finds out that Ngcobo needs treatment.
Friday 2 April 2021
Episode 130
Mbali passes a huge test but the victory are bittersweet. It's confrontation time as Zondo learns the truth about a fellow colleague. A hand becomes a subject of interest, again.
---
Monday 5 April 2021
Episode 131
Mrs. Dlamini decides to take charge of the traditional wedding preparations. Lindelani stumbles upon new information about Mbali, while a famous socialite's husband gets admitted at Durban Gen.
Tuesday 6 April 2021
Episode 132
The Dlaminis prepare Mbali to be a wife, while Lindelani makes the decision to pack up at the hospital. Sne annoys a patient's family member.
Wednesday 7 April 2021
Episode 133
Lindelani makes a daring and bold move for Mbali at her wedding with Sibusiso. Precious finds a way to get what she wants from Thabo. Thee Doctor Luthuli makes a grand entrance at the hospital.
Thursday 8 April 2021
Episode 134
Mbali comes face to face with an old enemy. When Luthuli Snr arrives, it's chaos at the hospital. Calvin has his eyes on another man's treasure.
Friday 9 April 2021
Episode 135
Lindelani is all bruised up from trying to stop Mbali and Sibusiso's wedding and Mrs. Dhlomo wants Calvin to do her a huge favour.
---
Monday 12 April 2021
Episode 136
What will Calvin do when faced with the choice of being the heroic nurse or changing his financial situation?
Tuesday 13 April 2021
Episode 137
While word gets around that Luthuli has decided to up and leave, Calvin only has one thing on his mind; Mr Dhlomo's death. On the other side, Precious bites the bullet and spills the beans to her family.
Wednesday 14 April 2021
Episode 138
Calvin lets MaGvyver in on his little secret. Sinqobile is happy to hear that she can keep her butt implants but is this for the best?
Thursday 15 April 2021
Episode 139
Thabo is not taking Precious' pregnancy well. A patient dares to escape the hospital and Calvin finds himself spending the wrong money.
Friday 16 April 2021
Episode 140
Dudu threatens to put Sinqobile out of work should she put her health first instead of her profession. Precious finds out that Thabo knows the truth. MacGyver convinces Calvin to start blowing the money.
---
Monday 19 April 2021
Episode 141
Tension rises in the Dlamini house and Thabo starts to investigate Precious' pregnancy. Sne's past just doesn't want to stay hidden. Calvin and MacGyver become crime victims.
Tuesday 20 April 2021
Episode 142
Precious enlists Sibusiso's help to throw Thabo off-trail. Lindelani and Ndlovu's friendship is strengthened. Calvin and MacGyver are thrust into a quest to find a missing ambulance.
Wednesday 21 April 2021
Episode 143
Mbali's slight oversight causes a patient's death and Bab'Gumede taps into unfamiliar territories to deal with his money woes.
Thursday 22 April 2021
Episode 144
Phumeza reveals shocking information about Mbali. Lindelani twists Ndlovu's arm in making a huge decision about a VIP patient. Bab'Gumede gets a surprise visitor that has him running for his life.
Friday 23 April 2021
Episode 145
Qwabe deals with Ndlovu and Lindelani for taking matters into their own hands. Mr Radebe wants to do things right by his late wife. And Bab Gumede comes face to face with his unwelcomed guest.
---
Monday 26 April 2021
Episode 146
There is a go-slow at the hospital while Qwabe wants to revive an old talent.
Tuesday 27 April 2021
Episode 147
The nurses threaten a go-slow. Bab' Gumede's financial troubles mount. Qwabe takes a decision that might put her life in danger to save the hospital.
Wednesday 28 April 2021
Episode 148
Thabo dismisses Precious's pregnancy talk. Qwabe's symptoms return. MacGyver gets a beating on behalf of Bab'Gumede.
Thursday 29 April 2021
Episode 149
Qwabe performs her first surgery in years and something goes horribly wrong. Thabo continues to give Precious the cold shoulder. Bab'Gumede deals with a pest.
Friday 30 April 2021
Episode 150
Lindelani and Ndlovu butt heads on what to tell Qwabe about her health. Sne takes pleasure out of seeing the doctors squirm without the help of nurses.